'Not A One Way Street': Jaishankar Injects Dose Of Vaccine Equity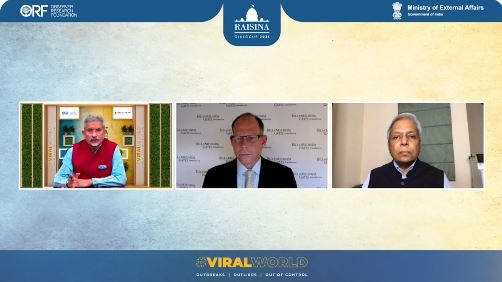 NEW DELHI: Against the background of the tragedy wreaked by the pandemic worldwide, India's External Affairs Minister S Jaishankar urged greater international collaboration and cooperation. At the inaugural session of the Raisina Dialogue in Delhi, he pointed out that India's ability to provide vaccines to the world was indicative of our capability, but it was a capability built up through international cooperation. "So it's not a one-way street where we keep giving."
He stressed equitable access pointing out that "no one is safe until we are all safe but the global tendency to circle wagons and look after myself, I am not against it, if any country is under stress it's India as numbers are up right now and it is legitimate for us to apply focus on the immediate challenge. But to the extent you have margins and the ability and obligation to help others, it is the decent thing to do."
He made another point: "As we fight the pandemic, we need to understand that once the typhoon is there, there will be more, so we are doing for now and preparing for what is to come."
Jaishankar referred to the help India has rendered to health workers in Africa, in the Caribbean and in India's neighbourhood, returning again to the need for equity and fairness.
"Since globalization has not been beneficial between societies, so you have people questioning globalisation and those truly committed to globalisation should devote themselves to that. Our government's partnership with the Gates Foundation is an effort to make sure that the weaker, vulnerable and less privileged don't get left behind. India is ready to put its capabilities where its mouth is."
He referred to India's development cooperation with 51 of 54 African countries comprising lines of credit, grants and capacity enhancement such as helping build a milk processing plant in Mauritania "where my strategic interest is not particularly high", to water treatment plants in Tanzania, a textile plant in Kenya, and cement plant in Djibouti.
"We earn goodwill but we create a better world and we will focus on areas that are our strength, so IT, digital and agriculture where I am increasing the area of international cooperation and we will be doing whatever is in the realm of possibility."
He underscored the importance of telling a story effectively, so the world understands the effort being made, and ensures the spotlight remains on the issues at stake. Summing up, he said India would like to be "an enlightened power, one that does not do what others did before, like shutting the door on others. I want to make sure the door is open for others. We facilitate the rise of others including our own and that is the foreign policy vision of Prime Minister Modi."