Beijing Sees Red As German Strategy Paper Slams China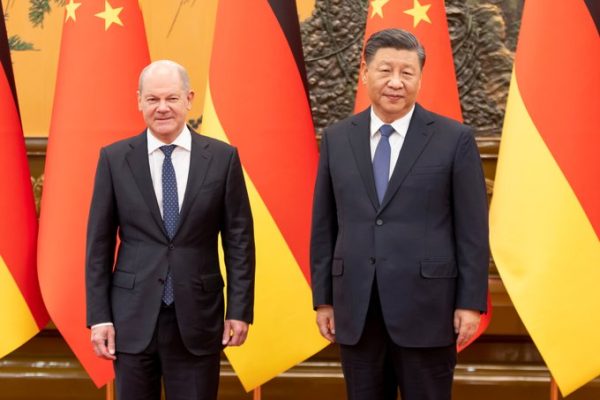 NEW DELHI: Hours after the German Cabinet released its first China Strategy paper on Thursday, which called Beijing out over its unfair practices and aggressive actions, the Chinese embassy in Beijing warned against "meddling" in China's internal affairs and said "China will resolutely safeguard its sovereignty, security and development interests".
While reiterating its One China policy, the 64-page strategy paper, released after months of wrangling among the three party-coalition led by Chancellor Olaf Scholz, says Germany wants to ensure the economic relationship with China "becomes fairer, more sustainable and more reciprocal… China is Germany's largest single trading partner, but whereas China's dependencies on Europe are constantly declining, Germany's dependencies on China have taken on greater significance in recent years".

"The goal is not to decouple. But we want to avoid critical dependencies in the future," Chancellor Scholz—who was criticised for going to Beijing in November 2022 with a large business delegation, becoming the first Western leader to visit China post the pandemic—said in a statement.
In her remarks at the Mercator Institute for China Studies in Berlin ahead of the release of the paper, German Foreign Minister Annalena Baerbock said China had become a strategic rival in recent years, and that its unprecedented economic growth was marked by increasing authoritarianism and aggressive actions in Xinjiang, Hong Kong and the South China Sea.
"We cannot be indifferent to the tension surrounding Taiwan. A military escalation would also be a danger to millions of people, worldwide, meaning also for us," she said. "We want to diversify but we want to further expand and make use of cooperation with China at the same time. This applies to our economic contacts because we neither want to hamper China's economic development nor our own."
According to the paper, Germany was pushing Beijing for a clearer position on Ukrainian sovereignty and territorial integrity, and any further cooperation between China and Russia on defence would impact Germany's relations with Beijing.
It also noted that China was methodically leveraging economic means like creating dependencies and granting or denying financial support to pursue its political goals, which had intensified international rivalry and competition. Berlin would stand behind EU member states facing economic or other pressure and revive a dialogue on human rights and rule of law with China, it said.
Given the blurring lines between Chinese civilian and military policies, Germany would also consider new measures to mitigate the risks of investments in China, it said. Apart from a review of transfer of sensitive technology, particularly including those with dual use, Berlin would also review and change export control and other relevant laws in accordance with German security interests, identify the sectors, companies and facilities which constitute critical infrastructures, and publish a list of critical components this year.
Noting that growing menace of cybersecurity threats, including from China, were impacting European government networks, it said Berlin is advising companies and research institutes on cyber and other hybrid security risks due to Chinese espionage.
Urging Beijing to announce military exercises ahead of time and invite international observers to avoid any misunderstandings, it said Germany will step up security and military cooperation, including naval deployments and multinational exercises with trusted partners in the Indo-Pacific. The growing Chinese military presence in the Arctic and Antarctica violated Germany's position that these areas should remain conflict-free areas, it added.
While conceding that China was an indispensable partner for dealing with global challenges like pandemics and climate change, the document said "China has changed," which in turn required a change in Germany's way of dealing with it.
Warning China against linking cooperation on climate change with other factors aimed at furthering its interests, the paper said Germany would review investment guarantees to ensure Chinese compliance with sustainability, environmental, labour and social standards.
Germany would also continue to demand broad and comprehensive structural improvements in the Chinese market environment, and push Beijing to forfeit its WTO designation as a developing country, given that it is the second biggest economy in the world, the paper said.
It also noted that while adhering to its 'One-China' policy, Berlin would expand its close relations with Taiwan and support its participation in international organisations. Any change of the status quo in the Taiwan Strait can only be achieved through consensus and peaceful means, it warned, noting that China's aggressive moves in the region had exposed supply chain vulnerabilities, particularly in semiconductors and chips.
In its response, the Chinese embassy in Berlin urged Germany to look at China's development "rationally, comprehensively and objectively". Forcible 'de-risking' "based on ideological prejudice and competition anxiety will only be counterproductive and artificially intensify risks," it said, insisting that it was not in the common interests of both nations to see China as a "competitor and institutional rival."
"Pragmatic cooperation between China and Germany in various fields such as economy and trade is mutually beneficial and complementary, and represents greater development opportunities rather than risks for both sides," said the embassy, and warned against any attempt to "meddle in its internal affairs" by using issues like Taiwan, Xinjiang, Hong Kong and human rights.
Don't Miss: