U.S.-Iran Faceoff: Can Stability Return To The Middle East?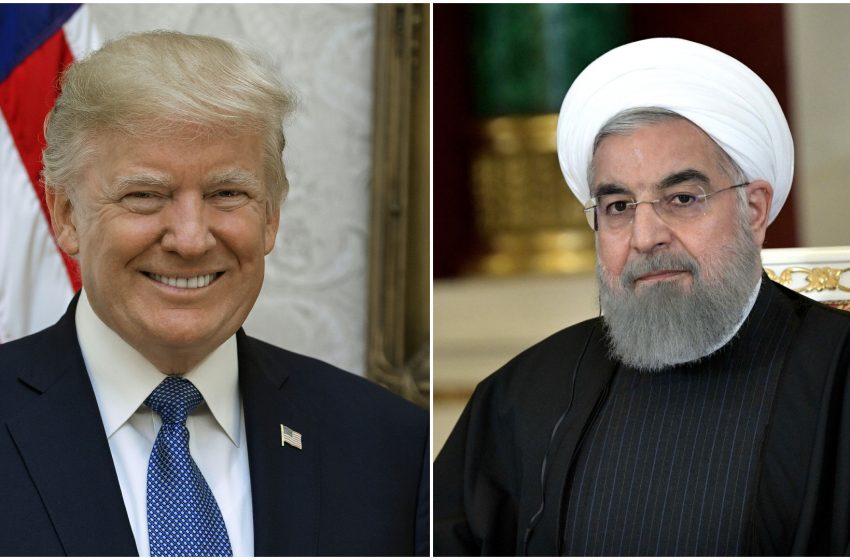 NEW DELHI: Tehran's belated admission of downing a Ukrainian passenger aircraft is embarrassing for the regime, externally and domestically. President Donald Trump has tacitly encouraged Iranian protesters on Twitter, but curiously, there hasn't been any significant announcement by him on Iran so far.
Professor AK Pasha, of the Centre for West Asian Studies at Delhi's Jawaharlal Nehru University, believes that neither President Trump nor the Iranian regime is likely to escalate matters at this time.
 "The statement by President Trump calling on other Nato partners to play a bigger role in the region is a signal that he is willing to de-escalate matters," Pasha says, "but on Iran's side, its willingness to submit to IAEA inspections and not walking out of the nuclear non-proliferation treaty shows it is prepared to be reasonable."
Deep Divide
The U.S. administration has been deeply divided during the Trump era. This, along with the ongoing impeachment case against the U.S. president, means that the broad consensus which once governed foreign policy has all but gone.  Foreign policy-making appears rushed, leaving the impression key decisions are made on the fly.
A senior foreign diplomat and keen watcher of developments in West Asia explains, "The decision to assassinate Soleimani doesn't seem have been thought through and this can be seen by the silence from traditional U.S. allies such as Saudi Arabia and even Israel. My belief is that Trump was under heavy pressure on the impeachment issue and he felt the need to reaffirm himself among his core constituency."
Rise Of Hardliners
Trump has shown the electorate he will not back off from a fight, and having confirmed those credentials by assassinating Soleimani, he is expected to return to domestic affairs.  So, it would appear talks are off the radar.
What further complicates matters is that Iran too has scheduled parliamentary elections for February, in which the current administration is likely to suffer. Hardliners, who are already upset with President Rouhani over the nuclear deal signed with then president Barack Obama in 2015, the sanctions imposed on Iran, and now the death of Soleimani, are likely to gain in popularity.
Another factor to watch out for is the health of Iran's Supreme Leader Ali Khamenei who has been ailing for some time. If the 80-year-old Khamenei is replaced it is more than possible a more conservative hardliner may replace him. This may also go well with the public, who though angry with the regime will not forgive the U.S. for assassinating their war hero.
Backchannel Talks
Analysts say that Riyadh, especially after the killing of Soleimani, has put out feelers to Tehran through other countries, urging dialogue.  Iraqi Prime Minister Adil Abdul-Mahdi told his Parliament that he was passing on messages between the two capitals but there is no indication so far of him acting as a bridge between Washington and Tehran.
Another likely mediator could have been Oman but the death of the revered Sultan Qaboos  has ensured that his successor Sayyid Haitham bin Tariq al-Said will be busy with domestic affairs for some time now. This leaves Russia and France as the most likely candidates though given the divide within the Trump administration, it is questionable as to how significant a role they can play.
Perhaps the best one can hope for is Iran and the U.S. sitting tight waiting the year out until the U.S. elections are over, while back-channel talks between Riyadh and Tehran begin.
 Rise Of Russia, China
There is no doubt that Moscow and Beijing are eyeing the unfolding events in West Asia with great interest and concern. Moscow sees itself as a 'great power' and West Asia is very much part of this plan. President Putin has carved out good relations with Saudi Crown Prince Mohammed bin Salman and has also built up relations with Israel, Iran, Turkey and Egypt. Analysts say, given Trump's unpredictability, Moscow is quietly portraying itself as a force for stability in the region.
China too has concerns about West Asia as 50 per cent of its oil imports come from this region. Beijing is also worried about a resurgence of Muslim extremism. But the biggest concern for Beijing is the BRI where Iran can play a crucial role because of its geographical location both through land and sea. If there is a viable BRI this could be a win-win for China and West Asia.
However, Syrian journalist and West Asia expert Dr Waiel Awwad explains why increased U.S. and possibly Nato involvement in West Asia could derail such plans.
"The Strait of Hormuz and Bab-el-Mandeb of the Red Sea have over 40 per cent of global oil. Control of them will not only greatly impact oil-importing countries such as India, Korea, Japan and China but also enhance U.S. and Nato's footprint in the region."
India And Iran
The most optimistic of analysts would not describe relations between New Delhi and Tehran as the best, at the moment. While External Affairs Minister S Jaishankar visited Tehran last month and Iran's Foreign Minister Jawad Zarif has just landed in New Delhi, where he is expected to present Iran's point of view on a public platform, privately Iranians and many Iran-watchers in India are disappointed with what they see as New Delhi's seeming indifference towards Tehran.
"India has great relations with Iran, but we expect a more proactive role from New Delhi," Awwad argues. "India has major stakes in the Gulf, you have eight million Indians working in the Gulf and around 40 billion dollars coming as remittances from there. India cannot be a bystander anymore, it has to conduct aggressive backdoor diplomacy to safeguard its national interests."
It's a point many Indians would agree on but for now South Block prefers to play safe and watch its back.