Election Of Hardline Iran President May Not Kill Nuclear Deal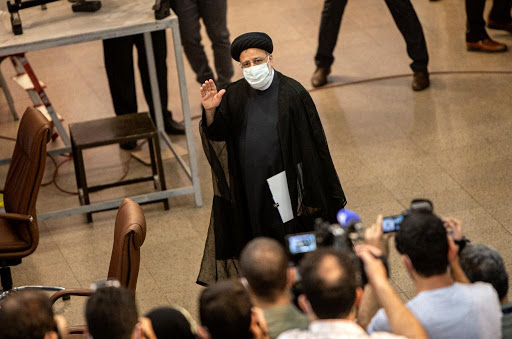 NEW DELHI: Iran will vote on Friday for a new president, but will the new man be interested in working with the US to secure the nuclear deal (Joint Comprehensive Plan of Action – JCPOA)? Ebrahim Raisi, the man most likely to become president – the results will be known on Saturday – is seen as an ultraconservative hardliner who has repeatedly called for a "strong government". He is expected to take a tougher line with Washington than current President Rouhani. How much that will impact the Vienna talks on the nuclear deal remains to be seen.
Former ambassador and West Asia expert Anil Trigunayat believes the fact that the Biden administration is allowing Iran access to bank funds (to pay its UN dues) is a positive. Nor has it added any new sanctions against Iran, giving confidence to China among others to continue importing Iranian oil.
As for Ebrahim Raisi "(he) may be a hardliner, but he is a pragmatist. There is likely to be leeway on both sides going forward."
West Asia analysts point out that undue importance should not be given to the president's personality. Former ambassador Talmiz Ahmad points out foreign affairs, defence and national security are decided by Iran's Supreme National Security Council (SNSC) of which the president is but one voice.
"Even if Raisi becomes president his voice is one among many. The most important person in the SNSC is Ali Shamkhani. The Supreme Leader will take a final call as was the case in 2015," says Ahmad.
But Iran's belligerence could be a problem.  A statement made by President Hassan Rouhani earlier this week that Iran could enrich uranium up to 63%, taking it a step closer towards possessing nuclear weapons caught many by surprise. However, those used to dealing with Iran said such statements were no surprise.
"Rouhani was trying to posture himself as a hardliner given that he has been accused of running a 'weak' government. Also, the Iran method has traditionally been that of brinkmanship. It's not just the US, India has been victim of this too.  The Iranians talk about friendship and co-operation in Jask and then take away the Farzad gas field contract from us. They work on this business of uncertainty," says Trigunayat.
While most Iran observers believe that a deal is in the offing, they also believe that there will no rush to get it done. The Biden administration will have to give time to the new regime to settle in and they may be dealing with some new faces. Foreign Minister Javad Zarif may no longer be in the mix and from the Iranian side, the loosening of US sanctions may give the impression that it is Washington which is more eager for a deal.
AK Pasha, professor at the Centre for West Asian Studies in JNU, argues that Iran has been used to living with sanctions since 1979. Russia and China — the latter signed a strategic agreement with Tehran earlier this year – tells the US that Tehran has powerful friends and current policy may have run its course.
Pasha also points to a recent phenomenon called "de-dollarisation" being pushed by Beijing and Moscow in the oil and energy market. President Putin has advised Europe to pay for Russian gas only in Euros. "Putin's insistence on Euros and China's willingness to accept Chinese currency from BRI nations ensures that the dollar supremacy is coming under threat," claims Pasha adding that "This has geo-political implications for the US who will be more eager to make a deal happen."
The key question is Israel: In a recent interview former Mossad chief Yossi Cohen signalled that Israel was behind the assassination of the Iranian nuclear scientist Mohsen Fakhrizadeh, and the explosion at the Natanz centrifuge facility. He warned that Israel would not allow Iran to acquire nuclear weapons at any cost.
Talmiz Ahmad believes such statements are par for the course. One can't expect a Mossad chief to be soft on Iran. AK Pasha says any attack from Israel is likely to generate a "tit-for-tat" response from Iran's proxies although this is unlikely to happen.
"There is a sea-change today in Israeli politics," argues Pasha, "The Americans were unhappy with Netanyahu because of his hardline position and the main priority of the Naftali Bennet-led coalition government will be to restore US-Israeli ties which had collapsed under Netanyahu. They are not likely to do anything that will alarm the US."