With China In Cross-Hairs, Pompeo And Shringla To Make Back-To-Back Visits To Maldives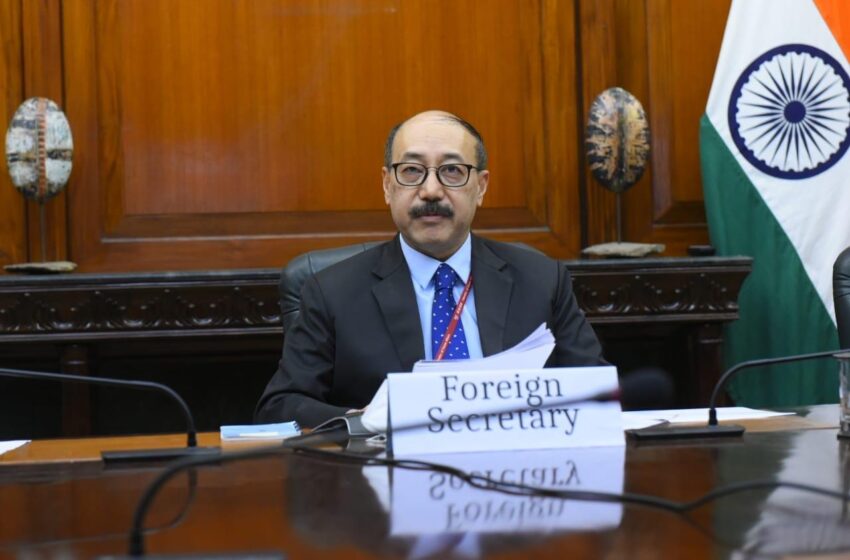 NEW DELHI: The great game in the Indian Ocean Region (IOR) continues. In yet another signal of the importance India attaches to its immediate neighbours and the growing salience of the IOR and the wider Indo-Pacific, foreign secretary Harsh Vardhan Shringla is set to visit Maldives early next month.
That Shringla has chosen to visit the Maldives on November 9-10, in what will be only his fourth visit abroad since the pandemic restricted travel, underlines the strategic importance of the archipelago that straddles vital sea lanes.
India has been making concerted efforts to remain closely engaged with Maldives to counter China's deep inroads into the country in recent years. With an India-leaning government led by President Ibu Solih in place there since late 2018, New Delhi has significantly stepped up its diplomatic engagement with Malé through infrastructure development efforts and Covid assistance.
New Delhi, for instance, announced a USD 1.4 billion economic package for Maldives in December 2018 during Solih's visit to India shortly after his win. Under this package, India extended a USD 150 million foreign currency swap to the Maldives in April to deal with the economic impact of Covid-19.
This was followed by financial assistance of USD 250 million as budgetary support to the Maldives in September to enable it to counter the economic impact of the pandemic.
Among the big ticket projects announced by India is a USD 400 million Line of Credit for the Greater Malé Connectivity Project (GMCP), billed as its largest infrastructure project.
The geostrategic importance of Maldives is also the reason why a US secretary of state too will be making a rare visit to the IOR archipelago. Mike Pompeo, who was in New Delhi for the US-India 2+2 Ministerial Dialogue, will be in Maldives tomorrow.
With the US also worried about the expanding Chinese footprint in Maldives, Pompeo is expected to announce his country's decision to open a resident mission in Malé.
Until now, the US envoy in Colombo was the one taking care of American interests in the Maldives with concurrent accreditation to the archipelago. The decision to have a diplomatic presence in Male underscores the fact that the US would like to keep a closer watch on Chinese activities in Maldives as well as the IOR.
Pompeo's visit to the Maldives will be the first by a US secretary of state in 16 years. The last one to set foot on Maldivian soil was Colin Powell in 2004. But before landing in Maldives, Pompeo will be in Sri Lanka later today as part of his Indian Ocean swing.
Both Pompeo and Shringla's visits come at a time of heightened tensions that both countries are experiencing with China. Both Sri Lanka and Maldives, incidentally, have joined China's Belt and Road Initiative.
On September 10, the US inked a Framework on Defence and Security with Maldives. Earlier, on July 6, Pompeo also had a telephonic conversation with Maldives foreign minister Abdulla Shahid "to reaffirm the importance of the US-Maldives relationship and discuss our growing bilateral cooperation on issues of regional and international concern, including joint efforts to combat the COVID-19 pandemic".
China was clearly the elephant in the room. Ahead of Pompeo's Sri Lanka visit, the US took a swipe at China without naming it. "We urge Sri Lanka to make difficult but necessary decisions to secure its economic independence for long-term prosperity, and we stand ready to partner with Sri Lanka for its economic development and growth," said Principal Deputy Assistant Secretary for South and Central Asia, Dean Thompson.
He said the visit will "underscore the commitment of the US to a partnership with a strong, sovereign Sri Lanka and to advance our common goals for a free and open Indo-Pacific region".
The US also encouraged Sri Lanka "to review the options we offer for transparent and sustainable economic development in contrast to discriminatory and opaque practices (of China)".
The remarks have left Beijing bristling with the Chinese embassy in Colombo issuing a statement late Monday that said, "We are firmly opposed to the US taking the opportunity of the State Secretary's visit to sow and interfere in China-Sri Lanka relations, and to coerce and bully Sri Lanka."