VIP Visits With More Than Ukraine On The Agenda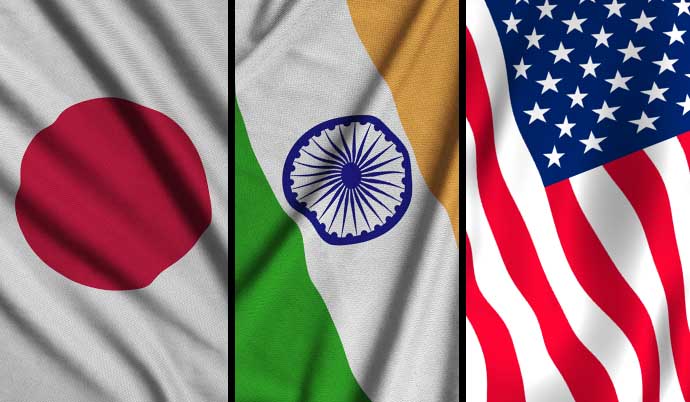 NEW DELHI: Delhi will be deluged with VIPs from the weekend. Beginning Saturday, Japan's newly appointed Prime Minister Fumio Kishida (he took over from Yoshihide Suga last October) will be in the capital for a day, resuming the bilateral tradition of high level visits that was short-circuited by the pandemic. The Americans are expected next week and there's also Elizabeth Truss, UK foreign secretary although there's no final word on her dates. Such visits are planned well in advance and too much should not be read into their happening consecutively.
The Kishida visit is an opportunity for Narendra Modi to size up the man who was foreign minister until 2017 and was even defence minister. So he understands the India relationship, more so the common concerns over China and the Indo-Pacific and the dynamics of the Quad, notably the divergences among the members over Ukraine. Actually India was the sole divergent among the other three members (US, Australia, Japan), refusing to go along with the majority on "Russian aggression" although it underscored its commitment to the sovereignty and territorial integrity of nation states.
Kishida's immediate concern in fact would be the Quad summit he is hosting in May or June. This would be the second in person summit (the first was in Washington DC last September), and the Japanese leader would be looking to seal cracks among the Quad members triggered by Ukraine. In that sense, the Indo-Pacific and China could be the great unifier. Kishida would probably be wanting the Quad members to send a strong signal to China, that while Ukraine is important the group remains focused on China and its muscle play in the region.
Bilaterally, while the political relationship remains good, the economic relationship continues to underperform. Two-way trade, according to an Exim Bank report in 2019, was around $18 billion from $10 billion a decade ago. India's grouse is the balance is tilted in favour of Japan with the former running deficits over consecutive years. Tokyo's non-tariff barriers are blamed. Add to that the agonizingly slow progress of the high speed rail being built with Japanese assistance. Originally scheduled to run from Ahmedabad to Mumbai this year, it has been pushed back to 2026 due to land acquisition issues in Maharashtra. Other corridors are being considered including Delhi-Varanasi and Mumbai-Nagpur.
Next week two key US officials handling political affairs, Victoria Nuland, under-secretary and Donald Lu, assistant secretary, will be in Delhi for consultations ahead of the 2+2 dialogue in April. There may be a tendency to see the visit in the context of Ukraine where Delhi and Washington are on different wave lengths. But it bears repeating that such visits are decided weeks if not months in advance and the two sides have a lot more than Ukraine on the agenda.
For one, India will want to know whether Ukraine will see a dilution of the US commitment to the Indo-Pacific and China. And while CAATSA has been speculated upon, India has never been told officially by the US that those sanctions are being invoked against it. Nor has the US objected to India buying three million barrels of deep discounted Russian crude. A bargain is a bargain. Two million more barrels is expected to be contracted for on similar terms. As for arms, it is widely known in the US establishment that Moscow gives India platforms and equipment that they will not supply India.
Yes, in the wake of the hoopla generated by the delivery of the first of five S400 regiments, and India tying up with Kalashnikov for assault rifles to be made in this country, there could be some push on Delhi to buy more American. That could happen. The Indian Navy is keen on the Predator UAVs of General Atomics, and given delays in the domestic programme, the last word on that is awaited.
UK Foreign Secretary Liz Truss is also expected in Delhi later this month. Ukraine is on the agenda with Truss quoted earlier this month as saying "I have spoken to Minister Jaishankar and encouraged India to stand against Russia."
But she had also expressed her understanding of India's position and told a committee of the British parliament that the way forward "is for a closer economic and defence relationship with India".
The two sides are working on an interim free trade deal with two rounds of discussions completed. India is seeking exemptions for labour intensive goods including textiles and easier market access for pharma, fisheries and agriculture products. The interim deal could cover 65% of goods and 40% of services for concessional or duty free access. Trade restrictions not tariff related, are also being discussed. If all goes well, the FTA could double the current $30.3 billion two-way trade.
And of course, the UK wants lower duties on its export of scotch whisky to India. Trade figures show that despite 150% duties, the UK exported 131 million bottles of scotch to India, making it the second largest export market by volume. So three cheers to the India-UK FTA.