At 2+2 Talks, US For Hard Line On Russia, India Sidesteps Citing National Interest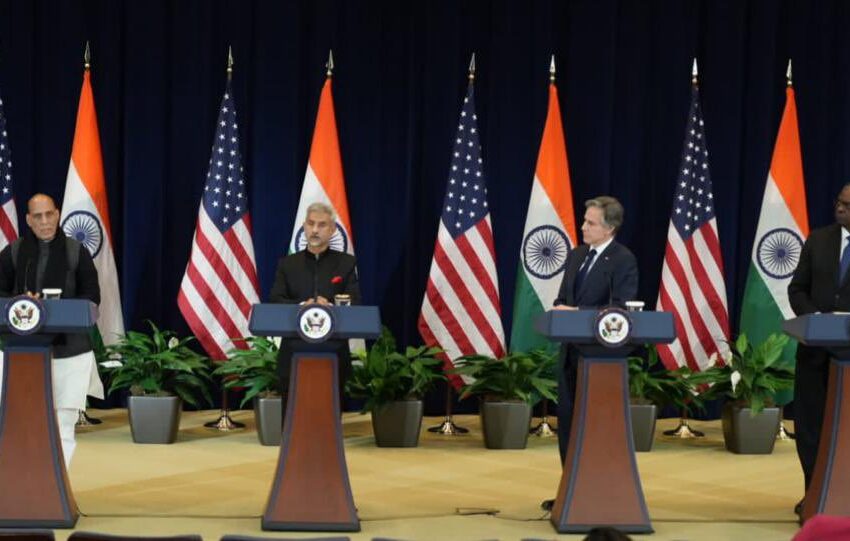 NEW DELHI: As expected, Ukraine cast a long shadow on the 2+2 dialogue in Washington DC between External Affairs Minister S Jaishankar and Defence Minister Rajnath Singh and their US counterparts, Secretary of State Antony Blinken and Defence Secretary Lloyd Austin.
At a joint media briefing, Blinken urged that the "rules-based order" – a term that had so far been applied to China – needed to be extended to Russia as well, underscoring that this was India's problem too. Russian aggression, he warned, "stands in stark contrast to the vision that the United States and India share for a free and open Indo-Pacific," and that Moscow's actions were having a profound impact "not just in Europe and in Ukraine, but around the world." If New Delhi did not choose to play ball, Blinken hinted that there could be consequences.
He also brought out that old and familiar weapon, human rights. "We regularly engage with our Indian partners on these shared values, and to that end we're monitoring some recent concerning developments in India, including a rise in human rights abuses by some government, police, and prison officials," he said.
External Affairs Minister S Jaishankar held his own, sarcastically pointing out that "we (India) have a decent sense of what is in our interest and know how to protect it and advance it." Stating that time and again India had stated that it was "against the (Ukraine) conflict and had pressed for dialogue and diplomacy," Jaishankar also pointed out that it was wrong for the West to lecture India on the issue of energy security.
"Looking at the figures, probably our total purchases for the month would be less than what Europe does in an afternoon. So, you might want to think about that."
The prospect of India buying Russian oil is a major Western concern. Moscow has offered to sell oil at a discount of $35 a barrel with the purchase being routed through Moscow's SPFS system, which would circumvent US and European sanctions. India is yet to make up its mind, Jaishankar said, indicating that "I think a big concern we have – and not just we, I think the world has – is of energy security, of rising prices, of increasing premiums, of limited supplies. So today, you have to understand it is a legitimate concern of countries to ensure their energy security."
On the defence side, the two countries have agreed to defence base exchanges later this year between India's Defence Space Agency and the US Space Command. A bilateral Space Situational Awareness arrangement, which will facilitate greater information sharing and cooperation in space was also agreed upon. Cyberspace is another key area.
"We are deepening our cooperation in cyberspace, including through training and exercises later this year. And we're expanding our information-sharing partnership across all warfighting domains," Austin said.
While the US did call on the Taliban "to abide by UNSC Resolution 2593 (2021), which demands that Afghan territory must never again be used to threaten or attack any country or to shelter or train terrorists, or to plan or finance terrorist attacks," and also "called for the perpetrators of the 26/11 Mumbai attack, and Pathankot attack, to be brought to justice," such statements are now the norm and will be of little comfort to India.
India has a tough diplomatic calendar ahead with Japan hosting the Quad summit next month. India will be the outlier here given that Japan, Australia and the US are on the same page on Ukraine. India will have to trim its sails to the prevailing winds to ensure it is not blown off course.