Juster's Critique Apart, How Should India Chart Its Trade Course?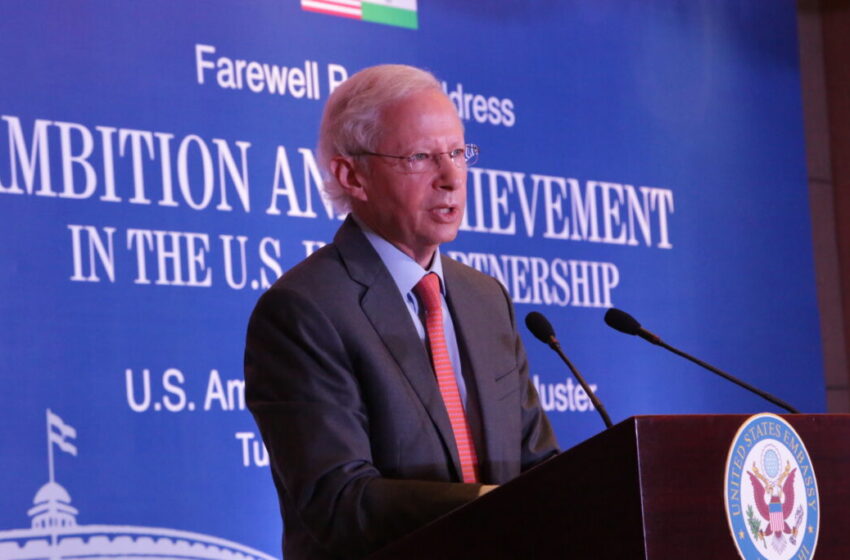 NEW DELHI: "India needs more, not less, economic protectionism and at least for the next 20 years," says a former senior Commerce Ministry official, reacting to outgoing U.S. Ambassador Kenneth Juster's recent farewell address.
In what has been interpreted as a warning to India, Juster had observed that "despite persistent efforts, we were unable to conclude even a small trade package. Moreover, there are growing restrictions on market access for certain U.S. goods and services, increasing tariffs, new limitations on the free flow of data and a less than predictable regulatory environment for investors."
But is India the only one at fault? Accusing China of unfair trading practices, U.S. President Donald Trump tweeted on March 2, 2018: "When a country (USA) is losing many billions of dollars on trade with virtually every country it does business with, trade wars are good and easy to win. Example, when we are down $100 billion with a certain country and they get cute, don't trade any more – we win big, it's easy."
The following year he matched deeds to words, levying a 10 per cent tariff on $200 billion of China-made imports. He also announced plans to impose a 25 per cent tariff on $325 billion of Chinese goods. The same year, he slapped steep tariffs on billions of dollars of goods from the EU, Canada and Mexico. All these countries responded in kind with tariffs on U.S. goods.
The point is when the U.S., which is acknowledged as a powerhouse of manufacturing given its vast industrial infrastructure, finds it necessary to impose tariffs on imports from other nations, why not India which is so far down the economic scale. In fact, the official who was a privileged observer of India's economic policy-making for over a decade expressed bewilderment over the rush with which past Indian governments embraced free trade agreements.
In June 2005, the Indian government signed the Comprehensive Economic Cooperation Agreement with Singapore. Many consider it India's first comprehensive free trade agreement (FTA) but as a Niti Aayog paper of 2018 authored by former DRDO chief VK Saraswat, economist Prachi Priya and Aniruddh Ghosh noted that regional trade agreements had become commonplace by the 1990s with India subscribing to no less than 14 of them. Among the earliest was the Bangkok Agreement signed in 1975, then a bilateral FTA with Sri Lanka in 2000, followed by Singapore and Malaysia and a separate one with ASEAN. South Korea and Japan were next. But as the Niti Aayog paper underscores, "bilateral trade increased post signing all the FTAs, imports from FTA partners into India increased more than India's exports to partner countries. As imports from Korea, Japan and Asean have shot up… India's trade deficit with these countries has increased".
The paper says India's trade deficit with South Korea rose from $5 billion in 2010 to $8 billion in 2018; with Japan from $3 billion in 2010 to $6 billion in 2018; with ASEAN the rise in the trade deficit was steep, from $10 billion to $75 billion. For some reason, India had offered 9000 product lines for tariff elimination while Thailand, Philippines, Myanmar, Brunei and Vietnam offered far less. The deficit was the worst in 13 of 21 sectors that included vehicles, textiles, chemicals, rubber, leather, gems and jewellery and so on, with resultant impact on domestic industry.
Here's something else the paper notes: The 13 per cent increase in trade with FTA partner countries is the same for non-FTA countries. It puts a big question mark over the wisdom of signing FTAs, something which the Modi government subscribes to.
The former Commerce Ministry official believes the FTAs were badly negotiated with political considerations prevailing over economic. "Then again, most ASEAN states are basically traders with narrow manufacturing bases, they have few goods to export so that gap was filled by the Chinese. Today Chinese products from Ganeshas to Diwali crackers and cars are sold all over India. The impact on local industry has been catastrophic."
He believes the Modi government will raise tariffs on more imported goods in different sectors, with the goal of accelerating local manufacturing. This could go on for at least 20 years since that is the kind of time India would need to build up industry, and there will be no problem selling since the domestic market is so huge. But protectionism also means higher prices for local consumers and without competition, Indian industry may slip into a comfortable low-tech zone. Add to that, a key question: how India can be a part of global supply chains while keeping foreign goods out? Today, tariffs average around 15 per cent and tariffs for industrial imports are around 12 per cent. How the government intends to square the circle is not clear.
As the world gets locked up into trading blocs, India may find it difficult, if not impossible, to sell its surplus. Tariffs in other parts of the world average 5 per cent and less but those can only be availed by members of the same trading bloc. India would be the outlier. There's also the point to note that while China may be the big bad boy today chiefly for its trading practices, India could take that place tomorrow for similar if not the same reasons.
While every big economy in the world raised tariffs to facilitate the growth of its industry, it was done decades earlier (19th century in the case of the U.S., 1950s-60s for Japan and South Korea). India has been a late starter since its political class never saw trade as a driver of economic growth. The business class was always derided as a bunch of crooks until the liberalization of 1991 when India opened up to the world. But the ruling class failed to prepare the country for that. Perhaps, Modi realises this but he has to find solutions to India's self-created problems at a time when technology is taking the world by storm.
Ambassador Juster's criticism may have been made with an eye on benefitting America but it is also a warning to India of the challenges ahead.