West Playing Geopolitical Games, Russia Ready For Any Developments, Warns Envoy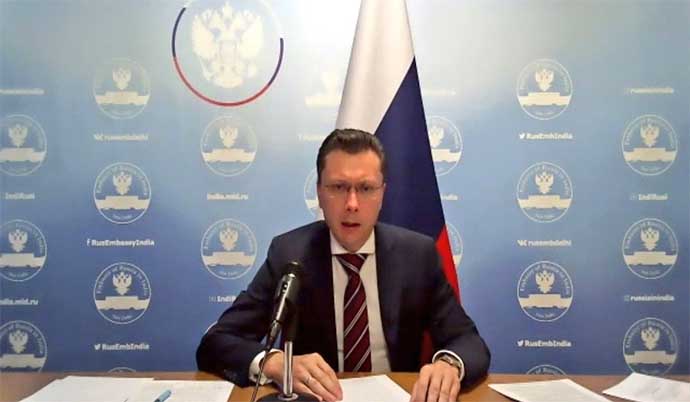 NEW DELHI: "We've cut off Russia's government from western financing. It can no longer raise money from the west and cannot trade in its new debt on our markets or European markets either." Within hours of that statement from US President Joe Biden, Moscow mobilised its diplomats in key world capitals to respond.
In New Delhi, Roman Babushkin, No. 2 at the Russian embassy accused the West of playing "geopolitical games" and interfering in the internal affairs of Russia and the former Soviet republics
"From the very beginning, the US has looked to continue its internal influence of all the countries of the former-Soviet Union including Ukraine. They want to use Ukraine in their geopolitical games against Russia," he said. Accusing Washington of providing $5 billion to nationalist rebels to instigate regime change in Ukraine in 2014, he said the US enabled the rise of an "anti-Russian government who started a policy of genocide against everything related to Russia. This was especially carried out in the eastern parts of Ukraine against Russian speakers."
Babushkin justified the despatch of what Moscow has so far described as "peacekeeping forces" to Luhansk and Donetsk in eastern Ukraine as "The only way for Russia to save the lives of the people. Let us also be clear on this – all Russian actions are being made in full accord dance with international law."
He dismissed the latest round of US sanctions, saying that these had become "boring" for Russia. "The new sanctions won't hit the country, in fact, they could even be beneficial to Russia in the long run, because past sanctions have helped Russia gain independence in technology and other areas."
Babushkin said his country had repeatedly sought a "professional investigation" into the poisoning of former intelligence officer Sergey Skripal and dissident Alexei Navalny, also the use of chemical weapons in Syria but the US had refused to listen. The reason was simple, the US needed the cases unresolved so that it could use them as justification to impose more sanctions on Russia.
"Russia is ready for any developments," he said. He lauded Delhi's "independent and balanced position" on Ukraine (at the UN India had called for restraint and diplomatic dialogue by all).
The key question is whether the latest round of sanctions has permanently derailed a Biden-Putin summit. It would seem to require more than the usual diplomatic heft to make that happen.