India Nepal Will Be A Superhit Partnership, Modi Promises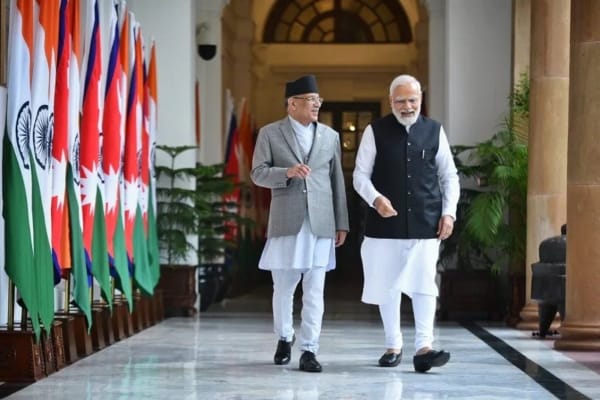 NEW DELHI: "We will establish such contacts that our borders do not become barriers. Today, the Nepal Prime minister and I have taken many important decisions to make our partnership a super hit. We will continue to strive to take the India-Nepal relationship to Himalayan heights and in this spirit we will resolve all issues be it boundary related or any other issue."
That was Prime Minister Modi at the end of talks with his Nepali counterpart Pushpa Kamal Dahal alias Prachanda at Hyderabad House on Thursday. Modi covered all bases, from development to the contentious Kalapani dispute that had poisoned relations with an earlier government in Kathmandu. While it's not clear when the two sides will begin discussions on Kalapani, Modi's promise will give Dahal the breathing space he needs to tackle the anti-India hardliners back home.

So Dahal reciprocated Modi's sentiments, saying that "the relationship between India and Nepal is age-old. Today we discussed over steps to strengthen the ties between both nations. We also jointly launched many ground-breaking projects."
Among the major takeaways from the visit: India agreed to a 10 year long, 10,000MW power purchase agreement with Nepal, India will develop two key hydropower projects, Lower Arun and Phukot-Karnali, a transit treaty allowing Nepal use of India's inland waterways, inauguration of an integrated check post at Nepalganj and Rupaidiha, and breaking ground for another such checkpost at Bhairahawa and Sonauli.
The two leaders also unveiled an e-plaque of the Kurtha-Bijalpura section of the trans-border railway line while jointly flagging off an Indian Railway cargo train from Bathnaha in Bihar to the Nepal Custom yard in Biratnagar. As Modi put it, he had given a "hit formula" for India-Nepal relations which included highways, I-ways, and Trans-ways.
The two leaders agreed to expedite work on the "Ramayana Circuit", that would cover places of religious interest in India and Nepal. The business of government done, the Maoist Dahal will now head for Ujjain to pay his respects at the Mahakal temple and visit the IT SEZ in Indore.
RELATED ARTICLES: