A Guide To Contemporary China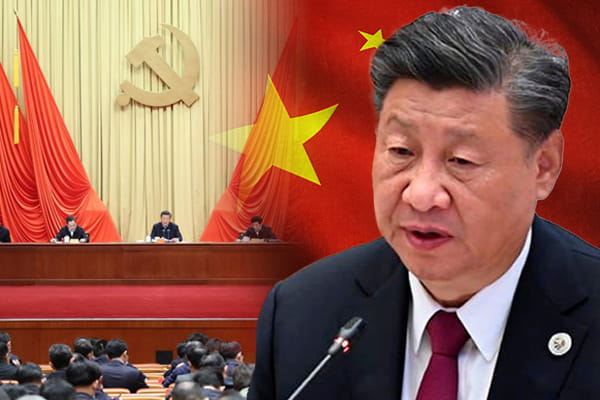 'Austin's Shangri-La Dialogue Remarks Aim To Stir Up Confrontation'
The United States is stirring up confrontation for its selfish purposes by making false accusations against China at the Shangri-La Dialogue, a Chinese military official said on Saturday. Speaking to reporters on Saturday, Lieutenant General Jing Jianfeng, deputy chief of staff of the Joint Staff Department of the Central Military Commission, said U.S. Defense Secretary Lloyd Austin is trying to consolidate the U.S. hegemonic position and provoke bloc confrontation by advocating the Indo-Pacific strategy in his speeches. Austin also told the conference in Singapore that he was deeply concerned by China's unwillingness to engage and that talks were essential to avoid a crisis.

Source: CGTN
Chinese Military Responds To Incursion By US Plane
China has responded to US claims that a Chinese fighter jet carried out an "unnecessarily aggressive" manoeuvre near a US military plane over the South China Sea. Army Senior Colonel Zhang Nandong, a spokesperson of the Southern Theater Command, stated that the US RC-135 reconnaissance aircraft "intentionally intruded" on a training area of the Chinese military, undermining "regional peace and stability." In the training area was a fleet of 17 naval vessels of the Chinese People's Liberation Army in the South China Sea on Friday, conducting reconnaissance. The theatre command organized aerial forces to fully track and monitor the aircraft and handled the situation lawfully and professionally, he said.
Source: China Military
PLA Warships To Participate In Multinational Drills In Indonesia
The Chinese People's Liberation Army (PLA) is on its way to participate in a multinational exercise to be held in Indonesia next week. At the invitation of the Indonesian Navy, the PLA Navy Type 052D guided missile destroyer Zhanjiang and the Type 054A guided missile frigate Xuchang recently set out for Indonesia to participate in the Multilateral Naval Exercise Komodo-2023, China Central Television (CCTV) reported on Thursday. The drills aim to deepen friendship among the 32 participating countries, including Russia, the US, Pakistan, and India, according to the report.
Source: Global Times
Xi Stresses On Building A Modern Chinese Civilization
Chinese President Xi Jinping has called for "shouldering new cultural missions" to help build a "modern Chinese civilization." "The cultural missions in the new era are to further advance cultural prosperity, to build a leading country in culture, and to foster the modern Chinese civilization. With unwavering cultural confidence, a profound sense of mission, and a spirit of relentless endeavour, we must unite our efforts to create a new culture for our times," he said. Xi made the remarks at a meeting on cultural inheritance and development on Friday. Before the meeting, Xi visited the China National Archives of Publications and Culture (CNAPC) and the Chinese Academy of History.
Source: Xinhua
China's First Civilian Astronaut Makes History
Gui Haichao, the first Chinese civilian on a spaceflight, reached orbit on Tuesday morning shortly after the spacecraft carrying him and another two Shenzhou XVI mission astronauts lifted off from northwestern China. Sitting inside the Shenzhou XVI spacecraft, Gui and his commander Major General Jing Haipeng, and fellow astronaut Colonel Zhu Yangzhu were launched by a 20-story-tall Long March 2F carrier rocket that blasted off at 9:31 am at the Jiuquan Satellite Launch Center in the Gobi Desert. After a short flight, the spaceship was placed into a low-Earth orbit about 400 kilometres above the planet. Within hours of the launch, the eight-metric-ton manned craft is due to approach and dock with the Tianhe core module of the Tiangong space station.
Source: China Daily
Fujian District Punishes Scamsters' Relatives to Deter Scams, Sparks Online Debate
A local government in China's eastern Fujian province has decided to impose punishments on the family members of fraud suspects, sparking controversy and raising concerns about whether it is infringing upon legal rights. According to a report in The Paper, Sixth Tone's sister publication, officials in Quangang District, in the city of Quanzhou, stated in a notice released on May 18 that spouses, parents, and children of individuals involved in telecom and online fraud operating from overseas would be barred from government-led subsidies, including health insurance. This measure also bars children of suspected scammers from enrolling in public schools in cities, unless their parents personally complete the registration procedures together, officials said. Access to private schools will also be limited.
Source: Sixth Tone