'We Need Guns,' Myanmar Resistance Forces Tell Shadow Govt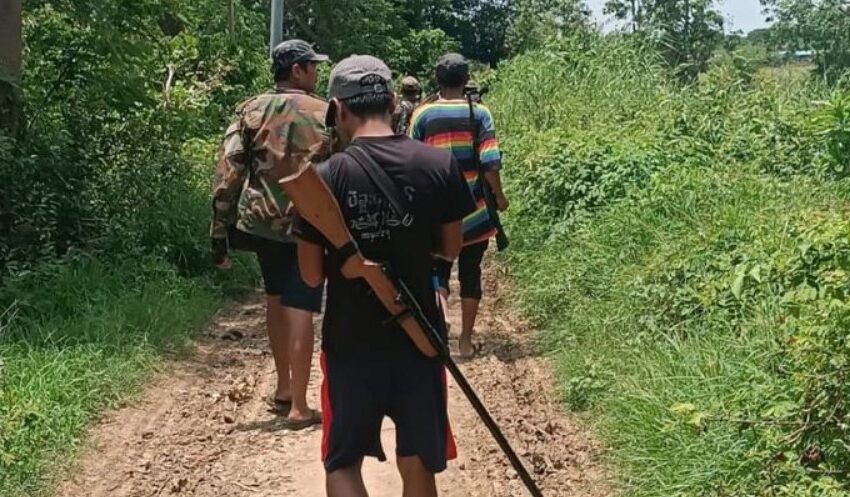 With popular armed resistance against Myanmar's military regime having raged for more than one year now, the need for weapons and other support is becoming a pressing issue for some resistance groups on the ground.
Faced with near-daily offensives by junta forces in their areas, in a bid to tackle the supply shortages some resistance groups in the anti-regime strongholds of Sagaing and Magwe regions are pushing Myanmar's shadow National Unity Government (NUG) to provide them with arms and cash.
Other resistance groups have gotten creative, making the most of their local resources to generate funds and equip themselves.
On Sunday, at least four local People's Defense Force groups (PDFs) based in Khin U and Yinmarbin in Sagaing and Yay Lae Kyaun in Magwe publicly issued statements saying they were struggling with insufficient arms and other logistics issues.
"Our human resources are more than adequate. But not enough guns," the Khin U Local Guerrilla Force said in a statement, going on to ask the NUG if it had any plan to support them.
PDFs in Sagaing and Magwe regions have been fighting regime troops since last year. Their resistance has inflicted casualties on the junta and prevented it from taking full control of the regions. In response, regime forces have raided villages and torched them, and launched air and artillery strikes.
Their year-long resistance has been kept up despite the fact that a large number of PDF fighters are still making do with homemade hunting rifles as weapons.
The Khin-U People's Defense Force, founded in April 2021, has nearly 70 members but can't provide guns to all of them. It equipped its first 30 to 40 members with hunting rifles known as Tumi, but as its ranks have swelled, it is no longer able to arm them all.
Making matters worse, PDFs in Sagaing and Magwe are not based along Myanmar's border. Unlike their counterparts in the country's north and south, it is very difficult for resistance fighters there to smuggle in the weapons they need, even when they receive cash donations from people to buy arms. The regime's tight security along any possible smuggling routes adds to the problem.
So, they mostly rely on guerrilla warfare and improvised land mines to attack the regime troops, and this has proved to be a successful strategy to some extent. The Khin-U People's Defense Force and allied groups have killed more than 150 soldiers over the past year.
Challenges persist, however. Bo Thanmani, the head of the Khin-U People's Defense Force, admitted that even though they can conduct mine attacks, his fighters, armed only with homemade guns, are helpless when regime troops fight back with automatic rifles. "How can we fight the military in the coming rainy season with these Tumi?" he said, pointing out that the guns are unusable when they are drenched. "The NUG's Ministry of Defense should provide support to local resistance groups. If not, their long-term mission will remain difficult to achieve," he added.
Meanwhile, it is becoming increasingly difficult for the PDFs to ask the hard-hit civilian population for material support.
Like other PDFs in Myanmar, resistance groups in Sagaing and Magwe have so far relied on donations from local people. But civilians are being increasingly persecuted, with military troops torching their homes and uprooting their lives by destroying everything they need to make a living in these farming communities. The United Nations High Commissioner for Refugees (UNHCR) said in its latest report that as of early May, Sagaing had the country's highest displacement figures with 240,600 internally displaced persons since the coup, followed by 50,500 in Magwe Region.
Formed in April last year by lawmakers from the ousted National League for Democracy (NLD) and its ethnic allies, the National Unity Government (NUG) has challenged the regime's legitimacy at home and abroad. It is regarded as the leading organization of the anti-regime movement and many Myanmar people take it as their legitimate government.
Its Defence Minister U Yee Mon said in March that the minimum demand for ammunition will soon be filled for PDFs. He recently called on the international community to provide arms to them, saying that the NUG has between 80,000 and 100,000 PDF troops under its command and spends 80 per cent of its budget on supporting them but "can't fully cover them all".
Bothanmani from the Khin-U PDF said that two weeks before the group issued its statement he attended a meeting with the NUG's Ministry of Defense (MOD) to request its support. "We will have to wait and see as the MOD said there are lots of PDFs in Sagaing. So, they will check carefully and then they will provide them [with arms]," said the PDF leader.
U Naing Htoo Aung, the MOD's permanent secretary, recently told The Irrawaddy that the NUG fully intends to support the resistance fighters on the ground but logistics issues and other obstacles were delaying its efforts. "It doesn't mean that we don't want to give them [the assistance]. We are arranging it now," he said.
Rather than waiting for the NUG to respond to their requests, some other PDFs have taken it upon themselves to find financing by raising their own funds.
Loikaw PDF in scenic—but now war-torn—Kayah State recently launched a campaign to sell "Mountain and Music" travel tickets for those wishing to visit the Karenni (or Kayah) State after the revolution, with prices ranging from US $100 to $300.
The plan is that visitors will be guided by former resistance fighters and other locals through the beautiful landscapes leading to the camps, to see where the PDFs lived during the anti-regime resistance movement. Opportunities to chat with the (by that time) ex-PDF fighters about their experiences, including photo and video sessions with them, will be provided. "We would like to urge you to buy tickets to help fund the Loikaw PDF and Karenni State, so that the fighting can end sooner—and to prepare to travel in future," the resistance group said.
(By arrangement with 'The Irrawaddy')