Myanmar's Economy In Free Fall Under Military Regime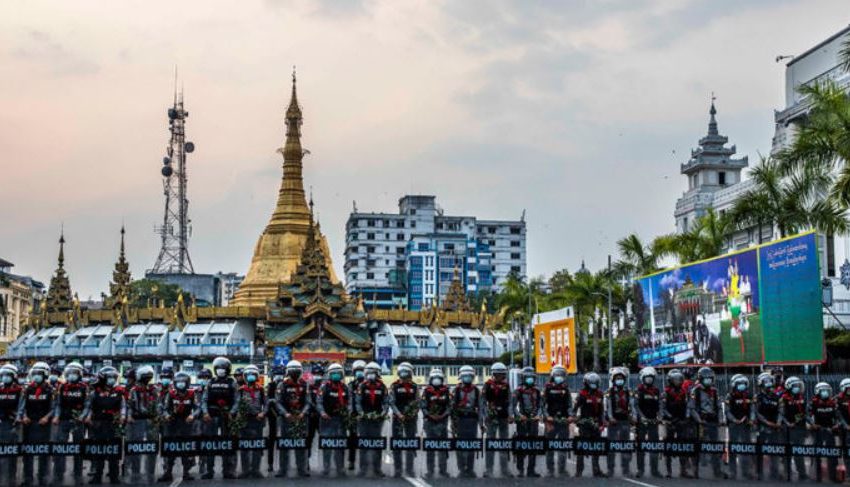 Before last year's November election, the World Bank and the Asian Development Bank predicted that Myanmar would bounce back strongly from the economic impact of the global COVID-19 pandemic, with the economy set to grow at around 6 per cent in 2021.
In the immediate aftermath of the military's February 1 coup, junta leaders sought to keep the economy on track by presenting themselves as business-friendly and saying that economic policies would remain unchanged during the state of emergency. The junta even appointed some individuals to Myanmar's key economic ministries who were already well-connected and well-known to the international community.
But now the World Bank's latest forecast reveals that Myanmar's economy is in dire jeopardy and is projected to contract by 10 per cent this year due to the impact of the military takeover. 80 days after the coup, there are already many signs that the economy is in freefall, with new investment drying up, the withdrawal of existing investment and the halting of key international-backed infrastructure projects, as western countries sanction the military regime.
Western business groups including the United States, United Kingdom, European, Italian and French chambers of commerce rejected the regime's invitation to meet with its cabinet members in March. Moreover, nearly 50 international companies including Coca-Cola, Telenor and Heineken, signed a joint statement expressing their deep concern over developments in Myanmar.
The impact of the coup has been to reverse the country's economic reforms and the economic progress made during the last decade. The coup has pushed Myanmar—previously one of the region's fastest-growing economies—back into dire poverty and left the economy on the brink of collapse. The Irrawaddy looks at what has happened to Myanmar's economy since the military takeover and how that has impacted people across the country.
City Hall in downtown Yangon blocked by the security forces in April./The Irrawaddy
Number Of New Companies Slump
Company registration figures from the government investment agency, the Directorate of Investment and Company Administration (DICA), reveal a huge slump in the number of new companies being registered.
DICA data shows that the number of new registered companies was 1,373 in January, 188 in February and 163 in March. The figures reveal that the number of registered companies has declined nearly 87 per cent compared with the same period last year. In 2020, under the National League for Democracy (NLD) government and even with the COVID-19 crisis, the number of new registered companies was 1,415 in January, 1,298 in February and 1,015 in March.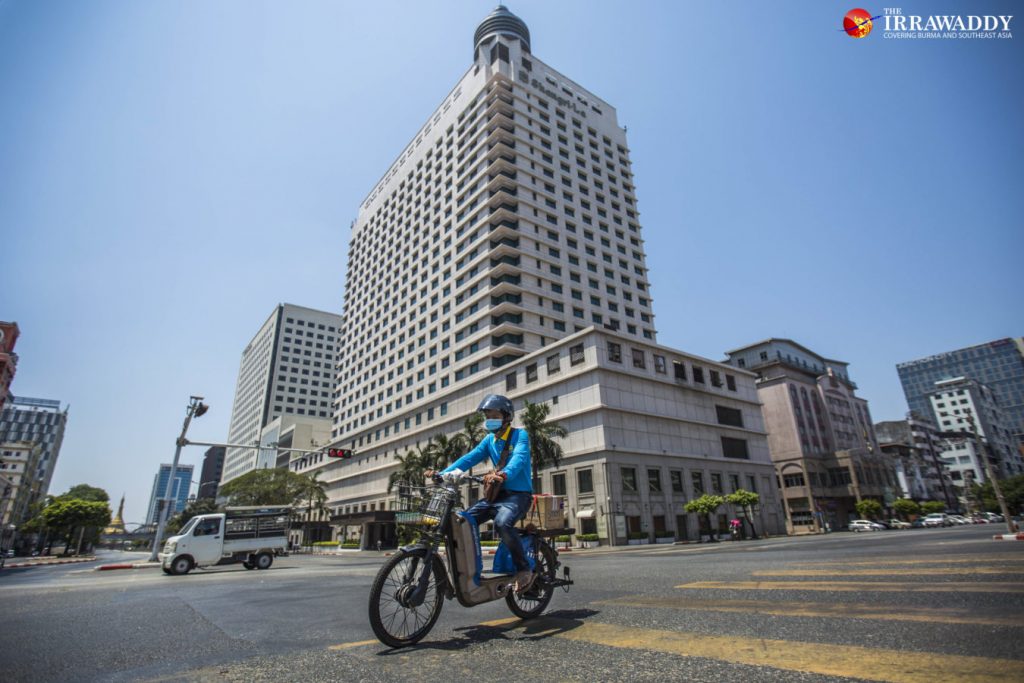 A delivery man is seen in downtown Yangon in March 2020./The Irrawaddy
Internet Restrictions Cripple Digital Economy And Fintech Market
The emerging digital economy and Fintech market collapsed after the military regime introduced large-scale internet restrictions across Myanmar. The internet blackouts have affected everything from mobile money to e-commerce and online food delivery services.
Access to mobile money services including Wave money and KZB pay has been crippled since March, when the regime blocked mobile internet and broadband services. E-commerce business is down by 75 per cent, while online food delivery services nationwide are down 80 per cent following the coup, according to reports. The result is that thousands of young people are now out of work.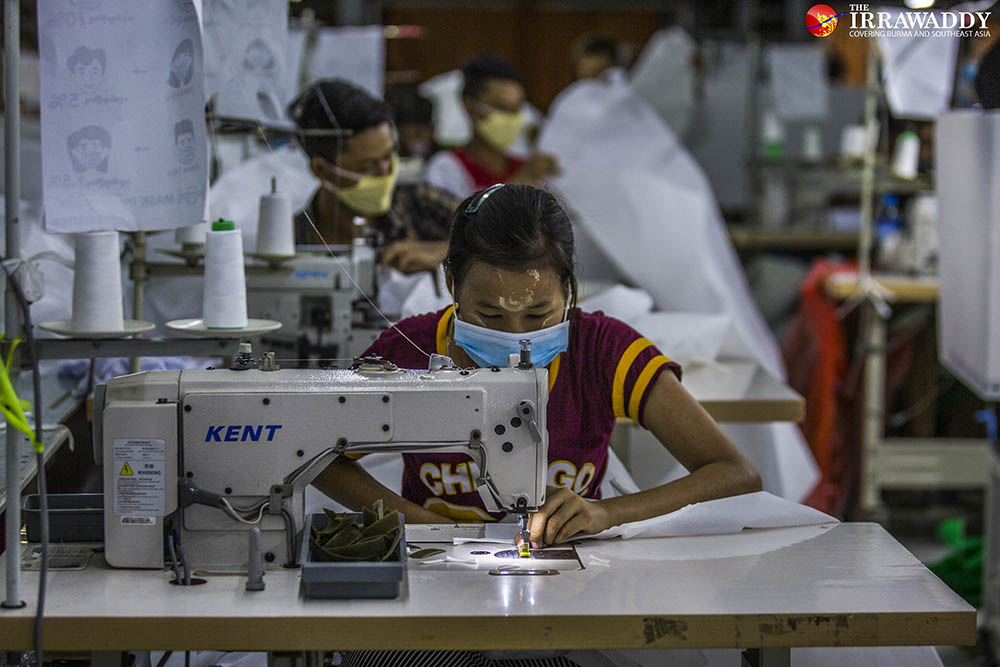 A garment factory in Shwepyithar Township, Yangon Region, in May 2020. / Htet Wai / The Irrawaddy
Garment Sector In Jeopardy
The garment sector has also been paralyzed after the largest foreign brands halted orders over concern at the politically unstable situation, while deadly crackdowns in industrial areas have also forced factories to close down and workers to return to their hometowns.
Myanmar earned between US $4 billion and US $6 billion from cut, make and pack garment exports in 2020 and the industry employed 500,000 people before the coup. Now, over 80 per cent of the garment sector has been forced to suspend operations since mid-February.
Labour organizations say that over one-third [200,000] of garment industry workers have lost their jobs since the junta launched deadly crackdowns on anti-coup protesters and imposed martial law in industrial areas.
Since the coup, the sector has also lost major foreign brands including Italy's Benetton and Swedish Retailer H&M after they decided to pause new orders from Myanmar.
H & M, the world's second-biggest fashion retailer, has had around 45 direct suppliers in Myanmar for the last seven years. But the company has suspended new orders, citing "practical difficulties and an unpredictable situation".
Italy's Benetton Group has also suspended all new orders from its suppliers in Myanmar, citing concerns over the increasing use of deadly violence against pro-democracy supporters.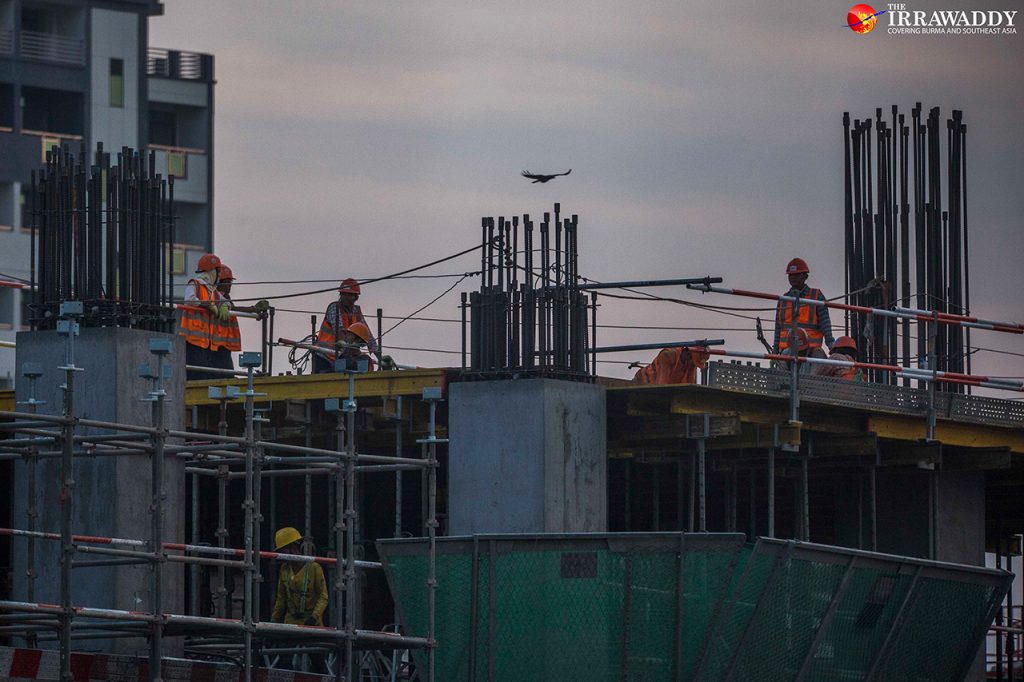 Construction workers are seen at a construction site in Yangon in 2019./The Irrawaddy
Thousands Of Construction Workers Out Of Jobs
Around 300,000 to 400,000 workers in the construction sector lost their jobs following the coup, according to the Construction Workers Union.
The union said that the political instability since the coup has forced a halt on all major infrastructure projects in Yangon, Myanmar's commercial capital, including the Korean Industrial complex, the Japan-backed Yangon-Thanlyin Bridge and the extension of the Thilawa Special Economic Zone.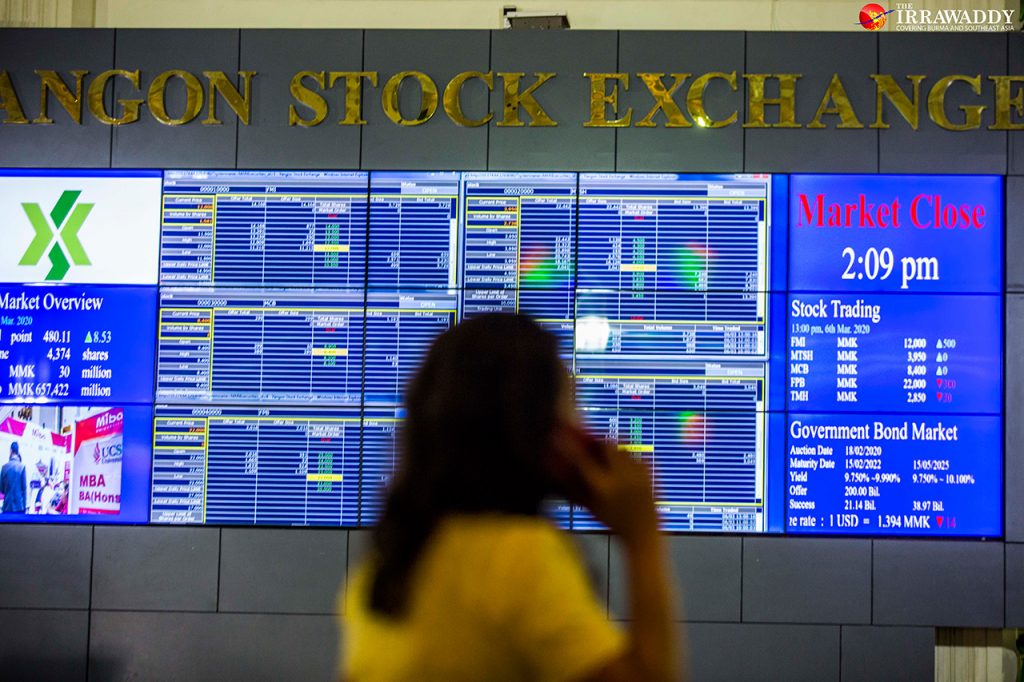 Yangon Stock Exchange./The Irrawaddy
Stock Trading At Record Low
The value of shares traded on the Yangon Stock Exchange (YSX) in March declined to its lowest level in history following the coup, according to YSX records.
The records reveal that the value of stocks traded on the exchange in March was just 110 million kyats. In the same period last year, the value of stocks traded on the exchange peaked at
1.425 billion kyats.
The value of stocks traded in February this year also dropped drastically compared with the figures in February 2020. YSX records show that 442 million kyats worth of shares were traded on the exchange in February, compared to 1.48 billion kyats traded in February 2020.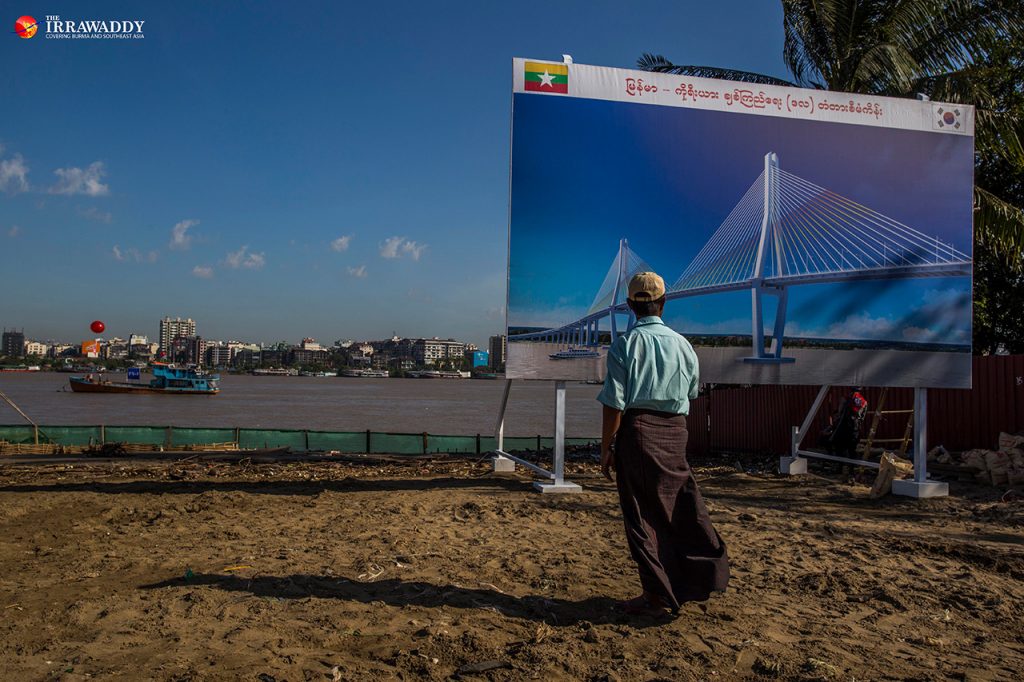 A board on the Dala side of the Yangon River displays a drawing of the proposed Yangon-Dala Bridge. / The Irrawaddy
South Korea Suspends Finance For Infrastructure Projects
In response to the military coup, the South Korean government has decided to halt financing for Myanmar government infrastructure projects until next year, according to Korean media reports.
Korea's Ministry of Economy and Finance has temporarily suspended financial support through its Economic Development Cooperation Fund (EDCF) for any new infrastructure projects by the military regime, according to the reports.
The Korean government set up the EDCF to provide support for industrial development and economic stability in developing countries and to promote economic cooperation between Korea and those countries.
The EDCF signed with the ousted NLD government to provide $1 billion worth of loans to Myanmar until 2022 to support industrialization and economic growth through various infrastructure projects. Under the agreement, the Export-Import Bank of Korea also agreed to support a nearly US $63 million loan to help Myanmar build a Korea-Myanmar Industrial Complex.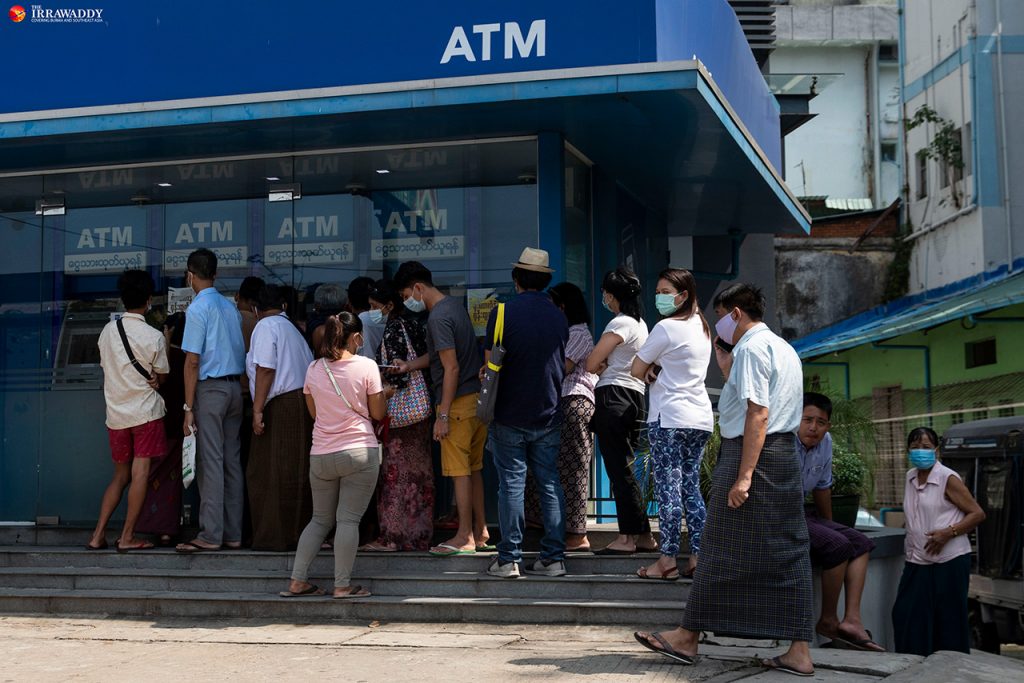 Yangon residents line up in front of a KBZ bank branch to withdraw cash on April 19. / The Irrawaddy
Banking And Cash Flow Crisis
Myanmar's banking system has been paralyzed since the coup as hundreds of branches of at least 31 local banks and 13 foreign ones have closed their doors due to staff strikes.
All banking services have been halted in the country except for mobile banking and ATM services. As a result almost all trading companies, especially those engaged in sea-bound trade, have been forced to halt operations, as the banks are unable to issue the documents needed to import and export goods. Companies are also struggling to pay salaries, as banks are not providing payroll services.
Businesses are also suffering from a cash shortage as bank branches have closed down and the regime has ordered limits on cash withdrawals for both individuals and companies.
Moreover, businesses have been constrained by cash shortages for months. Foreign businesses are also suffering from a money shortage as both cash withdrawals from the local bank and importing new funding from abroad has become difficult.
Under the previous government, the review process for new transactions from abroad took only a week. Currently, business people are not allowed to know how the review process works.
Foreign Firms To Exit
Large foreign firms are under pressure to pull out of any businesses which help bankroll the military regime. Australia's Woodside Petroleum said it has decided to withdraw its 100-odd workers from an offshore drilling project in Myanmar.
The company said the move is a response to human rights violations following the coup, with Woodside saying that it will keep all business decisions under review until they see the future outlook for Myanmar and that political stability has improved.
The company completed pulling staff and machinery out of Myanmar in March.
South Korean Steel Makers Coated & Color Steel Co Ltd, an affiliate of POSCO, said that a plan is underway to end its joint venture with Myanmar Economic Holdings Public Co Ltd (MEHL), one of the country's two military-controlled conglomerates.
The company is already discussing a plan to buy MEHL's 30 per cent stake so that it can continue operations as the sole owner. The joint venture company produces sheet metal for residential and factory roofing and made profits of around US $1.7 million in the last year.
The move came after the company came under pressure from human rights group in both Myanmar and Korea to end its ties with military-linked companies in Myanmar.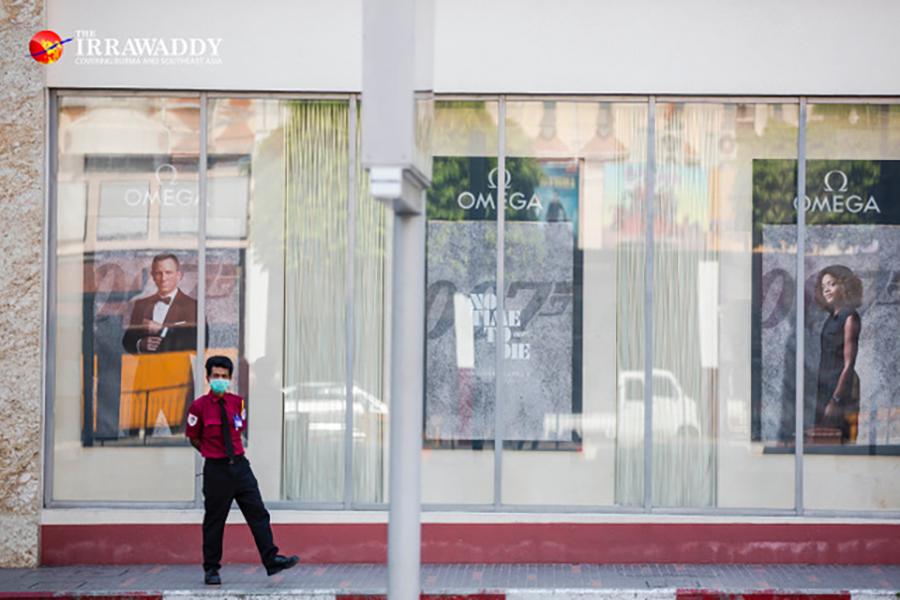 A security guard in front of Sule Square in downtown Yangon in March 2020./The Irrawaddy
World Bank Forecasts 10 Per Cent Slump In Growth
Myanmar's economic growth is set to shrink by 10 per cent this financial year as military rule hammers one of the region's fastest-growing economies, according to the World Bank.
The global financial institution forecast in December that Myanmar's economy would start to recover from COVID-19 in March. But it said that since the coup Myanmar has been heavily affected by protests, strikes, military action, reductions in mobility and disruption to public services, like banking, logistics and internet access.
ADB Halts Funding For Government Projects
One of the Myanmar's biggest development partners, the Asian Development Bank (ADB), has also put on hold funding for Myanmar government development projects ranging from transport and energy, to education and information technology, following the lethal crackdowns on peaceful anti-regime protesters that have killed over 700 civilians.
The ADB said in a statement that it remains "deeply concerned about recent developments in Myanmar, especially the loss of life during civil protests". The bank stated that the change in the country's circumstances will have a serious impact on Myanmar's economic and social development.
Under the latest loans agreement, the ADB approved a US $484 million loan in November 2020 to construct a new expressway connecting Bago Region and Mon State. Both areas lie along Japan's planned East-West Economic Corridor, a grand infrastructure scheme for the Greater Mekong Subregion.
French Energy Giant Halts Hydropower Project
French energy giant Électricité de France (EDF) has suspended a hydropower project worth more than US $1.5 billion in Myanmar's Shan State over human rights concerns, as the military regime continues to use deadly force against anti-coup protesters across the country.
EDF said that it has halted development of the Shweli-3 Project, including the activities of its subcontractors. Led by EDF, the 671 MW project was being jointly developed with Japan's Marubeni Corporation and the locally owned Myanmar Ayeyar Hinthar Company.
The companies received a Notice to Proceed in 2018 under the NLD government. It was expected to generate 3 billion kWh of electricity annually for the national grid and supply power to more than 8.5 million people nationwide.
Singapore's Businessman Leaves
Prominent Singaporean businessman Lim Kaling has pulled out of a joint venture with ties to the Myanmar military-owned conglomerate MEHL.
One week after the military staged their coup and detained State Counselor Daw Aung San Suu Kyi and President U Win Myint, Lim said that recent events in Myanmar had caused him "grave concern".
Lim Kaling disposed of his one-third stake in the joint venture that owns RMH Singapore Pte Ltd. MEHL and RMH jointly operate Virginia Tobacco Co. Ltd. (VTCL). RMH owns a 49-per cent stake in VTCL, while MEHL owns the remainder. It has been operated as a joint venture since 1993. VTCL has a virtual monopoly on the cigarette market in Myanmar, producing the country's most popular cigarette brands, Red Ruby and Premium Gold.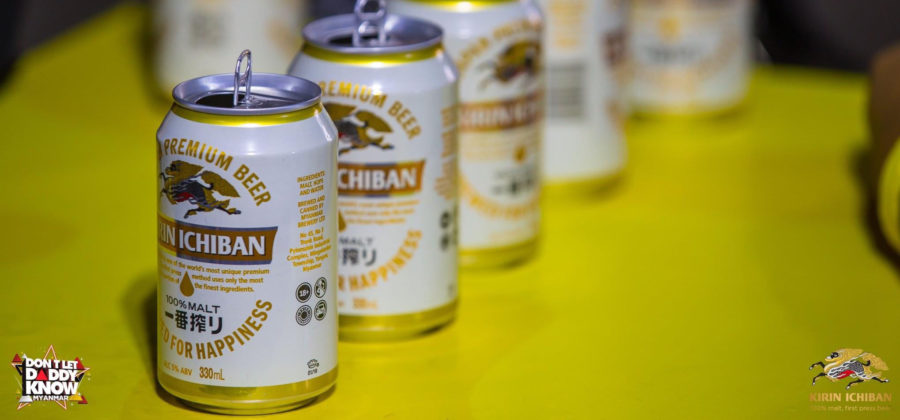 A Kirin promotional event. / Kirin Ichiban Myanmar Facebook
Kirin Cuts Tie With Myanmar Military-owned Firm
Five days after the coup, Japanese beverage giant Kirin cut ties with a Myanmar military-owned conglomerate saying it was deeply concerned by the recent actions of the military, which are against their standards and human rights policy.
Kirin Holdings Co. Ltd. announced that it would end its joint-venture partnership with MEHL. Kirin held 51 per cent of both the Myanmar Brewery and Mandalay Brewery, with MEHL holding the rest.
World Bank Halts Payments To Myanmar
The World Bank, one of Myanmar's largest development partners, announced that it had put a hold on disbursements for its existing development operations in the country in sectors ranging from electricity and education to technical assistance, following the military takeover.
The bank is involved in at least 24 ongoing projects in Myanmar worth billions of dollars, according to the World Bank's development project list.
Singapore: Wait And See
Singaporean conglomerate Sembcorp has decided to halt a plan to develop an industrial park in Yangon's Hlegu Township.
Sembcorp President and CEO Wong Kim Yin told the media that his company would wait until the political situation stabilizes, saying the company also needs to see how its customers respond as well.
The Myanmar-Singapore (Hlegu) Industrial Park is expected to be built on 436 hectares of land in Hlegu Township at an estimated cost of $230 million. The project received approval from the Myanmar Investment Commission in 2020.
The project was a joint development by Sembcorp CSSD Myanmar Co.—a subsidiary of Sembcorp Industries—and Myanmar's Pahtama Group and Myanmar Agribusiness Public Corp. The development was a priority project under the ousted NLD government's plan to secure foreign investment to mitigate the impact of the COVID-19 pandemic on Myanmar's economy.
Toyota Postpones Plan To Open New Plant
Toyota, the world's biggest car manufacturer, has delayed opening a vehicle production plant in the Thilawa Special Economic Zone (SEZ) on the outskirts of Yangon, with the company citing concerns over political instability following the coup.
Toyota Myanmar announced its plan to build the US $52.6 million production plant in 2019, and said it anticipated employing more than 150 staff in Myanmar. The company said in 2019 that it expected the plant to produce around 2,500 Hilux trucks annually, starting from 2021.
An artist's rendering of the proposed Amata industrial hub in Yangon./Amata
US $1 Billion Industrial Complex Halted
One day after the coup, work on a US $1 billion industrial hub project backed by the Amata Corporation, Thailand's largest industrial estate developer, was suspended due to possible sanctions by Western countries.
Envisioned as an industrial complex on 2,000 acres of land near Laydaunkkan Village in East Dagon and South Dagon townships in Yangon, the project was one of a number launched by the former NLD government to mitigate the impact of the COVID-19 pandemic on Myanmar's economy.
The NLD government inaugurated the project in late December last year and it was expected to create 33,000 jobs, attract foreign investment and boost the Yangon Region's industrial output and exports.
(By arrangement with 'The Irrawaddy')