Myanmar Junta Chief Not Seen In Public For More Than A Week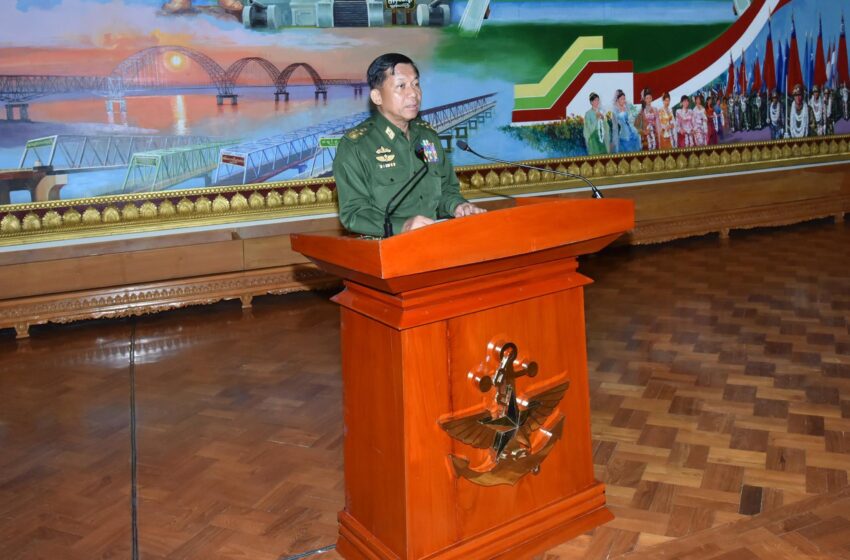 Myanmar's coup leader Min Aung Hlaing has dropped out of sight. Various possible reasons have been offered for his disappearance from public view. Some military sources say he has contracted COVID-19; others say he is suffering from cancer of the lumbar, or lower back, region.
The only thing that's certain is that the Myanmar military chief—who has gained international notoriety for ousting the country's democratically elected government in a coup last year claiming electoral fraud, and killing more than 1,500 people for rejecting his rule—has not been seen in public for more than a week.
Those who track Min Aung Hlaing's movements will be aware that he is rarely off the public radar screen for long. Over the past year since his power grab, there has been a handful of instances in which he has been absent for a few days. Typically, he reappears at a cabinet meeting delivering a long, rambling speech, or resurfaces on a military base to lecture his subordinates and their families on why his coup was legitimate. But he had never gone missing for a whole week.
He was last seen along with other senior regime members at a religious ceremony in the country's capital Naypyitaw on February 27. Since then there has been no sign of him, nor have there been any meetings of the regime's governing body, despite the fact that the country has been hit by devastating prolonged power outages and skyrocketing commodity prices.
The mystery only deepened when his planned trip to Pyay in Bago Region this week was cancelled at the last minute, according to military sources there. Min Aung Hlaing rarely postpones or cancels trips unless there is some major issue to deal with.
Among the online responses sparked by the coup leader's unusual absence from public view is speculation that he is battling a spinal tumour. This theory has been fuelled by photos taken of Min Aung Hlaing at a public appearance a few weeks ago showing him wearing a back brace.
Whatever the truth may be, the news of his absence has delighted Myanmar people, who have endured serious hardships under his military dictatorship. On Myanmar's most popular social media platform, Facebook, many users heartily embraced the idea that he has disappeared.
(By arrangement with 'The Irrawaddy')