Myanmar Is A COVID-19 Time Bomb; Can Lives Be Saved?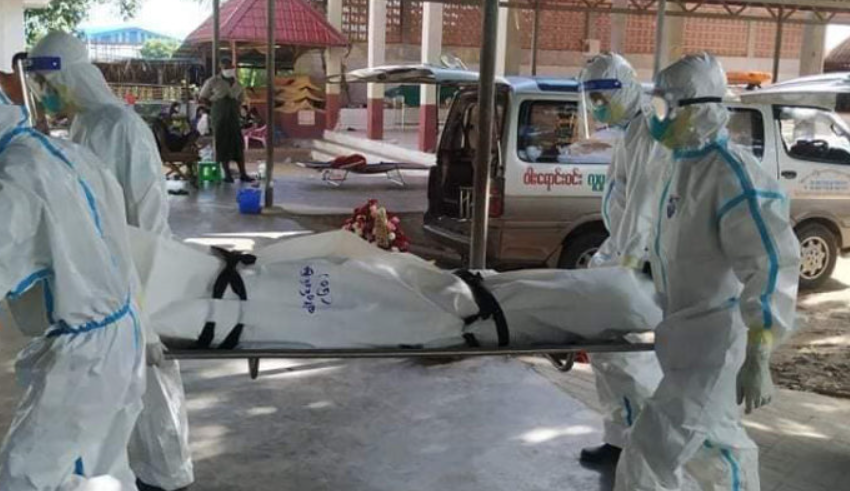 The coup and the resulting political turmoil have caused Myanmar's health care system to collapse and thrown the country's COVID-19 response into chaos. Today, Myanmar is on the brink of a COVID-19 catastrophe due to a lack of leadership, vision and proper management.
Many physicians and nurses have gone into hiding because of their conspicuous support for the Civil Disobedience Movement (CDM).
The military has also arrested many medical staff accused of supporting the anti-coup movement. Opposition activists and charity groups accuse security forces of confiscating oxygen cylinders, protective wear and medicine for their own use during raids. Many COVID-19 patients are badly in need of oxygen and lack proper medical care.
On Thursday alone, Myanmar registered 6,701 new COVID-19 infections and 319 deaths—the highest single-day death toll since the February military takeover. However, medics, charity organizations and funeral services say the real death toll is far higher, with people dying in their homes, gasping for breath due to an acute shortage of bottled oxygen. Crematoriums are unable to keep pace.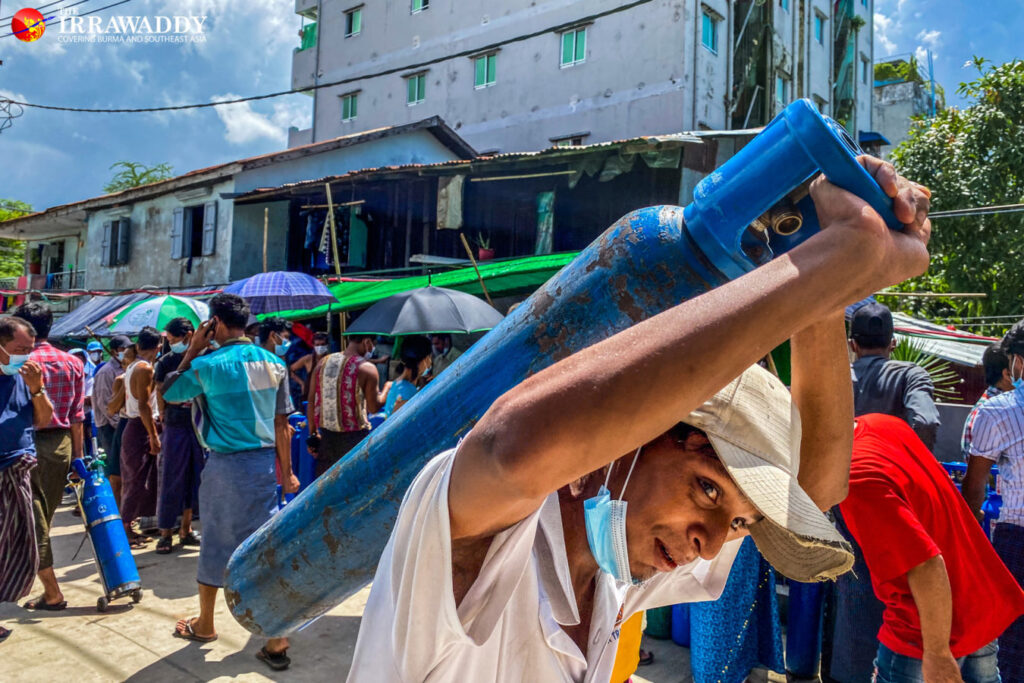 People scramble for oxygen cylinders in Yangon. Many COVID-19 patients are being turned away by hospitals. (Photo: The Irrawaddy)
The virus is also spreading fast among armed forces personnel, and several ministers have been infected and admitted to military hospitals. The country's prisons are seeing rising infections and recently a key National League for Democracy member died of COVID-19 while in detention. On Friday, a three-hour-long protest broke out at Yangon's notorious Insein Prison, with inmates demanding that the regime provide care to COVID-19 patients living in crowded conditions.
Meanwhile, bodies are piling up at Yangon's cemeteries—evidence that the incompetent regime's mismanagement of the outbreak has killed many hundreds of patients.
The public has no confidence in the regime to control the outbreak.
In the first three weeks of July alone, more than 2,200 people died. The U.S. Centers for Disease Control and Prevention recently designated Myanmar a level 4 COVID-19 nation—its most dangerous ranking—citing the daily rising number of deaths.
Meanwhile, in ethnic states, notably Chin, Kayah, Karen and Kachin, armed conflict is worsening, forcing thousands of people to flee their villages and homes. According to the United Nations and aid groups, conflict in Myanmar's remote border regions has displaced an estimated 230,000 residents since the coup.
These are in addition to the more than 500,000 people displaced during decades of armed conflict between the military and ethnic armies across the country.
Now, there are growing calls for the international community and neighboring countries to step in to secure humanitarian access to Myanmar to deal with its COVID-19 upsurge. China, India and Thailand could be key players in setting up border-based aid and humanitarian centers to deliver assistance inside the country.
Many observers have said it is time to focus on saving lives and called for humanitarian intervention, though there are concerns that the regime would try to take credit for any such efforts.
The question is, if the UN and Myanmar's neighbors make a call to the regime to allow aid in, will it say yes? So far, coup leader Senior General Min Aung Hlaing has not asked for outside assistance. More than 730,000 COVID-19 vaccine doses donated by China arrived in Yangon on Thursday, out of a total of 2 million doses to be donated by the neighboring country. It is unclear how they will be distributed to the people.
The question of how best to provide aid to Myanmar becomes more pressing by the day amid reports of the increasingly grim state of the pandemic in the country of 54 million people, with all indications being that the virus is wreaking havoc as proper treatment becomes scarce and vaccines are largely unavailable.
There are those with the ability to help. Whether they will take the initiative to do so remains an open question.
(By arrangement with 'The Irrawaddy')