China Will Face Rejection From Myanmar People for Working With Junta: Shadow Govt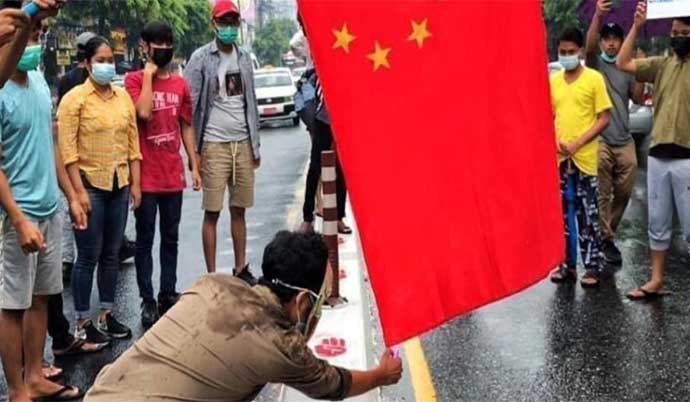 Myanmar's parallel civilian National Unity Government (NUG) has warned China that any effort to build a partnership with the military regime would be rejected by Myanmar's people and could seriously damage China's international reputation.
The warning was issued in a statement by the NUG's Ministry of Foreign Affairs after Chinese Foreign Minister Wang Yi met with his Myanmar regime-appointed counterpart Wunna Maung Lwin in Tunxi, Anhui Province on April 1. Wunna Maung Lwin was in China at Wang's invitation.
The NUG was formed by elected lawmakers of the ousted National League for Democracy (NLD) government, led by Daw Aung San Suu Kyi, along with their ethnic allies to challenge the regime's legitimacy at home and abroad. Many in Myanmar take the NUG as their legitimate government and many Western countries have shown support for it, despite their reluctance to offer official recognition.
During the meeting, the Chinese foreign minister said China was ready to work with Myanmar to deepen exchanges and cooperation in all areas, including people-to-people bonds, "no matter how the situation changes" to achieve the goal of building a China-Myanmar community with "a shared future."
Myanmar is currently ruled by a military regime that grabbed power from the country's democratically elected government in February last year. The coup has so far killed more than 1,700 people and caused serious social and political instability, with many observers fearing that the country is now on the verge of being a failed state.
While the regime is treated as an outcast by most Western democracies, China has been one of the few countries to engage with the junta, as it is one of Myanmar's top investors and has a number of strategic infrastructure projects in its southern neighbor, including energy pipelines and a proposed port that would give Beijing a critical link to the Indian Ocean.
On Monday, the NUG said in a statement that the shadow government was committed to China's goal of a shared future. But any effort by China to build that future with the regime, it said, risks serious damage to the international reputation of the People's Republic of China.
"Equally important, the people of Myanmar will soundly reject any efforts by foreign governments to establish such a partnership with the illegitimate military regime," it warned.
China's failure to condemn the coup has resulted in anti-China demonstrations in Myanmar, and factories owned and run by Chinese companies have been attacked. The anti-China sentiment cooled somewhat when China urged the regime last year not to dissolve the NLD.
However, a Yangon-based observer of China-Myanmar relations said Wang's affirmation that China was ready to work with the junta could see anti-Chinese demonstrations return, as anti-regime resistance is now at unprecedented levels and this could put Chinese gas pipeline, copper and nickel projects, among others, at risk.
"Even though they want to do it for economic purposes, China would face strong popular rejection, especially in this time of political instability," he said.
The NUG also urged China to respect the will of the people of Myanmar and listen to the voices of the people by immediately compelling the military junta to stop all violence and restore civilian governance while working with the NUG and Myanmar's diverse ethnic nationalities to deliver humanitarian assistance to end the suffering of the Myanmar people.
"Such a move would help China and Myanmar secure a strong and robust … shared future," it said.
The NUG added that it was saddened to see the "pauk-phaw" (sibling) relations between China and Myanmar damaged by the regime.
"The NUG stands ready to work with the Chinese government towards repairing this damage and building a new type of 'pauk-phaw' [relationship] in the future," it said.
(By arrangement with 'The Irrawaddy')