100 Days Since Myanmar's Coup: Looming Economic Collapse, Poverty And Hunger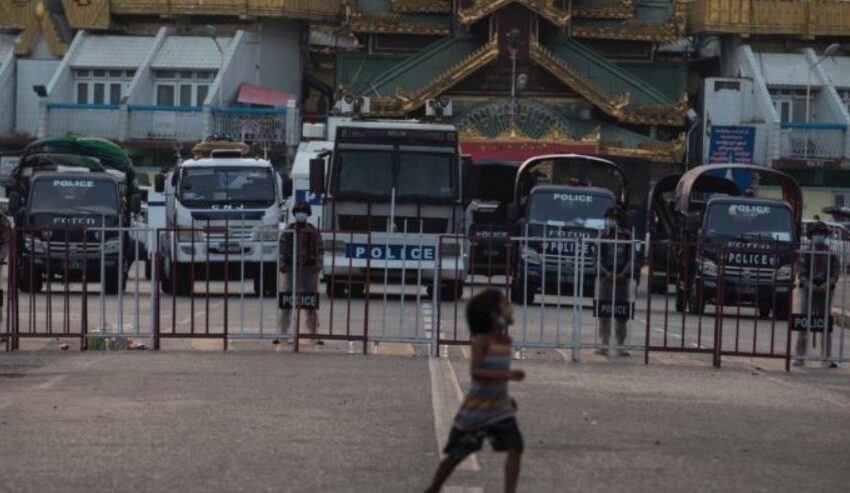 Following the coup, Myanmar's economy is facing significant risks of a collapse and the level of impoverishment has not been seen in the country since 2005, the United Nations Development Programme (UNDP) recently revealed in a report.
Over the past 10 years, Myanmar's average economic growth has exceeded 6 percent. However, the World Bank has now projected growth to contract by 10 per cent this year because of the coup, by far the biggest contraction in Asia, which is already reeling from the impact of Coronavirus.
Once the fastest growing economy in Southeast Asia, Myanmar's investment is drying up, international projects have halted and existing operations are being shelved. As a result, millions of people are facing food shortages and falling into poverty.
On Sunday, the kyat declined to its lowest level against the US dollar in a decade as public trust dropped. The regime has made several efforts to restart the economy, including threatening employers and claiming that it is business as usual. However, moves by the junta have been counterproductive, exacerbating the impact of COVID-19.
One hundred days after the coup, The Irrawaddy looks at how the generals have pushed the region's fastest-growing economy back into dire poverty, leaving it on the brink of collapse and impacting people across the country.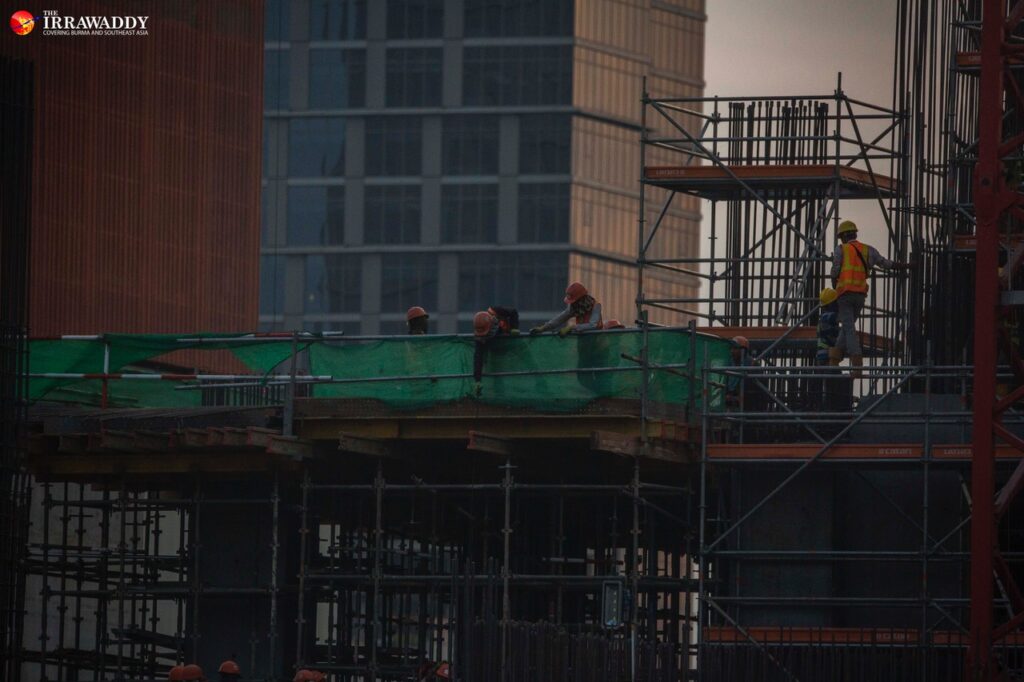 Construction workers in Yangon in March last year. (Photo: The Irrawaddy)
Major Projects Halted
Since the coup, foreign investors suspended more than US $6 billion (9.4 trillion kyats) worth of projects amid concerns about international sanctions, propping up the junta and the stability of investment.
Among the significant projects, work on a US $1-billion industrial hub backed by the Amata Corporation, Thailand's largest industrial real estate developer, was suspended due to possible international sanctions.
Toyota, the world's biggest car manufacturer, has delayed opening its US $52.6-million vehicle plant in the Thilawa Special Economic Zone on the outskirts of Yangon with the company citing concerns over instability.
Singaporean conglomerate Sembcorp halted plans to develop an industrial park in Yangon's Hlegu Township and decided to wait until the situation stabilizes, saying the company also needs to see how its customers respond.
French energy giant EDF (Électricité de France) has suspended a hydropower project, worth more than US $1.5 billion, in Shan State over human rights concerns, as the regime continues to kill protesters.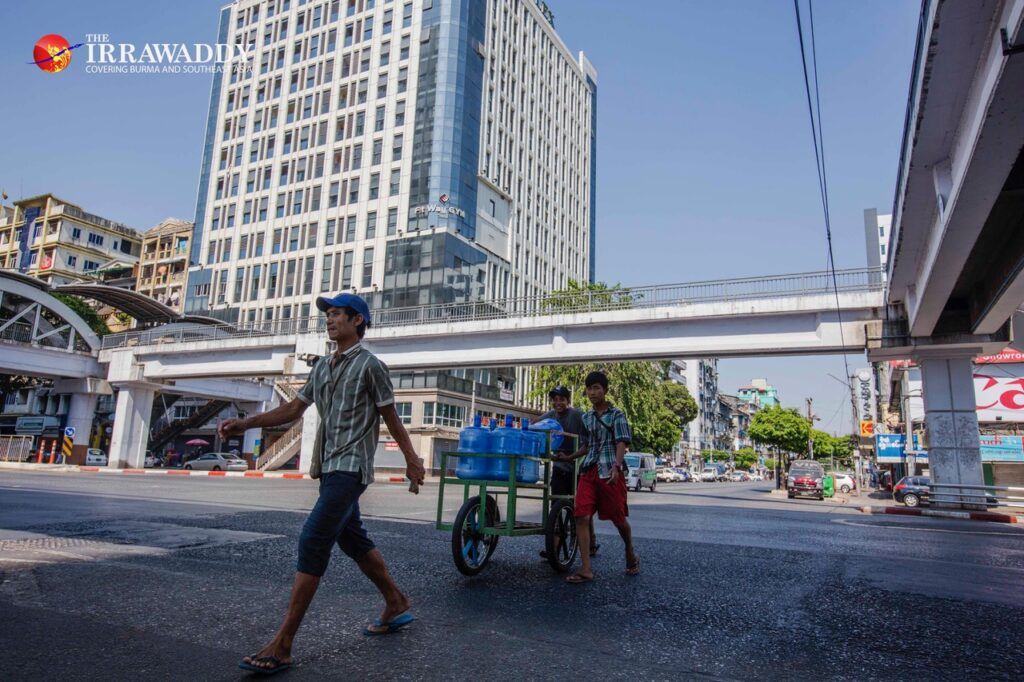 Bottled water is delivered in Yangon in March last year. (Photo: The Irrawaddy)
Economy Shrinks By 10-20 Per Cent
Last year, Myanmar's gross domestic product growth fell to 1.8 per cent due to COVID-19. However, the World Bank and Asian Development Bank were forecasting a bounce back to 6 per cent growth this year.
The World Bank has since projected that Myanmar's economy is set to shrink by 10 per cent this financial year.
An anonymous economists' report projected an economic contraction of 20 per cent this fiscal year.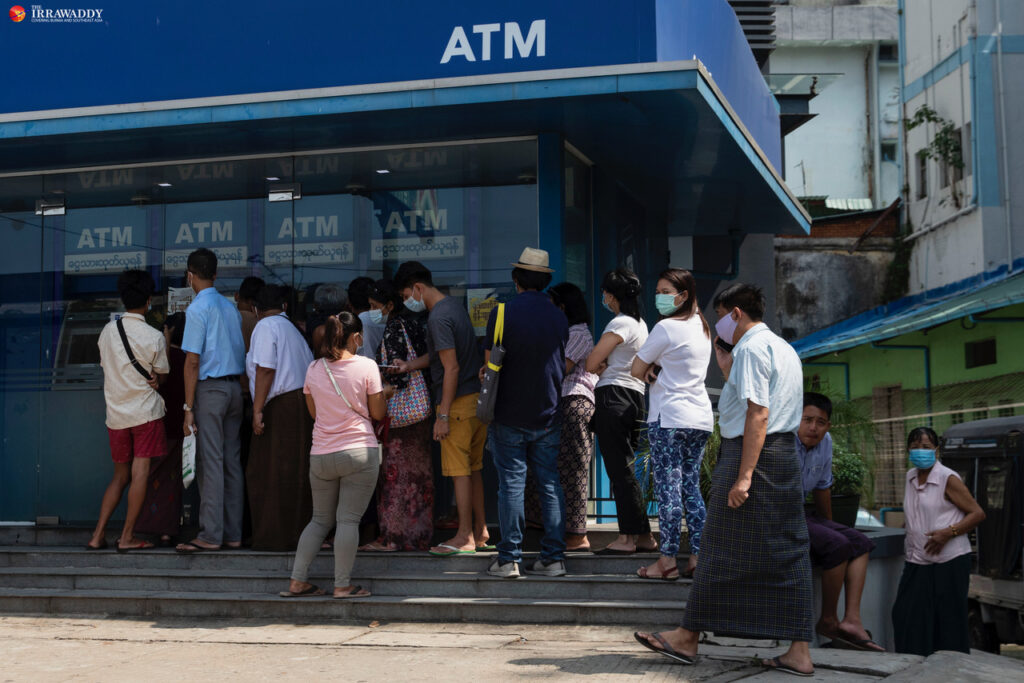 Queues for cash at a KBZ branch in Yangon on April 12. (Photo: The Irrawaddy)
Banking Crisis Sparks Cash Shortage
Myanmar's banking system has been paralysed since the coup with branches closed for nearly three months, cash shortages and limited access to social welfare payments and international remittances for hard-pressed families.
All the sea trade has ceased as banks are unable to issue documents needed to import and export goods. Companies are struggling to pay salaries, as banks are not providing payrolls.
Since mid-February, businesses have suffered from a cash shortage. Immediately after the coup, many people rushed to ATMs to withdraw their cash as rumours spread of a banking collapse.
To avoid a run on the banks, the regime ordered limits on cash withdrawals for both individuals and companies. However, it created fears that the banks had no cash and would collapse. Each day, queues form at ATMs as people wait to withdraw their daily limit of 200,000 to 300,000 kyats.
Many return empty-handed as the ATMs quickly run out of money. Each machine can only allow 30 to 40 people to withdraw cash per day. Thousands of private-sector staff across the country have been unable to withdraw their April salaries.
Most private banks started to reopen in late April amid repeated junta threats of penalties and orders to blacklist staff who refuse to return to work. Customers only come to the banks to withdraw cash, creating more cash-flow problems.
Financial observers estimate that if cash withdrawals continue at the current rate, the banking system may collapse in the next two months. They said the Central Bank of Myanmar is unable to provide the required liquidity for the banks.
"This is a crisis of confidence. People do not trust the regime's administration. No wonder that they do not trust the banking system. The crisis will ease only when a democratic government returns," an analyst based in Myanmar, who asked not to be named, told The Irrawaddy.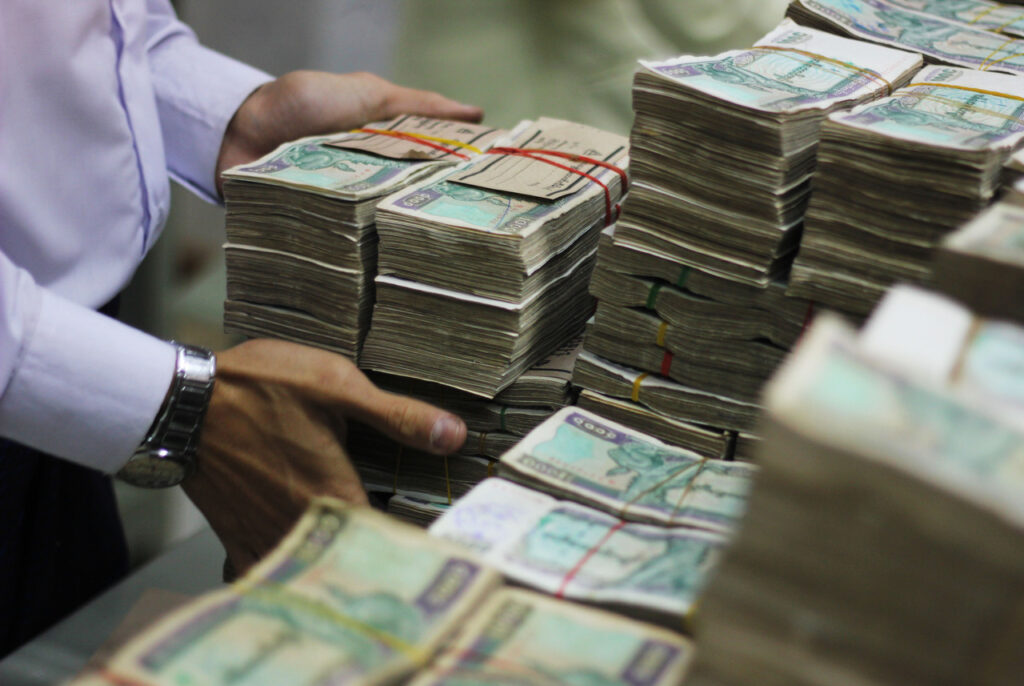 A private bank collects banknotes in September 2012. (Photo: The Irrawaddy)
Kyat Slumps
The kyat has tumbled in value as confidence and trade fall, losing more than 20 per cent since the coup and recording its lowest level against the dollar in a decade on May 11.
The dollar exchange rate was 1,345 kyats in January, rising to 1,465 kyats after the coup. It touched 1,550 kyats in March and 1,680 kyats on Tuesday.
Exports fell by around 45 per cent and imports by 65 per cent. The tumbling kyat is sparking price rises, hurting the poor and causing shortages of some essentials, including the costs of fuel and medicine.
 Garment workers in Yangon's Hlaing Tharyar Township last year. (Photo: The Irrawaddy)
Half Of Million Jobs Lost
Myanmar's trade unions estimate that around 600,000 workers have lost their jobs since the coup.
The garment sector has been paralyzed after major foreign brands halted orders and crackdowns in industrial areas forced factories to close and workers to return to their hometowns.
Myanmar earned between US $4-6 billion from clothing exports in 2020 and the industry employed 500,000 people before the coup. Over 75 per cent of the sector has been forced to suspend operations since mid-February.
The trade unions said over 300,000 garment workers have lost their jobs and Italy's Benetton and Swedish retailer H&M have paused new orders.
The Construction Workers Union said around 300,000 to 400,000 construction jobs have gone as all major infrastructure projects are halted in Yangon.
Professional jobs are also being lost. Job agencies said hundreds of staff from the foreign companies in the major cities are losing their jobs.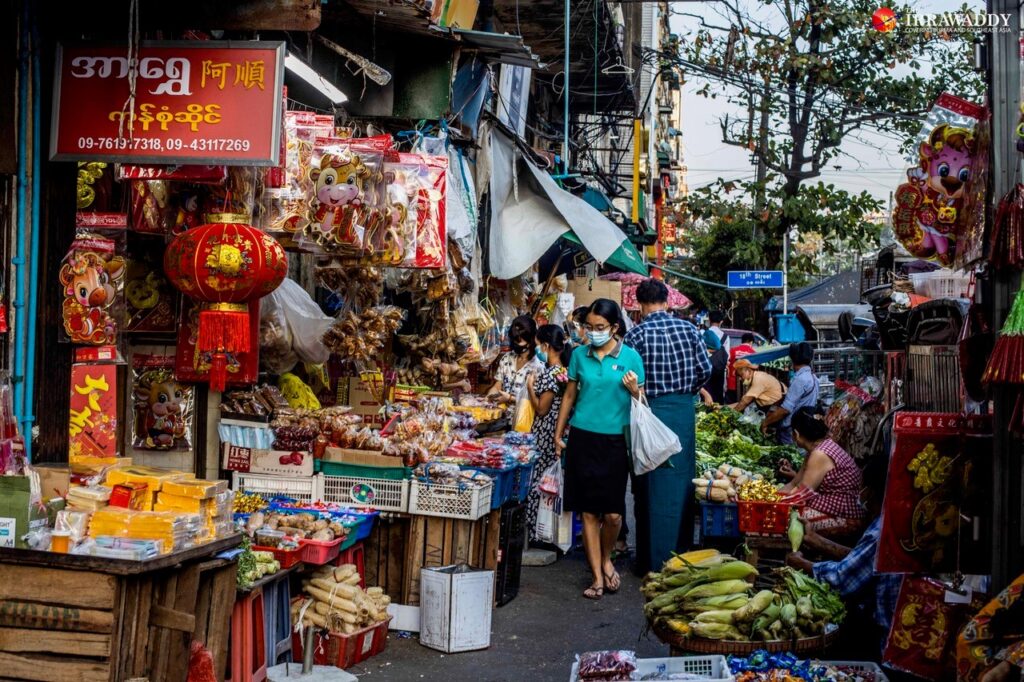 A Yangon market in February. (Photo: The Irrawaddy)
Millions Could Go Hungry
The United Nations World Food Program (WFP) warned that up to 3.4 million citizens could go hungry this year amid rising food prices and the loss of manufacturing, construction and services jobs.
The WFP estimated that food insecurity is rising sharply in Myanmar alongside food prices and joblessness. It said COVID-19 concerns are also accelerating the economic deterioration and humanitarian crisis.
The global agency called for a concerted, immediate response to alleviate suffering and to prevent an alarming deterioration in food security. The WFP's food monitoring index shows palm oil retail prices have risen by 20 per cent since the start of February around Yangon. Rice prices around Yangon and Mandalay rose by up to 4 per cent, it said.
Further price rises are expected because of the near paralysis of the banking sector, slowdowns in remittances and widespread limits on cash availability, the WFP said.
Almost Half The Population Faces Poverty Next Year
The UNDP estimated that the impact of military rule and the COVID-19 pandemic could force nearly half of Myanmar's population into poverty by 2022.
The development agency said after a year of the Coronavirus crisis, the February 1 coup compounded its socioeconomic effects. "If the situation on the ground persists, the poverty rate could double by the beginning of 2022," its February report said.
According to the World Bank, Myanmar has 54.5 million people, which means more than 27 million could be hungry by 2022.
Twin crises were causing significant losses of wages and income, particularly for small businesses, and restricted access to food, basic services and social protection for the wider population, it said.
By the end of 2020, 83 per cent of Myanmar's households reported that their incomes had been, on average, almost halved due to the COVID-19 pandemic. As a result, the number of people living below the poverty line was estimated to have increased by 11 percentage points, according to the UNDP. The situation worsened further with the February coup, with projections indicating a further 12 percentage point increase in poverty, the UNDP reported.
The UNDP said women and children are expected to be hit the heaviest by COVID-19 and military rule, especially in urban areas where most low-income families live.
(By arrangement with 'The Irrawaddy')