India Signals Support For Maldives President Solih But Nasheed Is Playing Spoiler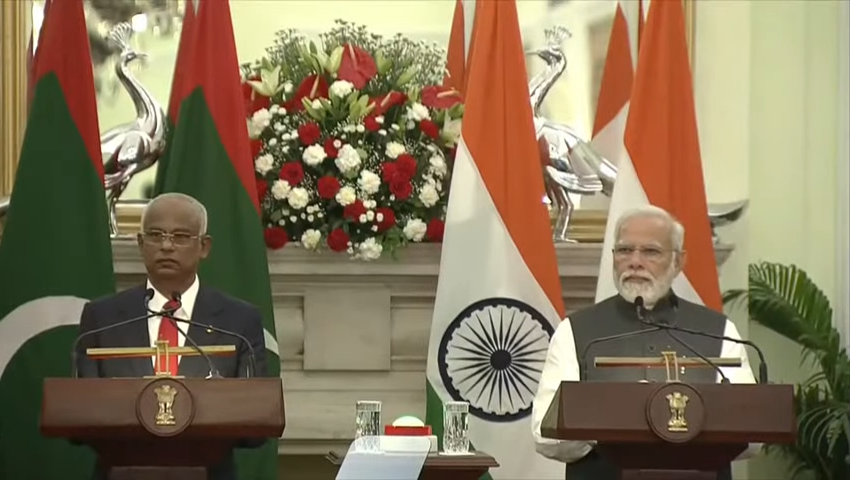 Maldivian President Ibrahim Solih's visit to India struck all the right notes, with a commitment by India for a $100 million line of credit, continued support for the $500 million Greater Male Connectivity Project and closer coordination in defence and security.
"It includes capacity building and training support for Maldivian security officials," Prime Minister Modi said during the signing ceremonies at Hyderabad House in Delhi. "I am happy to announce that India will provide 24 vehicles and one Naval Boat for the Maldives Security Force. We will also cooperate in building police facilities in 61 islands of the Maldives."
The optics surrounding the agreements had another intent: to demonstrate India's backing for President Solih at a time when he has locked horns with Mohammad Nasheed, speaker of the parliament, and a bitter and increasingly nasty political and personal battle is being waged. At stake is the presidency with elections due next year and Nasheed wants that job. The problem is Solih plans to stand for another term, and this is where the cookie crumbles.
There's more. Nasheed has no doubt the recent arrest of his brother at a gay bar "was politically motivated to appease hardline elements in the coalition." He was pointing the finger at the Islamist Aadalath Party which is in coalition with the MDP (Maldivian Democratic Party). Nasheed claims Solih has surrendered to the Islamists in the coalition.
India has willy-nilly been drawn into this. The Adalath says yoga is linked to Hinduism and therefore should not be practiced by Muslims. It suggested tacit support for the disruption of the recent Yoga Day event in Male by supporters of former president Abdulla Yameen. Accusing the government of not being true to "Islamic nationalism", Yameen has been leading a hard "India Out" campaign, accusing the government of "selling out" to India. It forced Delhi to come out with a strong retort that the "India Out" campaign was based on "misinformation and false propaganda."
India's high commissioner Munu Mahawar was specific, accusing the pro-China Yameen supporters of stirring the pot on a non-issue, and that "they do not reflect the views of the people of the Maldives."
What may worry India is the Maldivian government's less than stellar ability to counter Yameen, which is probably because the ruling MDP is divided between Solih and Nasheed. But the election earlier this year of Solih's nominee for the party chairmanship winning 58% of the vote over Nasheed's nominee, does suggest Solih has the numbers. Nevertheless, Nasheed remains popular although his personal ambition could be taking a toll on the party.