Ex-Maldives President Nasheed Injured In 'Terror' Attack, Aussie Police To Aid Probe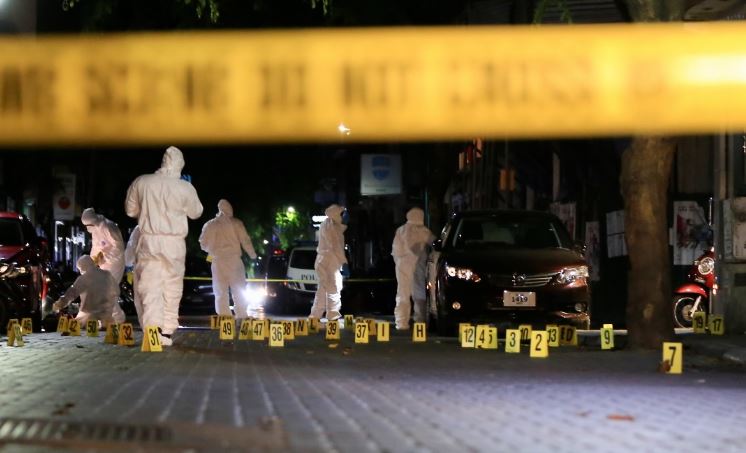 NEW DELHI: Former Maldives President and current Speaker of the People's Majlis (parliament), Mohamed Nasheed was reported stable following multiple surgeries for injuries he sustained after an explosion near his home in the capital Malé.
The explosion was heard around the capital at around 8:39 PM local time (20 minutes before a renewed COVID curfew came into place) as Nasheed was reportedly getting into his car. The device is thought to have been planted in a nearby two-wheeler.
In a statement around midnight, ADK Hospital said Nasheed "was brought with multiple injuries at 20:30hrs. He is currently being treated by a multi-speciality medical team. His vitals are currently stable. During ongoing assessment of injuries, a need for further surgeries (was) identified. Specialist teams are proceeding with the required essential surgeries."
The Maldivian government appears convinced it was a terrorist attack. "Three of his bodyguards and a UK national were also injured in a terrorist attack", said a statement released by Parliament. President Ibrahim Solih convened an emergency Cabinet and National Security Council meeting after visiting the hospital where Nasheed is being treated. He announced, "We are treating this matter with utmost seriousness," and in an address to the nation said, "a team from the Australian Federal Police would arrive on Saturday to aid authorities in the investigation."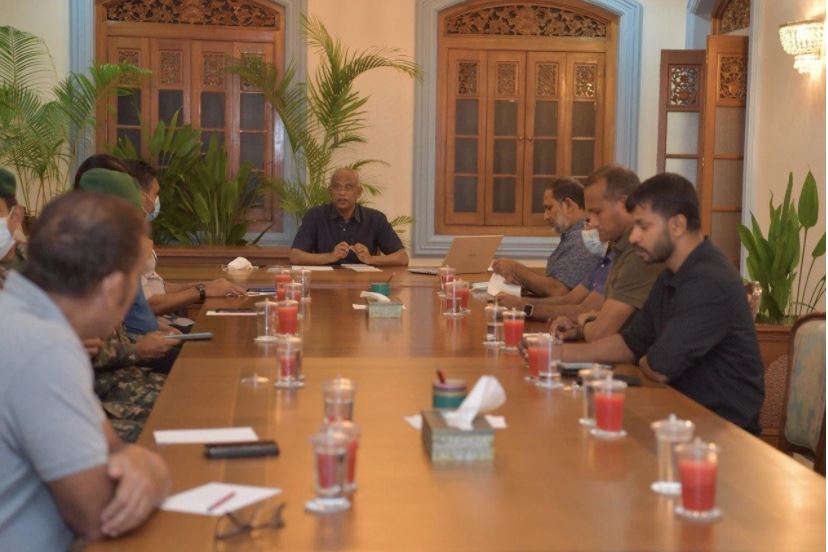 President Solih convened an emergency Cabinet & National Security Council meeting. (Photo: President's Office)
Raajje, a local media outlet linked to the ruling party, reported, "unverified claims and reports have surfaced suggesting that the 'Islamic State' terror organization has claimed responsibility on its dark web channels."
The last time the 'Islamic State' claimed responsibility for an attack in the Maldives was in 2020, when it took responsibility for an arson attack that destroyed five boats in the Mahibadhoo island harbour.
It was not clear if any assistance from India had been sought or if there had been any prior intelligence or warning from Delhi.  There are an estimated 1,400 Islamic extremists on the island and one in 2000 Maldivians are known to have fought for the Islamic State during the peak of the Syrian civil war.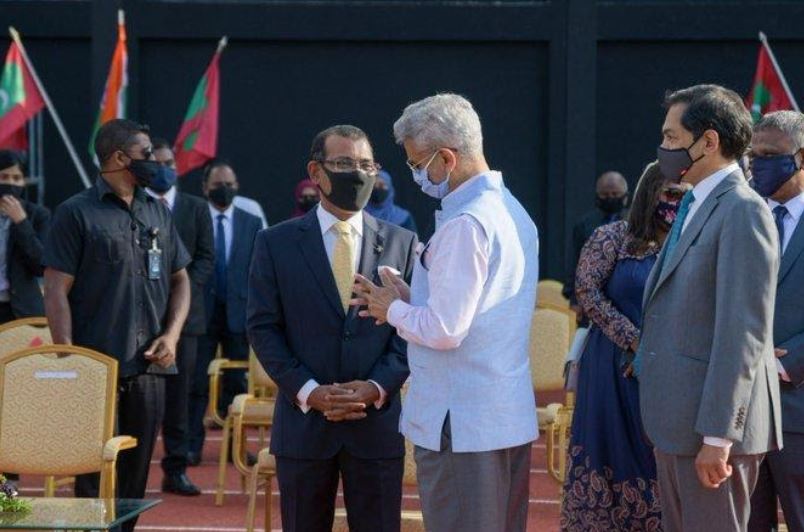 Nasheed (yellow tie) meets India's Foreign Minister Dr S. Jaishankar. February 20, 2021. (Photo: @MohamedNasheed)
India's Foreign Minister Dr S. Jaishankar tweeted, "Deeply concerned at the attack on Speaker Mohamad Nasheed. Wish him a speedy recovery. Know that he will never be intimidated."
Speculation about the Islamic State aside, in recent months Nasheed may have raised political hackles by alleging corruption by MPs and even some members of the Cabinet.  Former president Abdulla Yameen is also an accused in the case linked  to the Maldives Marketing and Public Relations Corporation. He is currently detained at his home following a Covid breakout in the prison where was being held.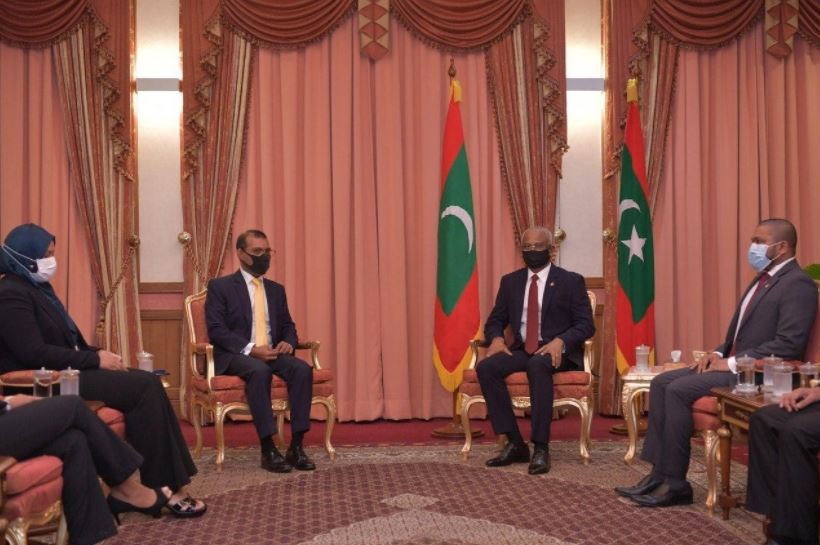 President Ibrahim Mohamed Solih(centre-right) and Mohamed Nasheed (centre-left)June 2020. (Photo: President's Office)
Nasheed has also been demanding that the government end the current presidential system of government for one  with a prime minister reporting to parliament. The buzz is he wants to be prime minister.  President Solih has said that the presidential system was favoured by Maldivians during a referendum in 2007, and only another referendum could decide whether their views had changed.