After Land Grab In Nepal, China Makes Claims In Bhutan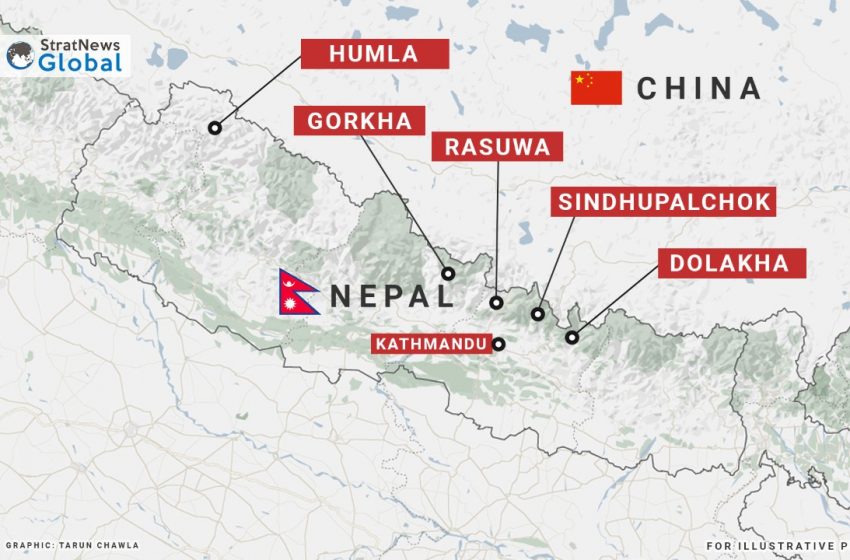 NEW DELHI: China's border issues with India have tended to obscure its territorial claims in other parts of this region. Nepal has seen a sudden surge in anti-China sentiment amid reports of Beijing taking over Nepali territory in a remote border district. It hasn't helped that Nepal's ruling communist party has been quick to give Beijing a clean chit. Bhutan is another example, with China pressing Thimphu to hand over the Doklam Plateau in the west in return for giving up its claims to Bhutanese territory in the north. Even more intriguing is China's claim to the Sakteng Wildlife Sanctuary in eastern Bhutan. There is no visible Chinese border here but that hasn't deterred Beijing.
Nepal
On Thursday, Nepal's leading national daily Kathmandu Post carried a report headlined "Pillar Number 11 Along Nepal-China Border, Which Was Said to Be Missing, Has Been Found". Local officials were quoted as saying that it would now be easier to figure out whether the structures built by the Chinese, on what was said to be Nepali territory, was true or not.
Even before this report came out, Nepal's Foreign Ministry was quoted by the Kathmandu Post as saying that the structures, actually buildings, had been noticed in 2016 and an inter-ministerial team after field inspection, had concluded these were about 1km inside Chinese territory.
The ministry said: "The boundary between Nepal and China was delineated and demarcated based on the Boundary Treaty and Boundary Protocols signed between the two countries. Nepal and China have always maintained close communication on border matters."
And even earlier, Chinese embassy spokesman Zhang Si was quoted as saying that "there are no border disputes between China and Nepal, any border issue can be resolved through friendly negotiations."
But it was the speed with which the Nepali foreign ministry gave a clean chit to China that has raised the doubts and suspicions of the Opposition parties. The suspicion is that the ruling Communist Party of Nepal headed by Prime Minister KP Sharma Oli is only too willing to look away from Beijing's transgressions.
The construction was reported from a remote area of eastern Humla district bordering China. Chinese incursion and construction activity was noticed in August by local officials who reported the presence of PLA and Chinese border guards. The officials said the Chinese had built a building one kilometre inside Nepali territory and this information was promptly conveyed to Kathmandu. Later reports said there were as many as 11 buildings, one of which was occupied by Chinese personnel, with the others empty.
Reports of Chinese incursions were reported in four other border districts of Gorkha, Rasuwa, Sindhupalchowk and Dolakha. In June, a Nepal government report said China is occupying Nepali land on the pretext of road construction, and Chinese border posts could come up there. The survey department of the Ministry of Agriculture said a total of 33 hectares of land had been encroached upon by China but Opposition politicians said it was actually 64 hectares. It even claimed that China had been diverting rivers to enlarge its territory.
All over the world, ownership and control of land and water are key drivers of public sentiment and the upsurge of anti-China anger in the streets is clearly visible. It could be partly politically orchestrated but one cannot deny public concerns over possible land appropriation for massive infrastructure projects including mega dams that Nepal may not be able to afford.
Nepal is plugged into China's BRI (Belt & Road Initiative) and imports are surging. The trade deficit has been steadily rising and while less than what it is with India, is causing concern in Kathmandu. The proliferation of Chinese owned and operated businesses in Kathmandu is fueling fears of Chinese domination.
The Opposition in Nepal seems to think that given Prime Minister Oli's public professions of eternal friendship with China, the message going out is that the government will not make an issue of it. This would suit the Chinese admirably but at the cost of Nepal's territorial integrity. And given the Indian experience, China may leverage Nepal's soft-pedalling of this issue to enlarge its claims on Nepali territory.
Bhutan
Bhutan and China are to hold their 25th round of negotiations on the disputed border in the next few months, after a gap of four years. The talks scheduled for earlier this year were delayed due to the coronavirus. If Thimphu isn't careful, China may present it with a fait accompli given reports of encroachments by the PLA in western and central Bhutan.
Not that China's claims in western Bhutan, notably Doklam, are new. China has long desired the 269 sq. km Doklam plateau because it overlooks the Chumbi Valley in Tibet. In the event of hostilities with India, China fears its forces in the valley would be squeezed between Indian forces in Sikkim and possibly also Indian forces in Doklam, given the long standing ties between Thimphu and Delhi.
Control of Doklam gives China other advantages. It will bring China closer to India's jugular vein in the east, meaning the Siliguri Corridor: the narrow stretch of highway that connects the mainland with the five northeastern states (Assam, Nagaland, Tripura, Meghalaya and Manipur). So China has been manoeuvering, even after being stalled by India in 2017, through steady encroachment and "incremental nibbling" to leverage its position on the Doklam plateau.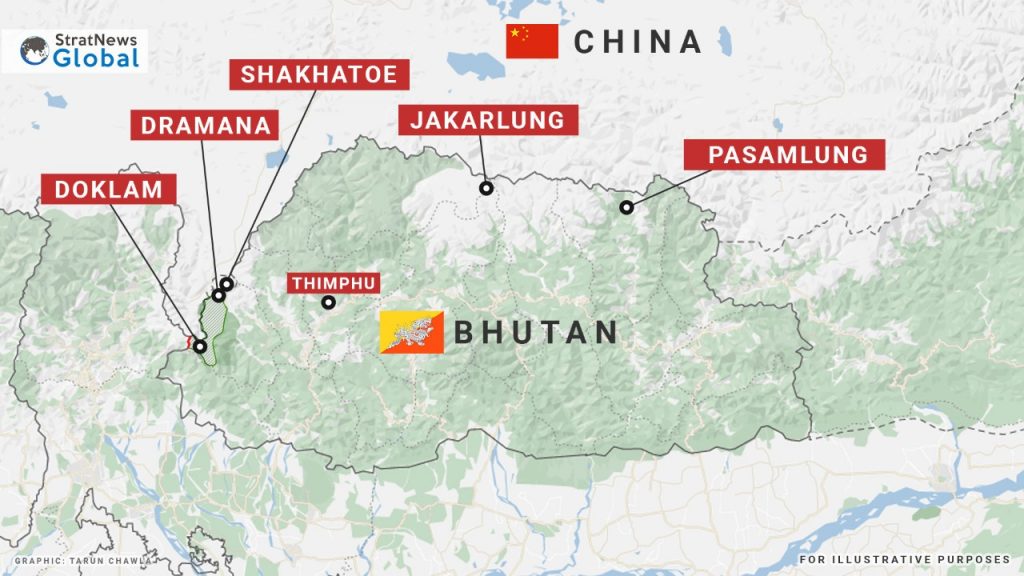 Reports suggest PLA units have entered south Doklam and warned Bhutanese herders to stay out of the area. Other reports say the PLA may have penetrated as deep as 40 km into parts of western Bhutan including Dramana and Shakhatoe. China hopes that as and when boundary talks resume, it will be in a position to force a resolution on its terms. In return it is reportedly prepared to renounce its claims to the Jakarlung and Pasamlung valleys in northern Bhutan.
That's only one part of the story. Since June, China has claimed a part of eastern Bhutan, a calculated move to put further pressure on the little kingdom. The wonder is, eastern Bhutan has a very small border with China, not that it prevented Beijing from claiming over 3000 sq. km in this area. The speculation is China has raised this with an eye on its old claims to Tawang in Arunachal Pradesh, which abuts Bhutan. The Chinese say that this area fell under the Tawang monastery in the old days and it was only in the 17th century that the Bhutanese took control.
This is an old tactic of moving the goal posts, which China has done in the past. In 1959, for instance, it told India that the entire border was disputed. It did the same with Japan regarding the Senkaku islands and with Vietnam regarding the Spratly and Paracel islands.
It is presumed that eastern Bhutan will also be on the Chinese agenda as and when the boundary talks resume.