As Aid Agencies Point Fingers, B'desh Relocates Rohingya Refugees To Bhashan Char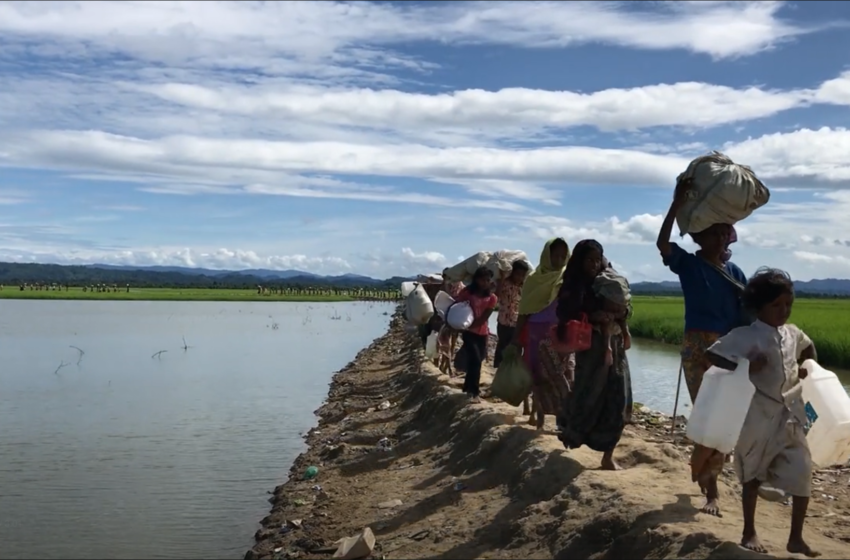 NEW DELHI:
"The 13,000 acres island has all modern amenities, year-round fresh water, beautiful lake and proper infrastructure and enhanced facilities. These include uninterrupted supply of electricity and water, agricultural plots, cyclone shelters, two hospitals, four community clinics, mosques, warehouses, telecommunication services, police station, recreation and learning centers, playgrounds, etc."–
These words are not from a real estate company advertising an idyllic upcoming township but excerpts from a statement by the Bangladesh ministry of foreign affairs describing the facilities it claims the government has provided for Rohingya refugees on Bhashan Char (floating island) in the Bay of Bengal. The ministry says the refugees can pursue fishing, agriculture, goat rearing etc.
On December 4, 1,642 of them were transported by seven Bangladesh navy vessels from Chittagong port to this uninhabited 40-sq km wide island. As expected human right activists criticised the move and asked whether it was voluntary, or done in a transparent manner.
The foreign ministry in Dhaka insisted that the government's "position was very clear and transparent from the very beginning, that any relocation would be entirely on a voluntary basis". The government said adequate arrangements had been made to check flooding and the accommodation on the island could withstand tidal waves and cyclones.
But UN Bangladesh underscored its concerns: "The United Nations has not been involved in preparations for this movement or the identification of refugees and has limited information on the overall relocation exercise." It said it was "prepared to proceed with the technical and protection assessments, if permitted by the Government".
The UN also faulted Bangladesh on transparency. "The United Nations has also consistently maintained that any relocations to Bhashan Char should be preceded by comprehensive technical protection assessments. These independent United Nations assessments would review the safety, feasibility and sustainability of Bhasan Char as a place for refugees to live, as well as the framework for protection and the assistance and services they would be able to access on the island."
Human Rights Watch (HRW) also joined in with its Asia Director Brad Adams saying, "The Bangladesh government is actively reneging on its promise to the UN not to relocate any refugees to Bhashan Char island until humanitarian experts give a green light. If the government were genuinely confident in the habitability of the island, they would be transparent and not hastily circumvent UN technical assessments."
HRW said 12 families it had spoken to denied they had opted for Bhashan Char. Many others had fled to avoid relocation. It was left to Bangladesh foreign minister A.K.Abdul Momen to set the issue in context. In an interview to local media he said, "While international agencies make a noise about facilities in Rohingya camps or Bhashan Char, none had the courage or sincerity to approach Myanmar to create a conducive environment leading to repatriation to their own country in safety and security and in a dignified way."
The Bangladesh government says it has spent $350 million to develop Bhashan Char. There are hospitals, security personnel and CCTVs covering the island. Eventually, it wants all the one million Rohingya refugees currently in camps in Cox's Bazar to move there. It also advised human rights activists that "We would encourage human rights groups to put their efforts in creating a conducive environment inside Myanmar for their quick, safe and dignified repatriation to their land of origin, Myanmar.