Pakistan Needn't Feel Insecure, Just Let Afghanistan Be: Jaishankar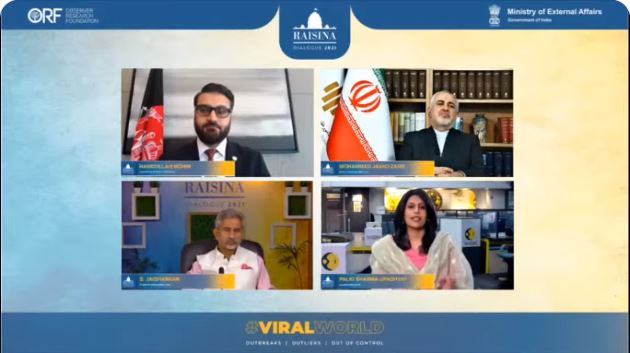 NEW DELHI: "What is good for Afghanistan should be decided by Afghans. What is in the collective interest of Afghanistan is not rocket science, peace is in the collective interest of all, development is in the collective interest of all, deciding the will of the people is in the collective interest. We know what it is, the issue is how to get all to work together around what they say they believe in without going a different way because of calculations and short term interest."
That was External Affairs Minister S Jaishankar at the Raisina Dialogue during a discussion on Afghanistan. Similar sentiments were echoed by two others on the panel: Afghanistan's national security adviser Hamdullah Mohib struck a pessimistic note when he warned that "the Taliban had not changed and were losing their nationalist credentials because their activities had destroyed $900 million of infrastructure."
In his view, their "narrative of victory" during the recent peace talks had put off other participants and disillusioned the international community.
Javad Zarif, Iran's foreign minister, called on the Taliban to abandon violence and enter the political process. He said the democratic institutions built up in Afghanistan over so many years should remain and the Taliban should be part of the peace but "must not control it".
"The Taliban must make real peace with the Afghan government and become part of the mainstream," Mohib urged.
There was also concern over the divisions within the Taliban, which could make it difficult for the group to develop a consensus on peace. The Haqqani group had its own ideas, so also the Taliban faction in Helmand. Taliban leader Mullah Baradar was not credited with any strength in terms of armed fighters on the ground, in a county where might is the only right. The Quetta Shura too was known to have different views on peace.
Dr Zarif warned the Taliban against seeking a "power vacuum" in Afghanistan. "They should negotiate now with the government, they think they will hit a vacuum and fill that, we cannot let that happen."
Dr Jaishankar pointed out that while US troops were pulling out of Afghanistan, the scores of foreign fighters estimated by the UN at around 9000, must also be sent packing if the peace process were to be Afghan led, Afghan owned and Afghan controlled.
He underscored India's role in Afghanistan over the last 20 years, putting the focus on development and education. "I am sure Dr Mohib will bear me out. In all provinces, we have development projects of some kind. We have demonstrated through our actions what our real feelings are for the Afghans, so we believe there is goodwill for us. We wish them well and will do our best to ensure what is in the best interest of the Afghan people."
Jaishankar warned Afghanistan's neighbours, who had played negative roles in the past, to change. "So Afghanistan needs a double peace, within and around, and neighbours must let Afghanistan and its people be."
He had a word to say about Pakistan's fears of encirclement from India, which it is projecting to Afghanistan and its neighbours. "Look at our record. This is fantasy that somewhere our presence is aimed at Pakistan. Frankly, it ignores the feelings we have for the Afghan people which is rooted in our history and culture. So we have a clear sense of what our agenda is out there, it is positive. We are at a crossroads. Tough decisions are to be made."