Moscow Dialogue On Afghan Peace Rejects Return Of Islamic Emirate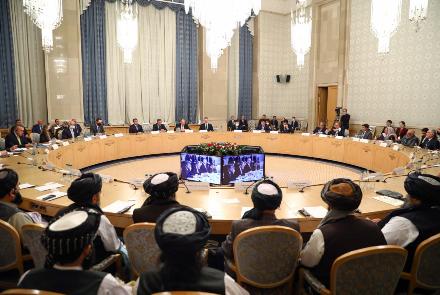 Following the Moscow conference on Afghan peace held on Thursday, a joint statement was issued in which the four primary representative countries—Russia, China, the U.S. and Pakistan—stated that they would not support the return of the Islamic emirate system in Afghanistan. The statement also recognised the will of the Afghan people for peace, called for a reduction in violence from all sides and for the Taliban to not launch a Spring offensive and reiterated calls for a negotiated settlement for the conflict.
"As stated in the UNSC resolution 2513 (2020), we do not support the restoration of the Islamic Emirate and we call on the government of the Islamic and the High Council for National Reconciliation to engage openly with their Taliban counterparts regarding a negotiated settlement," the statement said.
The joint statement also called on participants in the intra-Afghan negotiations to engage immediately in discussions on fundamental issues to resolve the conflict. It called on the Afghan government and the Taliban to ensure that terrorist groups and individuals do not use Afghan soil to threaten the security of any other nation.
The delegates also reaffirmed their commitment to the protection of the rights of all Afghans, including women, men, children, victims of war and minorities. "We call on all parties to the conflict in Afghanistan to reduce the level of violence in the country and on the Taliban to not to pursue a Spring offensive, so as to avoid further casualties and to create an environment conducive to reaching a negotiated settlement."
The statement also called on the global community to contribute to building lasting peace in the country. "We recognize and welcome all international efforts that are underway to facilitate and support a negotiated settlement as soon as possible."
Russian Foreign Minister Sergey Lavrov, during Thursday's opening session of the Moscow talks on Afghan peace, said that despite the peace agreement between the U.S. and the Taliban in Doha, the security situation has continued to deteriorate.
"Unfortunately, the Doha process for Afghan peace and reconciliation has not yet provided any positive results but we expect further progress down the line. At the same time, we see that the situation is deteriorating," said Lavrov. "We are especially worried by the spring and summer period when traditionally we see more military and hostile activity in the region, and, according to my data and information, it is already starting, we see that people on both sides are continuing to perish, including the civilian population."
(By arrangement with Tolo News)