India's Gamble In The New Great Game, Talking To The Taliban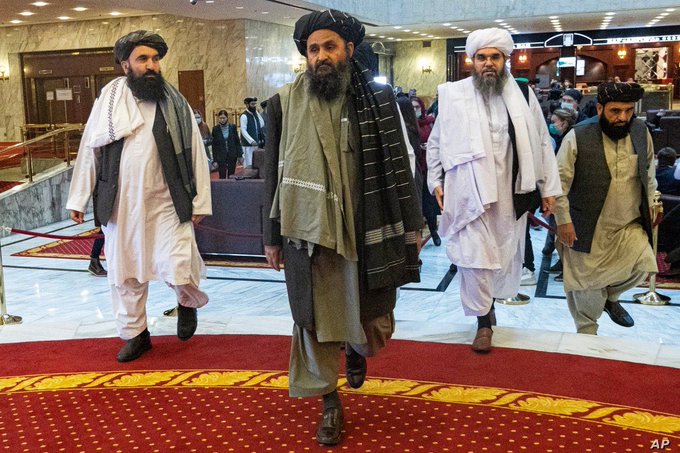 NEW DELHI: India's official acknowledgment of talks with Taliban leader Sher Abbas Stanekzai in Doha, was the rubber stamp on a dialogue that had been going on discreetly for some time. Recall Qatar's special envoy Mutlaq bin Majed Al Qahtani indicating earlier this year that Indian intelligence officials had paid a "quiet visit" to Doha to talk with Taliban representatives. Then External Affairs Minister S Jaishankar was in Tehran last month for President Ebrahim Raisi's swearing-in, his visit coinciding with that of a Taliban delegation.
Diplomats say Delhi's outreach was driven by the sense that the Taliban are here to stay. Despite his fighting talk, Tajik leader Ahmad Masood in the Panjshir Valley is probably running out of options. He has already called for dialogue and an "inclusive Afghan government".
Positive statements from the Taliban have helped. Stanekzai made it a point to address all off New Delhi's concerns – the safety of Indian nationals coming out of Afghanistan, the safety of Indian minorities, and most importantly their promise not to get involved in Jammu and Kashmir.
Add to that Anas Haqqani who underscored that "Kashmir is not part of our jurisdiction and interference is against the policy. How can we do what is against our policy? This is clear, we will not interfere."
The assurances may count for little, but Taiban leaders are aware that India has invested $3 billion in development assistance in Afghanistan since 2001, making it one of the leading donor nations to Afghanistan and by far the largest donor in the region.
It will be important for the Taliban to keep New Delhi onside for possible sanctions that may be imposed on a future Taliban government. Western nations may cut off IMF and World Bank programmes desperately needed to fight hunger, humanitarian aid and the Covid-19 crisis. So far Afghanistan has recorded 152,000 Covid cases and 7,000 deaths and vaccinations on the ground are minimal.
Diplomats argue that India must continue engaging with the Taliban if only to counter Pakistan, China, and non-state actors such as the ISIS-K, Al-Qaeda and other Pakistani-sponsored militant groups. But former diplomat Anil Trigunayat inserts a caveat here. "Forget other groups, the question remains if the Taliban is competent, powerful and persuasive enough for its own ilk to follow its kind of policies? I doubt it."
These groups could end up vying for supremacy although Pakistan's ISI will do its level best to prevent that. Trigunayat believes the current scenario benefits China the most. While Beijing has its own concerns about jihadi groups especially the East Turkestan Islamic Movement (ETIM) its embassy remains open, and it has promised to fund large scale projects that could give it a foothold and help keep the ETIM in check.
Most importantly, Trigunayat warns that China is now free to indirectly turn the terror tap on India via Pakistan.
"China will now fill in the space vacated by the US and use ISI-controlled jihadi groups to its advantage. They will now nudge Pakistan to direct the jihadi groups to create trouble should India act on the LAC," he says.
It isn't just China but Pakistan too that can and will create problems. Former ambassador Gautam Mukhopadhaya points out that a stable Afghanistan has never been in Pakistan's interests and neither has Indian aid to Afghanistan. Pakistan's covert and overt support to the Taliban was tacitly ignored by the US.
"Whether it was Bush, Obama or Trump all of them knew the problem lay with Islamabad but refused to take coercive diplomatic action. The US was also influenced by the UK's attitude who insisted that the issue of Afghanistan could not be solved without solving the Kashmir issue."
India has tough security challenges ahead and the situation on the ground is volatile. Mukhopadhaya argues New Delhi should sit tight and give peace a chance. "We need to work with the Taliban for now. Let's not forget the humanitarian aspect of the crisis, such as the refugee crisis, will only get bigger. India has much goodwill in Afghanistan which it must use to its benefit."