A Closer Look At Kabul School Bombing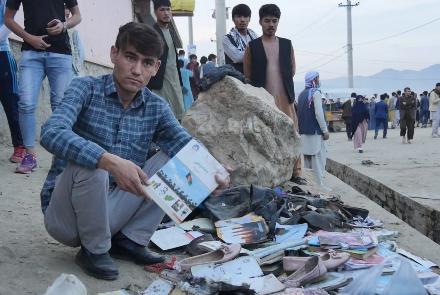 It was a quiet Saturday afternoon and hundreds of girls were leaving school. Suddenly, many of them found themselves amid smoke, blood and debris from a car bomb attack that happened in front of the entrance gate of Sayed-ul-Shuhada High School in the west of Kabul.
The car bomb was followed by two blasts of IEDs that were placed nearby, according to the Ministry of Interior, which put the death toll at 52. But eyewitnesses and victims' relatives said 63 people—most of them schoolgirls—were killed and at least 150 more were wounded. No group has claimed responsibility for the attack.

The school enrolls over 7,000 students in two shifts. The late shift, during which the blasts happened, had at least 2,000 girls.
Videos shared on social media show families of victims tirelessly looking for their loved ones whose bags and clothes were left in the area ripped open by the blast.
"All are innocent children… All are underage girls. All were martyred mercilessly. One didn't have legs, another didn't have a head," said Abdul Latif, a resident of the Dasht-e-Barchi area in Kabul.
"The car (that exploded) was parked there from 1pm that day… And the incident happened after 4pm. If you do not see this Mr Ashraf Ghani, leave power and don't bother people," said Hadi, a resident of Dasht-e-Barchi in Kabul.
"The enemies of the people of Afghanistan and the enemies of Islam will never be able to defeat us by such acts. We will send our children to school to defeat their enemies with education and pen," said Marzia, a resident of the area.
"It shows the cruelty of the terrorist groups who killed our children and youth to fuel a psychological war," said Mahmoud Abdullah, a resident of the area.
On Sunday, relatives were still looking for the belongings of their loved ones at the blast scene. Sediqa Jafari, who is visually challenged and lives in the area, said they are tired and couldn't suffer such pain anymore. "Anyone who does this in this holy month will be defeated and is a cruel enemy. It is evident who does this," Sediqa said.
Two attacks targeting education centres in the west of Kabul in less than two years has killed dozens of students.
"We are working thoroughly to find the perpetrators of the case to punish them," Interior Ministry's spokesman Tariq Arian said.
But Dasht-e-Barchi residents said the repeat of deadly attacks in the west of Kabul shows that the government "has failed" to ensure safety of the area.
(By arrangement with Tolo News)