World In 'State Of Crisis', Global South Nations Need To Come Together: PM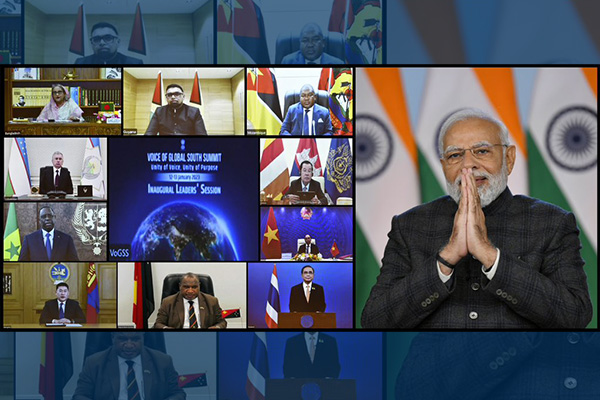 New Delhi: Prime Minister Narendra Modi called for reform of the international order to better reflect the voices of those nations hit hard by the current international crisis. Speaking at the inaugural head-of-state session at the two-day virtual summit entitled "Voice of Global South Summit", Modi said "In the 20th century, developed countries were the drivers of the global economy, today most of these advanced economies are slowing down. Clearly, in the 21st century global growth will come from countries of the south."
"We, the Global South, have the largest stakes in the future. Three fourths of humanity lives in our countries. We should also have an equivalent voice. Hence, as the eight-decade old model of global governance slowly changes, we should try to shape the emerging order."

He said that war, terrorism, climate change and the long-term economic impacts of the Covid-pandemic had plunged the world into "a state of crisis" for which the Global South nations had to provide active solutions. India would play a key role in amplifying their concerns during its G20 presidency this year through its focus on "One Earth, One Family, One Future," he underscored.
He said a focus on an "inclusive and balanced international agenda," the stressing of "Common but Differentiated Responsibilities" – a principle that was first enshrined at the Rio Climate summit in 1992 which stated that all countries needed to take action on the environment yet not all were equally responsible for it – and the reform of "international institutions, including the United Nations, to make them more relevant" were the need of the hour.
The summit will comprise 10 sessions, of which two will be of the heads-of-state government level while eight will be at the ministerial level. Each session is expected to witness the participation of leaders or ministers from 10 to 20 countries. Effects of the Covid-19 pandemic and the Ukraine crisis and the economic fallouts being faced by the developing world will be discussed. The summit will also discuss issues of climate change, climate finance and climate technology along with the increasing burden of debt and inflation on the developing nations.