Twitter Being Law Unto Itself; Will Govt Throw The Book?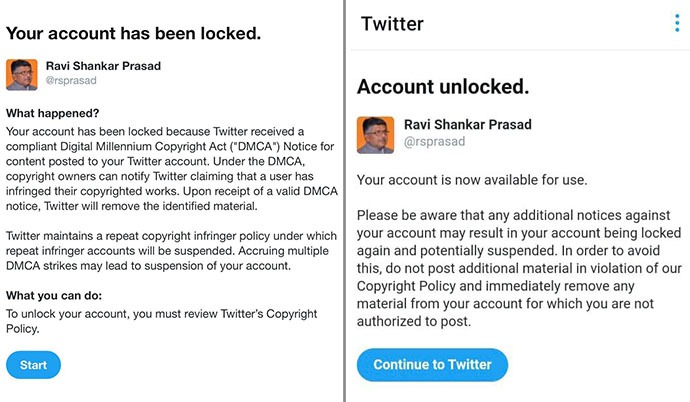 NEW DELHI: One would presume that microblogging site Twitter with an estimated 34 million users in India and a growing revenue base would do anything to safeguard and promote its business. But Twitter's behaviour has been decidedly odd. Over the last month, it has had four criminal cases filed against it (one for posting child pornographic material; two for posting incorrect maps of India; one over the alleged assault on a Muslim on the outskirts of Delhi).
It has lost its "safe harbour" privileges for failing to comply with India's IT laws. It refuses to appoint a grievance redressal officer and a compliance officer as the IT law requires. To add insult to injury, it blocked the account of IT Minister Ravi Shankar Prasad for an hour claiming violation of a U.S. copyright law. Earlier, it has removed, tagged and censored tweets while refusing to give any reason for its actions or even providing proof to Indian authorities for the reason behind its action.

Jaijit Bhattacharya of C-DEP (Centre for Digital Economy Policy Research) believes the government wishes to resolve the dispute with Twitter and for that reason appears to be going slow on taking action against it. But what if Twitter sees no reason to settle and maybe working to an agenda of its own?
"What that agenda could be is hard to say," says Bhattacharya, "and Twitter cannot be indifferent to the prospect of losing business in India. Yet, the tone and language emanating from Twitter headquarters in San Francisco is disturbing to say the least."
Take this Twitter statement: "We will strive to comply with applicable law in India."
It suggests that Twitter will make up its own mind as to whether and what law it will accept. Any sovereign government will find this impossible to accept. Worse still, it suggests that Twitter believes it is on par with sovereign states.
What follows in that Twitter statement is even more disturbing: "But just as we do all around the world, we will continue to be guided by principles of transparency…"
Critics say Twitter's functioning in India has been anything but transparent. All queries and complaints are referred back to the U.S. or some other country. There is no proof provided as to why some tweets are described as manipulative.
And take a look at this concluding part of the statement: …"a commitment to empowering every voice on the service and protecting freedom of expression and privacy under the rule of law."
Here again is the allusion to Twitter being some kind of a flag bearer of liberty and freedom of expression. Twitter is actually just a platform but one finds in India that it is "curating" news and tweets. As Gautam Chikermane of the Observer Research Foundation points out Twitter is behaving like an editor and publisher, adding and deleting as it pleases. It has censored a popular Bollywood actor, suspended the account of the Lt. Governor of Kashmir and tagged a tweet of a BJP spokesman as being "manipulative".
When and where did it get the right to do all this?
Reason enough for External Affairs Minister S. Jaishankar to ask: "Big tech is there, very visibly in my life. You have a big presence but where is the responsibility which comes with it. They have huge power, where is the accountability? This is again not an issue limited to India. They harvest our data as they do across the world. So you would have in a sense the opposite of the American Revolution, which is to have representation and no taxation."
"These are very serious questions," Jaishankar said, adding: "I think they cannot be brushed under the carpet, saying you should not question them because then you are attacking freedom of speech. I think that's a cop-out. Obviously it serves their interests."
Back to the question, what accounts for Twitter's persistent refusal to talk terms with the Indian government? Chikermane believes that the "ideologically driven and politically influencing executives of Twitter … think they can hide behind the 'free speech' bogey and are powerful enough not to follow sovereign laws …"
India and Indians are on dangerous ground if a foreign private entity believes it has the right to do as it pleases in this country. Is it backed by the U.S. government? Bhattacharya does not think so. Some people suspect a "China hand", pointing to the fact that although banned in China, Chinese diplomats and officials have twitter accounts.
The Indian government seems inclined to go along with Twitter's request for more time to "comply with the rules". This despite the view that the more time Twitter takes, the greater the sense that the government has lost face. Local industry also contrasts the "kid glove" treatment of Twitter with the government's "no nonsense" approach to them and othler foreign companies. It's a case of double standards they say. But the government may have reason to value Twitter differently, seeing leverage in Prime Minister Modi's nearly 70 million Twitter followers. And if Twitter fails to comply, there's always Koo!