Boris Johnson Bows Out, The Race For No. 10 Is On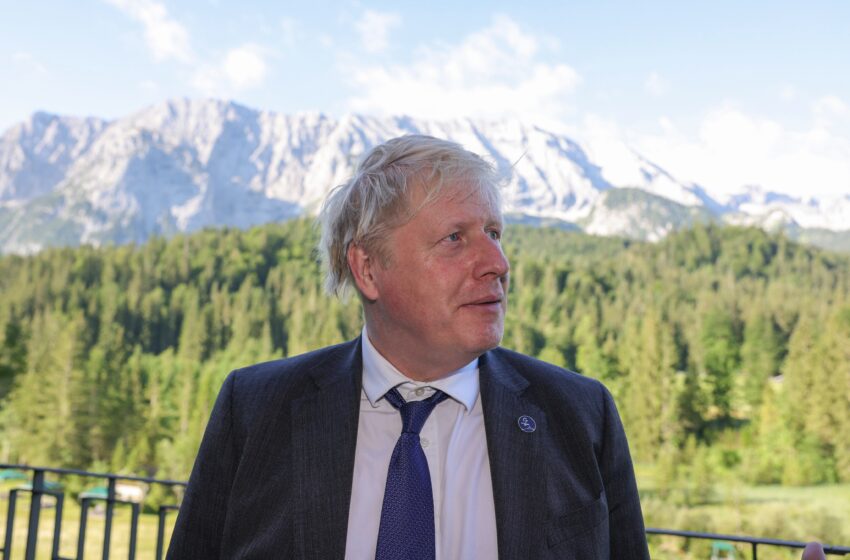 Boris Johnson's luck ran out as the man dubbed the "Teflon" Prime Minister for his ability to absorb political crises and turn them into opportunities was not able to ride out this one. The scandal relating to sexual misconduct by the Conservative Deputy Chief Whip Chris Pincher, was a seemingly innocuous one, but the mass resignations within the Conservative Party which included members of his Cabinet among them Chancellor Rishi Sunak and Health Minister Sajid Javid, spoke volumes about the lack of trust in the prime minister. In the Pinchergate scandal for instance the prime minister first claimed he had no knowledge then said he could not "immediately recall" a 2019 conversation when fresh allegations about Mr Pincher emerged last week.
Speaking about his resignation on the steps on Downing Street a bitter Boris said, "As we have seen at Westminster, the herd instinct is powerful and when the herd moves, it moves and my friends in politics no one is remotely indispensable and our brilliant Darwinian system will produce another leader, equally committed to taking this country forward through tough times."
Opposition leaders hailed the move. "It is good news for the country that Boris Johnson has resigned as prime minister. But it should have happened long ago. He was always unfit for office," said Labour Leader Keir Starmer.
The prime minister who will stay on in a caretaker capacity till November was said to have been told by Sir Graham Brady – chair of the 1922 Conservative committee – which oversees leadership challenges within the party, that he should leave on Wednesday. On Thursday afternoon, Boris rang up Sir Brady to inform him of the decision to quit. The result will be a leadership challenge and the campaigning will begin immediately with the result that a new man or woman will be at the helm.
Britain will be in a legislative mess as the mass resignations suggest no new legislation can be passed or acted upon. Internationally too, one wonders how much authority the caretaker prime minister will have to act upon serious issues such as Ukraine and the ongoing India-UK FTA talks. Boris had a strong personal chemistry with PM Modi. Will the new leader have that?
On the Ukraine issue the message was clear. Russian politicians got into the fray with some calling the British leader a "stupid clown" who had finally got his "just reward" for arming Ukraine against Russia.
Electing A New Leader
So, what happens now? The process to elect a new leader will now be underway. The 1922 Committee will decide when this is to be held but it will take place in two stages. The first is the shortlisting stage, in which Conservative MPs put their own names forward. There are then several rounds of voting. In the first two rounds, those candidates who don't meet a certain threshold of votes are eliminated. In subsequent ballots, the candidate who comes last is eliminated. This process is repeated until there are only two candidates remaining. In stage two of the process, the party membership is balloted on the final two candidates, with the winner becoming the new party leader. Observers say the process could even be over by early September
Likely PM candidates
Earlier in the day bookies had given the most favourable odds to Defence Secretary Ben Wallace. Wallace has strong grassroots support and has won favour with fellow MPs for his handling of the Ukraine and Afghan crises. He had said that he will only take on the job if forced but most people doubt that now Trade minister Penny Mordaunt is neck and neck with Chancellor Rishi Sunak are also in line to be prime minister. Mordaunt has been praised for striking trade deals with individual US states while Sunak had benefitted from the bad press Boris has got being seen as a sober serious candidate. A former banker, teetotaller and someone who has not been attacked by the press at all, Sunak has a strong chance.
But there are problems. He is so reticent that his views on popular issues such as crime, education, health etc. are not common knowledge. There are personal issues too. Sunak and his wife are very private individuals which is something being PM will not allow. The other major problem is his wife Akshata Murthy allegedly owing and refusing to pay up to £20 million (around Rs 197 crore) in UK tax. Murthy had claimed she is not a UK citizen but an Indian one and since the money comes from India, she does not have to pay tax here. Sunak has managed the political fallout as Chancellor but this issue will be raised time and again if he does decide to run as prime minister. India will hope that he is at the helm because India-UK ties are likely to strengthen further with him.
The surprising thing is that Deputy Prime Minister Dominic Raab does not head the list of names. The main reason is that Raab along with a few other Cabinet numbers are still supporting the prime minister.  This is surprising as earlier Raab ran against Johnson to become leader of the Conservative Party and prime minister in 2019. During that campaign he criticised Johnson's "bluff and bluster" over Britain's exit from the European Union. Raab was eliminated midway through the contest and then endorsed Johnson. Today, he is a Eurosceptic with his support base being among hardline Brexiteers many of whom are changing positions or becoming more liberal given that Boris's promises haven't materialised. Many doubt he can work with MPs with opposing views and bring them over. Given his ambition though Raab will certainly be in the ring.
What made Boris Johnson quit?
The British prime minister had been under a cloud for some time. The main source of anger by voters, the Opposition and even by members of his own party was the "Partygate" scandal whereby Boris and other Conservative MPs were believed to have hosted a party in November 2020 in violation of pandemic norms. The prime minister claimed he was there in a "work capacity" but many believed that he had lied to Parliament. The fallout was the Conservative Party losing two key byelections.
It wasn't just Boris. Other members of the Conservative party had been associated with inappropriate behaviour and the results had been noticeable. The byelection in Tiverton and Honiton, a Conservative stronghold, was triggered in June this year when the Conservative MP Neil Parish resigned after admitting to watching pornography in Parliament. The seat went by a huge margin to the Liberal Democrats. Other Conservative bastions such as Chesham and Amersham and North Shropshire were lost piling up the pressure.
The other problems include the price of oil which has seen record highs. Today economists estimate it costs over "£100 to fill a family car." Protests broke out in various parts of the country and the economy was danger of going into recession. Some economists say that people feel betrayed as Boris had promised a better Britain in control of its own destiny after it left the EU. The divides were once again showing across the country and some predicted that it was just a matter of time for the prime minister. Labour MPs greeted the British PM with cries of "Bye, Bye Boris" when he entered Parliament, a sign that his time was up.
Avoiding A Mess     
Conservative party members can breathe a sigh of relief because Boris's refusal sign was creating a crisis within the party. Conservative Party rules state that a leader cannot be made to face another vote of confidence having just survived one. The earliest one can be made is a year later. The other possibility is that the prime minister can call a snap election, something Boris had refused to do. Under party rules Boris was within his rights to continue until January 2025 when his term would end. However, the situation had become so bad that Brady had told reporters on Monday that it was "technically" possible for rules to be changed. But while there is joy within most of the party – Boris still has his followers – there is a big worry that precedent has been set and demand for confidence votes for a new leader may become more frequent.
Can the Labour government seize power?
This doesn't seem a realistic possibility at the moment. The Conservative Party won by landslide in the 2019 elections and infighting within the party hampers their Keir Starmer's attempts to push ahead. The infighting has got so bad that Starmer had to tell his shadow cabinet to stop calling him "boring." This is good news for India as the Labour Party's official policies are pro-Pakistan and senior members of the Leftist brigade see Kashmir as the "unfinished agenda of Partition." India tried hard under the prime ministership of Tony Blair to get this policy removed but Blair could not convince his party to do so. Nevertheless, a weakened Conservative Party will embolden members of the Labour Party to make further anti-India statements. Former Labour leader Jeremy Corbyn's remarks on Kashmir in 2019 is a case in point. Starmer did change the party's stance on Kashmir in 2020 to woo British Indians but fundamentally the party has not changed. India must also be prepared that a new Conservative prime minister will probably be more involved with fire-fighting at home than reassuring it on its concerns about the FTA and acting on terrorist groups operating from the UK. All in all, it is an unstable time for the UK but the ripple effects will be felt by other nations in the days to come.