RIC Summit: Subtle Signalling And Little Else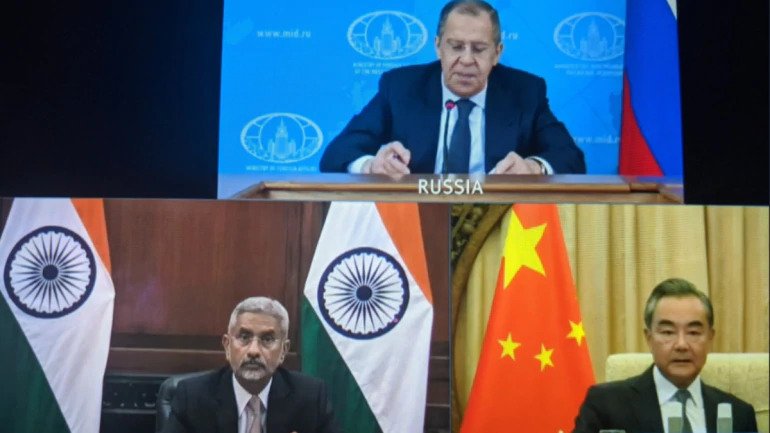 NEW DELHI: The reference to the standoff with China in Ladakh was unmistakable in External Affairs Minister S Jaishankar's remarks at the virtual summit of RIC (Russia-India-China) foreign ministers on Tuesday. He said: "'This special meeting reiterates our belief in the time-tested principles of international relations. But the challenge today is not just one of concepts and norms, but equally of their practice," Jaishankar said.
And in a pointed reference to China's actions in Ladakh, and its muscle flexing in the South China Sea, he warned that, "The leading voices of the world must be exemplars in every way. Respecting international law, recognising the legitimate interests of partners, supporting multilateralism and promoting common good is the only way of building a durable world order."
Contrary to speculation in the media, there was no mediation effort by the Russians. Foreign Minister Sergey Lavrov himself dismissed that. "I think New Delhi and Beijing have already shown their commitment to a peaceful resolution. Their defence personnel have met, foreign ministers have met after the incident. It is also important to note that neither of the two sides has issued any statement that might indicate that either of them would pursue non-diplomatic solutions."
He added: "We hope the negotiations will continue to be peaceful. We maintain close contact between India and China inside BRICS and SCO and the very fact that we have very good cooperation with both of them helps to foster a dialogue. However, not Russia nor anyone else will be imposing its services on India and China."
China's Foreign Minister Wang Yi called on all three countries to "correctly handle and properly deal with sensitive factors in bilateral relations and safeguard the overall interest of mutual relations."
Russia endorsed India's 1996 Convention on Terrorism, and its claim for a permanent seat in the UN Security Council. The first meeting of RIC defence ministers is expected to be held once the coronavirus pandemic eases.