India And We Can Do More Together: Nato Chief On China Challenge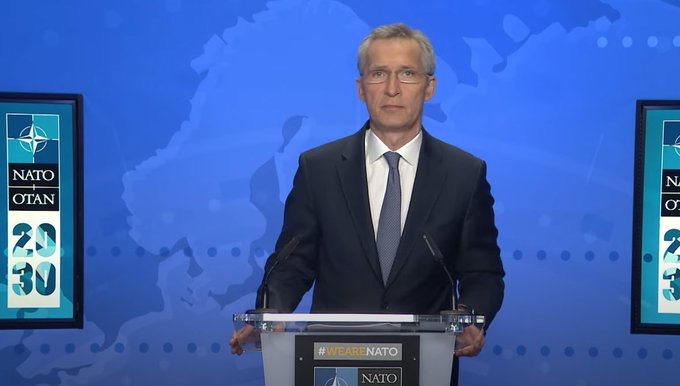 NEW DELHI: The idea of India as a close and strategic partner of Nato is something the trans-Atlantic organization appears to have been mulling over for some time. Concerns over the rise of China and its threat to the "rules-based order" has prompted what Nato secretary general Jens Stoltenberg believes are serious challenges to the international order.
"China's rise has real implications for our security. Nato is and will remain a regional alliance for Europe and North America. But China is coming closer to us and this requires our collective attention and action," he said addressing the Raisina Dialogue via video link.
The rise of China however has not been all negative from Europe's point of view, Stoltenberg acknowledged, pointing to the economic opportunities that China being the world's second largest economy presented. But there also needed to be an understanding and acceptance that Beijing did not support democratic values. This combined with the fact that China's economic rise has gone hand-in-hand with rising military expenditure – it has the world's second largest defence budget – along with its aggressive behaviour in the South China Sea, threats to Taiwan and Hong Kong, mistreatment of ethnic minorities like the Uighurs and large-scale strategic investments across the world, could not be ignored.
"We do not see China as an adversary. Nato has worked with China to combat piracy off the coast of Somalia in the past," Stoltenberg noted. "We believe it has a key role to play in global issues such as ensuring peace and stability in Afghanistan and negotiating key arms control arrangements globally. At the same time, it must be noted that China does not believe in the same democratic values that we do. This is something that they state themselves."
He believes that though Nato remains geographically far away from the Indo-Pacific, it has an obligation to be alive and respond to global challenges such as Afghanistan – where 9/11 terrorists had been harboured – and in the Indo-Pacific. Apart from engaging in what he called "emerging and disruptive technologies" to safeguard the security of Nato members, strategic partnerships with like-minded countries such as Australia, Japan, New Zealand, South Korea and hopefully India, could work together to help check China's aggression.
"India is a pivotal player in the Indo-Pacific region. It is one of the largest contributors to the UN peacekeeping missions, currently a (non-permanent) member of the UNSC and it will hold the G-20 presidency in 2023. More importantly, it shares many of our key concerns from Afghanistan to terrorism to maritime security. We can do more together – consult, coordinate and take concerted action to safeguard common values such as freedom, democracy and the rule of law and protect our way of life."