Chinese Ships Have Entered Our Exclusive Economic Zones In IOR, Says India's Naval Chief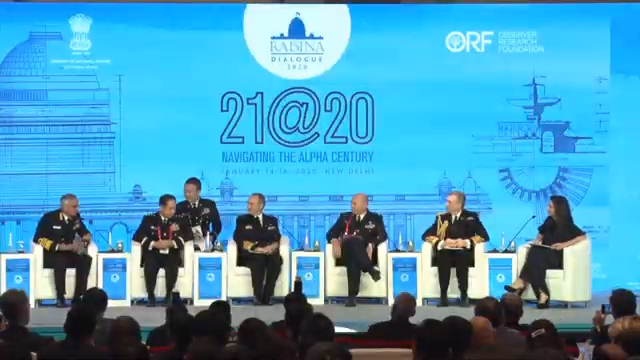 NEW DELHI: Concerns about China, and China's increased naval presence was uppermost in the mind of India's Chief of Naval Staff Admiral Karambir Singh. Speaking at the Raisina Dialogue, he acknowledged that China's heightened activity in the Indian Ocean was something that New Delhi was keeping a close eye on.
 "The PLA Navy, which is the strategic arm of the PLA, has grown at a rapid pace in the region. When they first came in 2008 for anti-piracy patrol in the Indian Ocean region, they weren't really very obvious in the IOR. But today you will find at any given time seven, eight PLA warships in the area, research vessels and a large fishing fleet, " he said.
 "We have to admit it, Djibouti is a reality, Gwadar is on and I'm sure there are more places to come. If you see their defence exports, nearly 85 per cent of China's defence exports are in the Indian Ocean region, " the admiral warned.
Asked how India was responding, he said, "We are watching and observing what is happening. We have placed ships in mission-based deployments so we can get an idea of what are their activities. This is not only for China we do want to keep an eye on what all other countries are doing. So, if there is anything that impinges on our national sovereignty we'll have to act."
 "In my mind, if there is any maritime activity that deviates from the norm or rule-based order that can cause regional instability," he said.
His counterpart in Japan's Self-Defence Force echoed similar concerns.  "We are closely watching China to ensure that peace and stability in the region is maintained," Gen Koji Yamazaki said, pointing  out that,  "As you already know their military expansion is quite extensive especially in the East and South China Sea.  The Japan-US alliance is particularly important in this regard and we are constantly having naval exercises to ensure peace and stability in the region."
The brass of other navies preferred to take a more diplomatic approach with respect to China. Asked about the Quad and whether it was being set up as a force to counter China, Vice Admiral David Johnston of the Royal Australian Navy said, "The Quad is a relationship between democracies with shared interests. It isn't reflective of anti-anything in particular. We have bilateral and multilateral mechanisms and Quad is another one of them."
However, Admiral Karambir Singh underscored India's concerns.  "There have been instances when PLA ships have come into our exclusive economic zones and we have had to tell them that such acts impinge on our areas. And if you see the BRI, CPEC it does impinge on our sovereignty. In the instance of the EEZ, we have acted, we told them to move, they respected our request and moved out. But our concerns remain."