Children's Day In China Is About Politics, Propaganda And Xi Jinping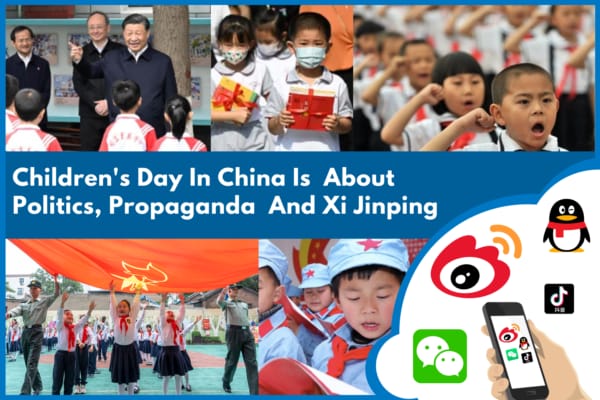 In most parts of the world, Children's Day means the focus is on fun and family. Not so in China where Children's Day on June 1st is an occasion for propaganda and political messaging. The Chinese Communist Party sees this day as another opportunity to educate its young citizens in loyalty and ideology. Children, with the active participation of schools, are dragooned into activities that involve singing patriotic songs, reciting political slogans, and praising the Communist Party.
Critics say this is a form of indoctrination, limiting children's individuality and critical thinking abilities. They believe that Children's Day should prioritize the celebration of childhood innocence, creativity, and well-being, rather than a platform for political propaganda.
Many believe the new Chinese generation, born in the 2000s, has been more influenced by the government's propaganda than perhaps earlier generations and developed stronger nationalist tendencies. They have become "little pinks" (小粉紅)—a term used to describe young mainland nationalists who are vociferous defenders of the CCP dictatorship.
Take a look at the "Twenty-Four Character Maxim for Young Children from General Secretary" (#总书记给少年儿童的二十四字箴言#) hashtag that was trending on Weibo (June 01). It is a set of 24 moral and inspirational principles or sayings from Xi Jinping himself. These are intended to "guide and inspire young children in their personal growth and development".
Not surprisingly, the hashtag ranked at position one with over 13 million views. It was also mentioned as the hottest topic on Weibo today.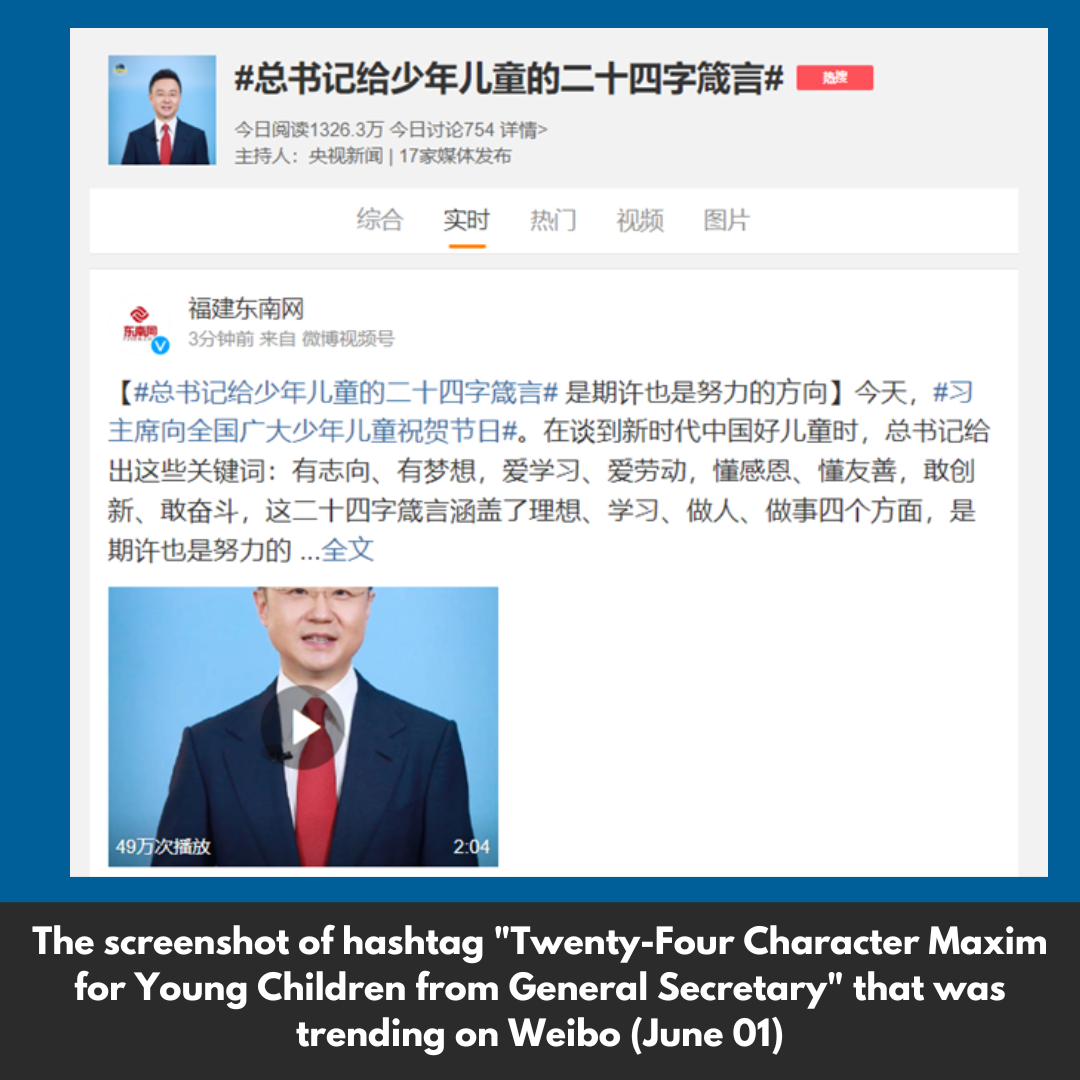 Xi Jinping's visit to the Yuying school in Beijing on May 31 featured prominently on social media and official media platforms throughout the day. According to China Daily, during his visit Xi Jinping explored the school's history museum and emphasized why it was important to strengthen the teaching of "revolutionary traditions". He urged the students to remember and value the school's exceptional history, acknowledge the party's support, and continue the traditions of the revolution. This also means upholding the values and principles associated with "red" ideology. The objective is to foster a sense of heritage, and ensure the students maintain a strong connection to their school, its legacy and the ideals it represents.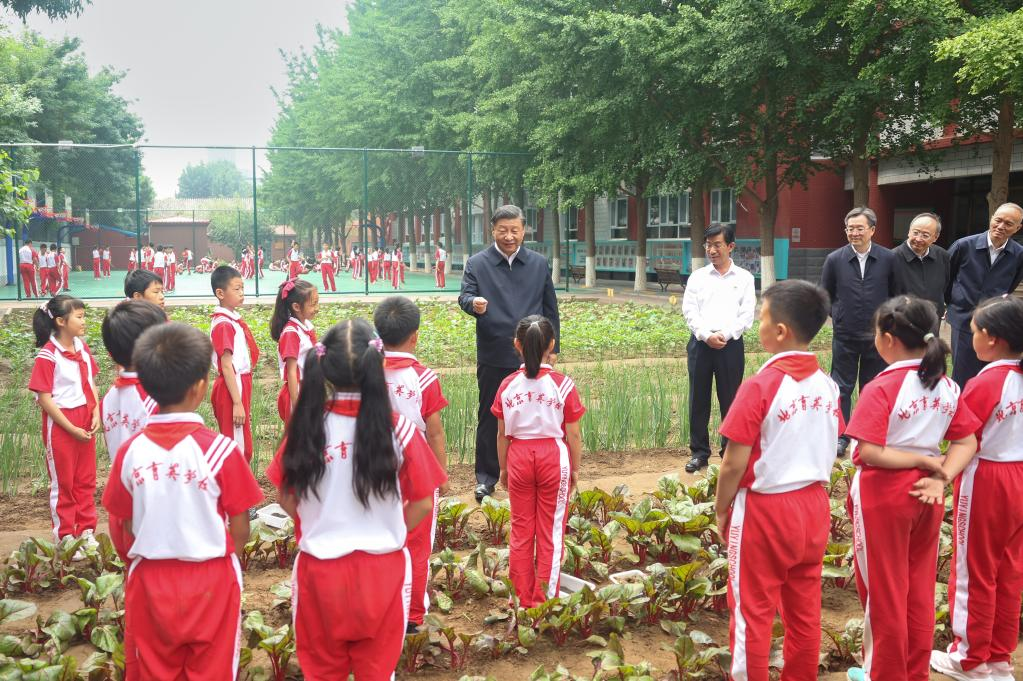 Interestingly, there was a post under the hashtag "Hunan Province's Bookish Children's Day Reading Event (#湖南省书香六一阅读活动#), which got around 3,24,000 views in very little time. It highlighted an online reading activity where instructors from the Communist Youth League in Wuling District of Hunan province, participated in a live reading session of "Xi Jinping's Youthful Days as a Knowledge Youth."
The event, according to media report, "aimed to promote reading, wisdom, and nourishing young minds with literature". Instructors read the book to children, providing insights into Xi Jinping's experiences as a young knowledge youth. The activity sought to inspire children to become successors in carrying forward the ideals and aspirations of the Communist Party.
This activity is not limited to Hunan or the capital Beijing. It is replicated throughout China, part of a larger trend emphasizing nationalism and loyalty to the country and party.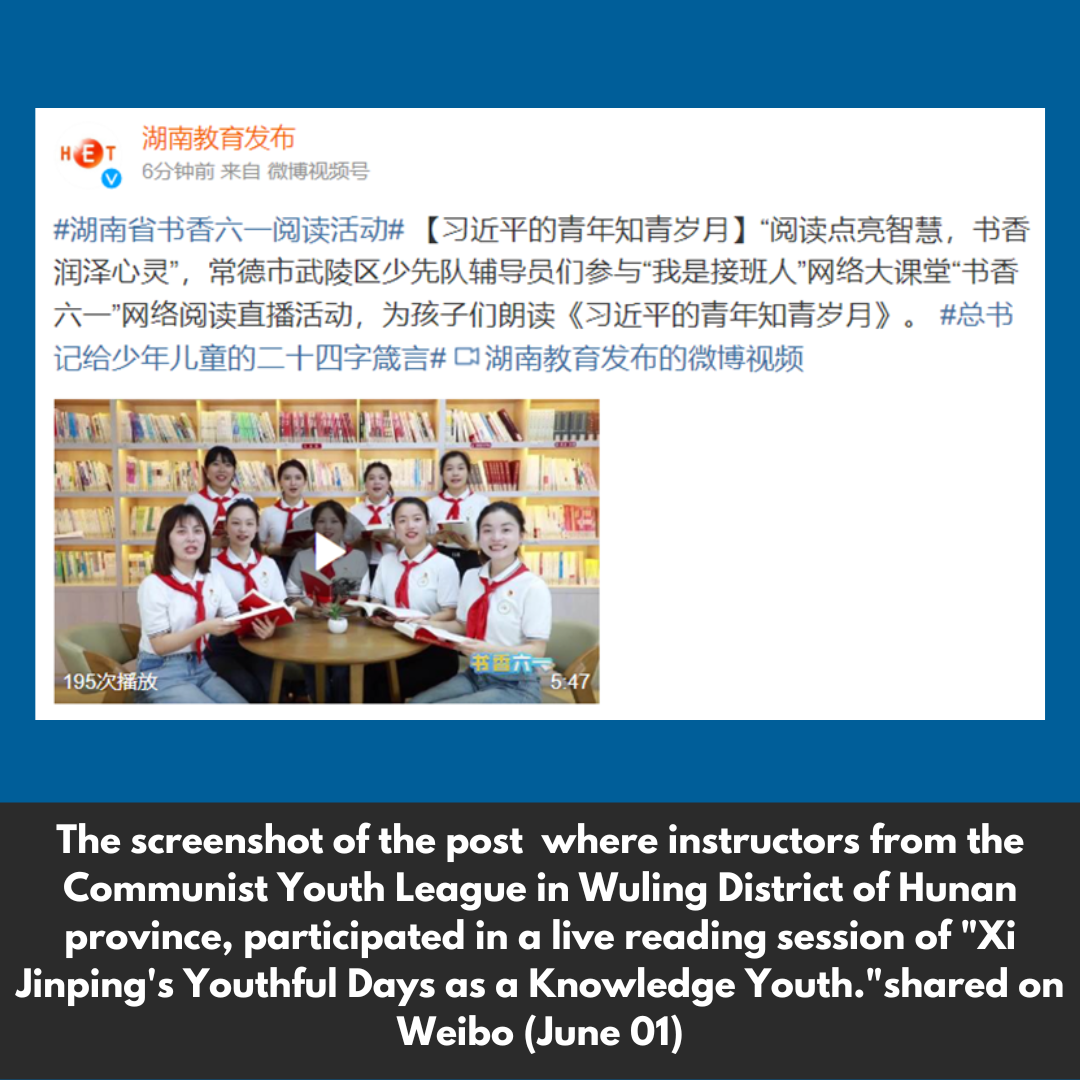 People's Daily shared a picture showing children assisting PLA soldiers while holding the Chinese flag. It underscores the involvement of young children in patriotic activities and their support for the PLA. It seeks to reinforce nationalist sentiments among the younger generation, promote a sense of pride and loyalty to the armed forces.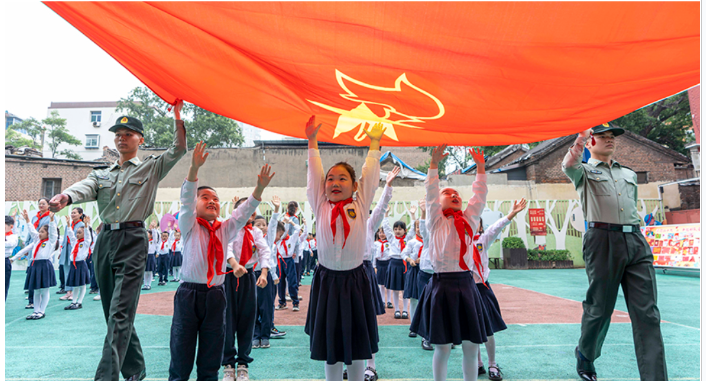 Of course, it's not clear what the children actually think of these annual rituals and what they are made to do. In China's top down authoritarian model, children have their uses in serving political ends. Such was the case with Xi Jinping when he was growing up, and such will be the case with future generations.