Widening Split Overshadows ASEAN's Latest Push For Peace In Myanmar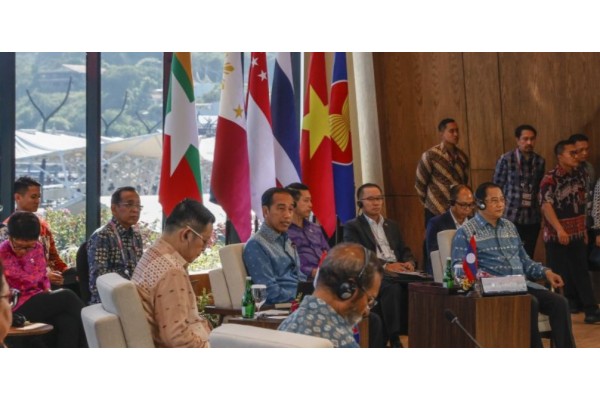 The Myanmar crisis and implementation of the Association of Southeast Asian Nations' peace plan for the country's post-coup conflict is set to dominate the ASEAN foreign ministers' retreat on Wednesday.
One notable absentee will be junta foreign minister Than Swe, who has not been invited despite Myanmar's membership in the regional bloc.

The junta leadership has been excluded from ASEAN meetings since late 2021 after it failed to honor the peace plan, known as the five-point consensus.
ASEAN ministers joining the meeting are expected to express their frustration and concern over the conflict, with many showing signs of 'Myanmar fatigue.' But Myanmar's neighbor Thailand will likely maintain its policy of appeasing the junta.
Thai foreign minister Don Pramudwinai flew into Naypyitaw on Sunday to meet with the regime's senior leadership. Details of the meeting are unknown. Don plans to attend this week's foreign ministers' retreat in Jakarta, where he will be able to update other ASEAN members on his talks in Myanmar.
Patience is wearing thin with a peace process that has failed to gain traction, and ASEAN is under pressure to find a solution for Myanmar. Stubborn generals have been unable to control vast swaths of the country despite waging a brutal military campaign against both armed and peaceful opposition to their rule.
The majority of Myanmar citizens continue to oppose the regime following the military takeover in February 2021.
Current ASEAN chair Indonesia is taking a hardline stance against Myanmar's military rulers for failing to implement the five-point consensus, especially the points related to ending violence, humanitarian assistance and jump-starting political dialogue.
ASEAN leaders reached the consensus for Myanmar during an emergency summit in April 2021, two months after the military staged a coup against the democratically elected National League for Democracy government. But the Southeast Asian bloc has since been heavily criticized for its inaction in pressing ahead with the five-point plan.
As chair, Jakarta has also held several meetings with Myanmar stakeholders including the country's shadow National Unity Government (NUG), its People's Defense Force (PDF) armed wing and allied ethnic armed organizations (EAOs).
"We have conducted 110 engagements, in the form of in-person meetings, virtual meetings, and phone calls, including my own face-to-face meetings with both the NUG and SAC [junta] foreign ministers on several occasions," Indonesian Foreign Minister Retno Marsudi said.
But observers say the peace process has made little if any progress, citing the junta's ongoing atrocities including deadly airstrikes against civilians.
At the same time, ASEAN has been under pressure from its dialogue partners, especially the US, which wants to see the cessation of all violence against the Myanmar people. Washington has also imposed sanctions on junta leaders and two state-owned banks that the regime uses for international transactions, including for buying arms. The purpose is to cripple the military regime's ability to wage war against civilians and the resistance.
US Secretary of State Antony Blinken will meet with his ASEAN colleagues at the Post Ministerial Conference on Friday (July 14). He will then join the ASEAN Regional Forum (ARF) and the East Asia Summit (EAS), due on the same day, to discuss regional and international issues.
Thailand's Concern With Myanmar Crisis
Thailand's outgoing military-backed government stepped into the limelight on Myanmar again on Sunday when acting foreign minister Don Pramudwinai paid a secret visit to Naypyitaw prior to the retreat.
In June, Thailand hosted highly criticized informal talks with Myanmar, Brunei, Cambodia, Laos, Vietnam, the Philippines, India and China to re-engage with Myanmar's military leaders. Outgoing Thai Prime Minister Prayut Chan-o-cha argued that direct talks were necessary to protect his country, as the crisis has a direct impact on Thailand which shares a 2,416-kilometre border with Myanmar.
The meeting was, however, shunned by ASEAN chair Indonesia as well as Singapore and Malaysia, driving a rift between the regional bloc's member states.
Of ASEAN's 10 members, Brunei, Cambodia, Laos, Myanmar and Vietnam are not democracies while Thailand's outgoing government first came to power in the same way as the current Myanmar junta, via a military coup.
There is deep frustration among ASEAN members as the conflict in Myanmar drags on into its third year with no end in sight. The regime has rejected a peaceful settlement in favour of brutal suppression of opposition forces.
Jakarta is frustrated but has so far maintained a fairly balanced policy of engaging with stakeholders on both sides in Myanmar. However, this could change when Laos takes over the chair next year.
There is concern among ASEAN democracies that Laos may lift the ban on Myanmar junta leaders and allow them to rejoin regional meetings. This move would likely cause an even deeper split in ASEAN.
So far, ASEAN has come up with no effective 'carrots' or 'sticks' for Myanmar.
In May, Indonesian President Joko "Jokowi" Widodo somberly acknowledged to fellow Southeast Asian leaders that no progress had been made to end the civil strife gripping Myanmar and renewed his call for an end to violence. He spoke after yet another deadly regime airstrike on the civilian population.
Malaysian Prime Minister Anwar Ibrahim also voiced his frustrations, noting that about 200,000 people had fled to Malaysia to escape the tumult in Myanmar. Anwar called into question ASEAN's rigid principle of non-intervention in its members' internal affairs. "Yes, there is non-interference, but we will have to then have a new vision that could give us some flexibility in order to navigate and manoeuvre the way forward," he said.
So far, Myanmar's military regime has successfully managed to hold two groups hostage—the people of Myanmar and ASEAN.
(By arrangement with 'The Irrawaddy')