Green Leap Of Faith: Amp Up Private Participation, Cut Dependence On China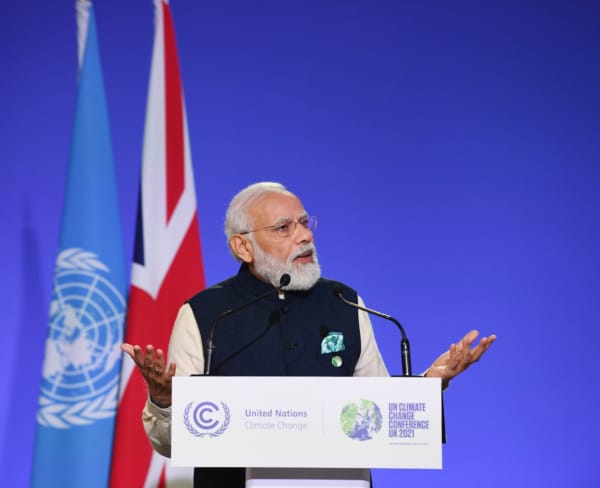 NEW DELHI: In less than seven years from now, 50% of India's electricity capacity (500 GW) would be of the non-fossil fuel variety, Prime Minister Modi promised G20 energy ministers late last month, implying a mix of hydropower, solar, nuclear and hydrogen. The country, he added, was on track to meet its net zero emissions target by 2070.
New and Renewable Energy Minister R.K. Singh told Parliament recently that the country had hit the 168.96 GW mark by February 2023 of which 64.38 GW is solar power capacity, 51.79 GW hydro, 42.02 GW wind, and 10.77 GW biopower. India would need to generate a further 332 GW over the next seven years @ of 50 GW a year to hit the target.

There are caveats. Power secretary Alok Kumar who demitted office last month, confirmed in an interview to Business Line that industry has proposed nearly 30,000 MW of hydro projects. But hydropower tariffs have to be viable and government financial assistance may be required for building infrastructure ranging from transmission lines to roads and bridges.
North-eastern states may be helped "to acquire up to 24% equity in a project so that they are full partners in it and help in early commissioning. They will earn return on equity in addition to free power for the life of the project. It is a win-win situation," he said.
Environmental concerns have to be properly addressed. The country needs to invest $10 trillion in green energy to reach net zero. India's continued dependence on coal, which currently makes up 55% of the country's energy needs, is another issue.
Arunaba Ghosh, CEO of the Council on Energy, Environment and Water and Vice Chair of the UN Committee for Development Policy wrote in Foreign Affairs that "If it wants to fight climate change, New Delhi will have to find a way to make this leap without spewing more carbon into the atmosphere. It will, in other words, have to grow in a manner that no major economy has before."
Solar and wind power are major areas of focus but India will have to reduce reliance on China, which accounts for 90% of renewable energy equipment used in this country. The Indian government's targets will be determined by the costs Beijing puts on this equipment and how fast can India diversify.
The other factor to consider is the response of the private sector. The government in April this year invited bids from the private sector to set up green infrastructure which would in turn help generate the required 50 GW every year. Private players such as Reliance, Adani Group have been tying up with foreign companies that specialise in solar and wind manufacturing to do just this. However, such tie-ups are at a nascent stage, and it will take time to gauge the full interest, commitment and the ability of the corporates to deliver.
There are other challenges for the government to consider. A 2022 McKinsey report points out that in an "accelerated scenario, renewable (wind and solar) capacity addition will likely increase from 10–12 GW per year today to 50 GW per year in 2030 and 90 GW per year in 2040. Ten times as much land as is used today would need to be identified and made available."
The other problem is the cost viability of green energy. Pointing to green hydrogen, the report states it is "not going to be economical versus other alternatives until 2030 and would need a subsidy of $60–80/KW for electrolyser manufacturing."
Having said this, the government has made inroads into making renewable energy popular. India is currently the world's largest producer of LED bulbs. According to government figures, schemes such as Saubhagya provided 2.8 crore households with electrification through solar energy and the Ujjwala scheme has, according to a recent study, pushed 85% of Indian households towards using LPG rather than traditional solid fuels. Such figures suggest that there is an ability and willingness by homes to shift over to green energy which is encouraging but does not tackle the main problem.
Ghosh writes that such "policies, however, will not help India decarbonize its heavy industries, which are some of the country's most significant sources of pollution. The steel, cement, fertilizer, and petrochemical industries alone account for one-fifth of India's total greenhouse gas emissions and three-quarters of the country's industrial emissions."
Can the government do something about this? Post-pandemic it has become harder to regulate these industries, especially the cement industry. A survey by the Global Carbon Project in 2022, an international organisation that seeks to quantify global greenhouse gas emissions and their causes, investigating the environmental impact of India's cement industry found that "in 2021 figures reached a high of 149 million metric tons of carbon dioxide, after experiencing a drop in the previous year due to the implications of the coronavirus pandemic." It concluded, "India is the second-largest polluter from cement manufacturing across the globe."
The government has set up task forces to tackle the issue and efforts are at work to set energy efficient standards for industrial plants. But the trade-off between following environmentally friendly policies and pursuing rapid growth will be harder to maintain going forward. So far, the government has provided encouraging signs of its commitment to reaching net zero but it will have to make tough decisions if it is to realise it.