G20 Meet: High Walls, Stifling Security Yet Tourism Is Booming In Kashmir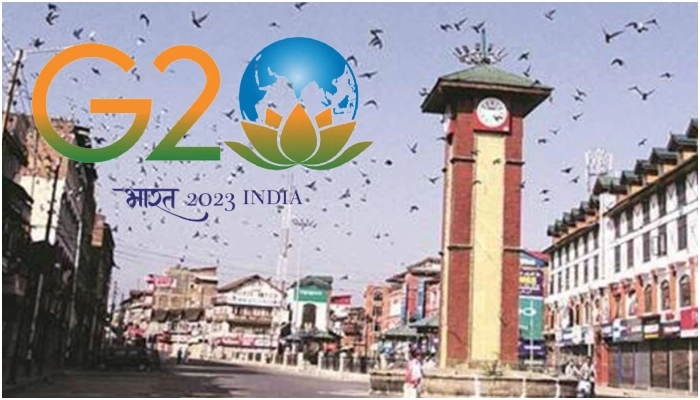 In the second of the three-part series on the mood in Srinagar in the context of the G20 Tourism meeting now underway in the city, Stratnews Global's Ramananda Sengupta discovers that despite all the political turmoil, as far as tourism is concerned, Kashmir seems to be in good hands. 

After a visit to the heavily gated and guarded complex which houses the AIR and Doordarshan offices in Srinagar, the Tourism Reception Centre across the road was like a breath of fresh air. No high walls, locked gates or even the standard posse of uniforms and guns which had become permanent fixtures across the city for the G20 Working Group Meet on Tourism. 
What was even more intriguing was the apparent lack of tourists, although the large square red-brick and teak building with a beautifully manicured garden as a central courtyard was humming with staff. The senior officers, however, were juggling too many things to find time for journalists. But as I walked unchallenged into the complex, I soon found enough people who, once they were assured anonymity, were not only willing but eager to answer my queries. And in a spirit of true Kashmiriyat, they refused to let me pay for the endless cups of weak tea that arrived either from their canteen or from some tea shop nearby. And this is what I learnt. 
The Covid Pandemic and subsequent lockdowns began in early 2020, barely months after Kashmir was divested of its statehood. But the district administration turned that challenge into an opportunity to plan ahead. Vaccination was made a high priority, and tourism workers were formally declared as frontline workers, at par with the health workers. There were workshops across all the tourist destinations for shikhara owners, hotel owners and staff, tour operators, taxi and tourist bus drivers and attendants, on covid appropriate behaviour. Vaccinated workers were given badges declaring they were covid free, or safe, etc. 
By the time the lockdowns started easing, Kashmir was the first to announce that it was open for business. The winter of 2020-21 saw tourists arriving in droves, and in 2021, the tourism ministry's national conference was held in Srinagar, fuelling further footfalls. In 2022, Kashmir clocked a record 23 lakh tourists.  This prompted the tourism department to quickly add adventure to leisure tourism by opening new trekking routes and offering a bouquet of activities like river rafting, parasailing, hot air ballooning and camping sites. Corporate bookings, weddings and movie shoots were picking up, and even Shah Rukh Khan was here recently to shoot for his latest film, I was told proudly. 
According to them, Kashmir has remained security neutral, in the sense that no tourist has been harmed because of being a tourist, and no tourists were killed or attacked since the 90s. On the contrary, I was told, in 2016, a shikharawala lost his life saving a tourist after their boat overturned. Hotels and taxi drivers have returned large sums of money left behind by careless tourists. For instance, a tourist group from Malaysia forgot a bag with Indian currency estimated at 15 lakh rupees in a cab in Gulmarg. The driver called up the travel agent, who then tracked the group in Delhi, and asked them to come and collect the money. The Tourism department felicitated the driver, who when asked why he did not just walk away with the money, replied: I did not want to bring disrepute to the community and to the area. 
As for G20, most of the staff felt it would help position Kashmir tourism appropriately on the global canvas, and seemed confident that the negative travel advisories that several countries still have about Kashmir would be revoked.  Tourism contributes extensively to the local economy. As a young staffer explained, the ecosystem includes hoteliers and shikhara owners, transport operators, handicrafts and artefacts, and even agriculture, since tourists have to eat too.  
One of them even rattled off the figures: 
In 2018, there were 8,30,000 arrivals. In 2019, it was 3,37000. The next year despite the lockdowns, saw 41,000 tourists, and the number jumped to 6,65000 in 2021. And in 2022, the figure almost quadrupled to 23 lakhs. And just the first three months alone of 2023 saw over 3 lakh tourists in the Union territory.  
If the G20 meeting went off as expected, Kashmir was going to see an incredible surge in tourism, which in turn would also lead to more investments and jobs for youngsters, particularly in the adventure tourism sector.  
Realising it was time for lunch, I thanked them all profusely before trudging back across town towards a restaurant which apparently served authentic wazwan, or the traditional Kashmiri wedding platter, recommended by a colleague in Delhi.  
Post a meal fit for a king, I headed towards the area known as the bund, essentially the Jhelum riverbank, where a few houseboats are permanently stationed, towards the Abu-Guzar Mosque, where my next meeting was scheduled.  
Nasir Shah (@rgretreat) wears many hats. As Chairman of the J&K Tourism Alliance and the Indian Association of Tour Operators (J&K Chapter), and the convenor of the Tourism Committee of PHDCCI Kashmir Chapter, among other things, Shah is probably the tourism industry's key go to person in Srinagar.  Escorting me up a steep flight of stairs to his office, Shah was the epitome of courtesy, quickly organising a large plate of delicious homemade cakes and a cup of fresh tea. 
"Till 1989, we used to get little more than 1 million foreign tourists. Surprisingly, the domestic share was quite meagre, with only 1.5 to 2 lakh tourists visiting the region, because there wasn't enough publicity about the region. There was no internet, social media etc, so despite the fact that J&K tourism had offices in some state capitals, the footfalls were still rather low," said Shah.  Besides, bar one or two four- or five-star hotels, there was very little infrastructure in Kashmir, and 99 per cent of the foreign tourists used to stay in the houseboats. Indians would mostly stay in the few budget hotels. Except few, for example the owners of Lipton and Duncan tea gardens in Calcutta would come to Kashmir in summer to play golf during the late 60s and early 70s. 
"But things have changed. Due to the ups and downs, there have been advisories in various nations against visiting Kashmir, and foreigners are not coming, except from some countries who are not bothered about the political situation in Kashmir," he said. These included Indonesia, Thailand, Vietnam, Singapore and Malaysia, while from Europe, there were about 400 to 500 Greeks coming every year to Kashmir. "I once asked a Greek tourist why they hadn't issued an advisory against visiting Kashmir, and he said we don't follow the Americans. As for the Southeast Asian tourists, we had some 20 -25,00o tourists coming from there last year. This year, the number might go up to 40 to 50000."  
Also, he went on, a good number of western tourists from Italy, Germany, Spain France have started coming, perhaps because they have softened their advisories on Kashmir. Instead of warning tourists against visiting Kashmir, they urge tourists to check with the embassy in Delhi before going. "Another reason is that it was difficult to get travel insurance for those who planned to visit Kashmir. This despite the fact that we had a lot of western ambassadors coming here to play golf and stuff. We have been urging them to remove the advisories for a while, but I am not sure whether the message is going to the governments or foreign ministries concerned," said Shah. 
"G20 is one forum where officials, including foreign and other ministers from these nations are actually coming here, and I am sure we will highlight this and urge them to remove all travel advisories so that regular, normal tourism can start from these nations," he said. Also, members from the inbound tourism industry as well as the government should start promoting Kashmir in an aggressive manner abroad. 
Domestic tourism has picked up, and this year I suspect we will have at least six to seven lakhs by the end of May," he added. "But foreign tourists don't come here only for the natural beauty. They have their own Alps and other places. They come here for our culture, our heritage, cuisine, handicrafts, our horticulture and floriculture. And they prefer to stay in the luxury houseboats on Dal Lake, for longer periods than the domestic tourist. They are also sensitive towards nature unlike our domestic tourists," he said.  Then, from June onwards till September, there will be a decline in domestic tourists because schools will open. 
"So, if we get a lot of foreign tourists during that period, it helps the economy. In fact, they should come again during winter, because unlike earlier, we have modern facilities and infrastructure in place including central heating in most hotels and resorts. About 10 years ago, we had maybe 60 to 70 tourists visiting Ladakh during winter, because it was too cold, and there were no facilities. 
"But most hotels and cars are now centrally heated, and also, nature has helped, because due to global warming, the average temperature has risen from minus 15 to about minus eight or 10, This is obviously not a good thing, but the fact remains that people who would earlier shut down during winter are now staying open." 
Noting that "unfortunately, Kashmir is still expensive compared to places like Goa," he said it was important to have well-heeled tourists as well as the backpackers to help revive the industry. However, even though as a tour operator I might want to double or treble the current numbers, as a responsible citizen, I know that this would eventually turn our beautiful region into a wasteland, he said.  "So ideally, I think in order to prevent our tourist spots from turning into places like Shimla, which is almost like Delhi's Chandni Chowk today, I think we should limit tourism to about 2.2, or no more than 2.5 million a year, and that too only if we promote sustainable tourism, like Ladakh has started to do, And the G20 meeting being held here in Srinagar is perhaps a good omen, provided we play our cards right." 
Realising that despite the frantic calls demanding his presence at some family function, he was too polite to end the conversation, I decided to take my leave. As I walked past the bund and the houseboats parked in the Jhelum back towards my hotel, I remember thinking that despite all the political turmoil, as far as tourism was concerned, Kashmir was in good hands.