Along With Missiles, North Korea's Kim Jong Un Flaunts New 'Normal'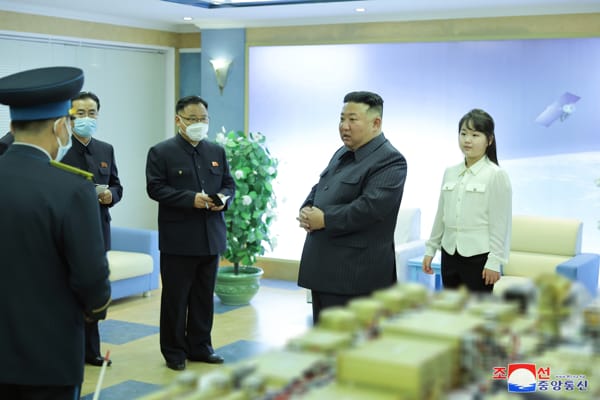 NEW DELHI: A missile launch or a military parade may seem an unusual event for a 10-year-old to attend but things are different in North Korea where Kim Jong Un calls the shots.
On April 18, his daughter Kim Ju Ae accompanied him to an inspection of the National Aerospace Development Agency, the latest in a string of public appearances for the child in the last five months.
Her name was revealed by former NBA star Dennis Rodman after a trip to North Korea in 2013. She's believed to be the second of Kim Jong Un's three children, the eldest being a son. The world saw her first in November last year in pictures released by the state media at the test-firing of intercontinental ballistic missile Hwasong-17 at Pyongyang International Airport, which she attended with her parents. Her mother Ri Sol Ju and she were referred to as Kim's "wife and beloved daughter".
Since then the daughter has been seen in public 11 times, according to North Korea Leadership Watch, almost all of them at military or military-related events.
This is a departure from how Kim Jong Un's predecessors functioned, be it his father Kim Jong-il or his grandfather and North Korea's founder Kim Il-Sung. But as dictators do, Kim Jong Un is doing things his own way in a manner that gives him and his country's ambitious military programme the much needed oxygen of publicity. It also comes with distinct political messaging.
"If you look at the photos that are being released, they are combining military testing or shows of military strength with Kim Jong Un's daughter. This accomplishes two things: one, the regime is trying to add a more humane dimension to its militarism, and two, it is trying to get global attention," says Gi-Wook Shin, founding director of the Korea Program at Stanford University.
Dictators crave attention but North Korean missile tests and military events were no longer capturing the world's interest. But since the daughter's presence, the world is paying more attention. Besides, it can be seen as an attempt at image makeover.
"The way she's depicted, always looking lovingly at her father, seems to be more about shaping his image than hers. It feeds not only into his broader public image as a family man but also reinforces messaging around how the nuclear weapons programme is no longer negotiable but for the protection of the state and its future generations," says Jenny Town, Director of Stimson Centre's 38 North Program.
For all the global criticism that North Korea draws, there seems to be a conscious effort to make it appear more like a normal and modern state by adding a softer dimension to militarism. That's also part of why he has his wife accompany him frequently while his father and grandfather did not do the same with their wives, feels Prof. Shin.
Kim Ju Ae's frequent public appearances may have fuelled speculation about a succession plan but experts say that's an exaggeration. And the fact that her father has gone against the family grain in the process suggests he may have an ace up his sleeve.
"Keeping his son's existence and identity unconfirmed means there's still room to build a myth around him, if he ends up being the successor. By keeping him secret, he also has the chance to study abroad and learn in different ways before being put under public scrutiny," according to Jenny Town.
Prof. Shin believes it would be taboo to talk about who would succeed 39-year-old Kim Jong Un. "Succession is the main problem in any authoritarian state: no one can talk about it now in Russia or in China. It's the same in North Korea."