The Tourist Getaway Of Al-Ula: Confluence Of The Ancient And The Modern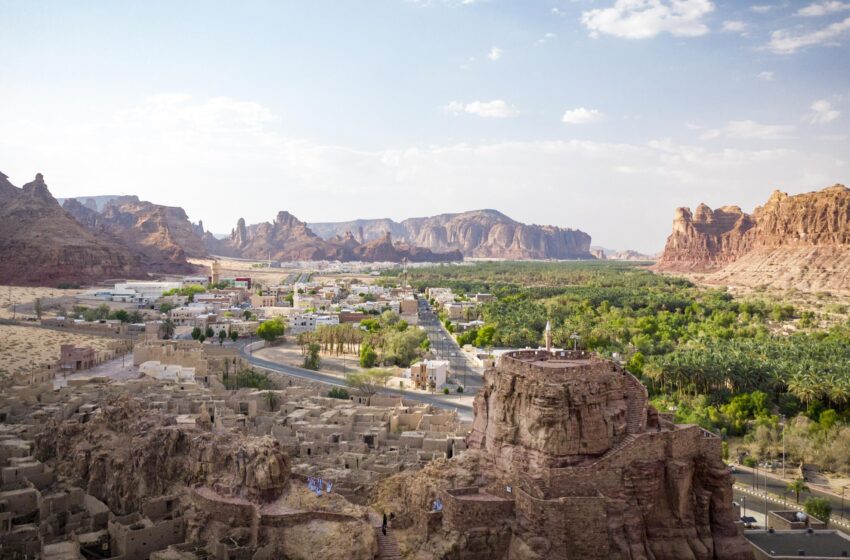 NEW DELHI: When international travel finally opens up and we begin to emerge from our cloistered existences, which is that one place you would like to visit the most? If history, architecture, and the deep quiet of a vast desert—stories of an oasis at the crossroads of the ancient incense and silk routes—attract you, one of the most unusual destinations to visit next year or perhaps later this year is Al-Ula in Saudi Arabia.
A newly developing tourism destination, Al-Ula was in the news earlier in January for the landmark GCC summit that brought together the heads of different Gulf states, in an ancient town tucked away in the valley of the Hijaz mountains. A spanking new concert hall stands there now reflecting the dramatic deeps of the mountains and desert, a symbol of how this region is being redeveloped as part of new economies in the post-Covid world.

The concert hall built in 2019 reflects the dramatic countryside, thanks to almost 9,500 square metres of mirrors. This is modern architecture that nevertheless invites us to reflect literally on a world gone by, when the region was at the crossroads of trade routes between Asia and Europe.
Close by, is Saudi's first UNESCO World Heritage Site—Hegra, a capital of the ancient Nabateans, who also famously built Petra out of sheer rose-coloured rock. The power of this ancient Arabic, pre-Islamic tribe stretched from the Euphrates to the Red Sea, when their civilisation emerged as a distinct and dominant politico-cultural entity between the 4th and the 2nd centuries BCE.
By the second century CE, however, this world had been absorbed into the Greco-Roman empire. But their buildings and carving survive in the Arabian desert; in Petra, where the treasury building, tombs and temple stand against the travails of time, and here in Hegra, their "second capital", closer to the Red Sea, where visitors can see 131 rock-cut tombs with elaborately ornamented facades.
Al-Ula, in fact, is an open museum. An activity being promoted by the Saudi tourism board, which has just entered the Indian market through its representing agency, is star-gazing, complete with stories of how the stars related to the long history of the peninsula. But even as we look back, modern enterprise is not far behind. Some of the world's most prominent hotel chains such as the Aman Resorts are investing huge sums of money to create luxurious facilities betting on enhanced travel post-Covid. Also in the works is an ambitious Jean Nouvel-designed subterranean cave hotel, called Sharaan Resort.
The French architect Nouvel is known for his other works in the Arab world, including Qatar's National Museum and Abu Dhabi's Louvre. In Al-Ula, his commissioned work comprises a unique resort where 40 rooms and three villas will be cut into a cliff face, with all the rooms having sandstone walls to celebrate the architecture of the Nabateans. The Sharaan Resort will also include a summit centre, a spa, restaurants and a 925-square-kilometre nature reserve.
This "rebirth of Al-Ula" is part of an ambitious development plan courtesy Saudi Crown Prince Mohammed bin Salman's 2030 vision for the kingdom, as it seeks to lower its dependence on oil exports and seek out business from tourism, lifestyle and make the country a hub for expats. Note that the kingdom will stop signing contracts with foreign firms from 2024 if they do not have their Middle East headquarters in the kingdom.
For Indian travellers, the Saudi Tourism Authority is currently working on having an e-visa facility "which would make it much easier for Indians travelling to KSA", says Huzan Fraser Motivala, Indian representative of the Royal Commission for Al-Ula (RCU). As it currently stands, once borders open, any Indian with a valid UK, USA, Schengen visa is eligible for a visa on arrival if they fly on a Saudi national carrier. (The rest can apply at the Saudi embassy or consulate for a tourist visa). Motivala also tells us about other welcoming measures such as availability of vegetarian food and Indian restaurants.
In the last three-four years, other measures such as women being allowed driving licences and independent travel will also hopefully help boost tourism from global destinations, including by younger Indians seeking newer experiences. The proof will lie in air miles but for now, a new, unusual destination opening is news to cheer.
(The writer is a food critic, columnist and author. Views expressed in this article are personal.)