Jaishankar, Doval At Saudi National Day: Why It Matters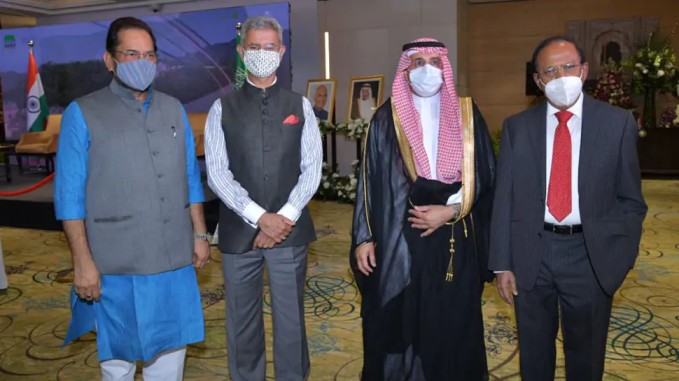 NEW DELHI: The presence of External Affairs Minister S Jaishankar and NSA Ajit Doval at the Saudi National Day celebrations in Delhi, was rare and unusual signalling. Such signalling isn't done on a concerned country's national day celebrations, which are often discreet, low key affairs. The unwritten rule of diplomacy is that the government nominates a minister or MoS to attend – in this case it was most likely Mukhtar Abbas Naqvi – along with a joint secretary.
The last time India broke this rule was two years ago when the late EAM Sushma Swaraj attended Russia's national day reception as chief guest, almost a month after the Modi-Putin summit in Sochi. India was then on overdrive to mend relations and reassure Moscow that it remained a strategic and valued partner. This was necessary given the focus that India had then placed on the US relationship and Moscow increasingly cozying up to Pakistan.
The current scenario is different. There are no rifts in the India-Saudi relationship. While the much awaited Reliance-Aramco deal has not gone through yet, it isn't a big sticking point. Neither is Pakistan. It's reported fallout with the Kingdom over the denial of its demand for a special OIC session to discuss Kashmir, has nothing to do with India. India-Saudi ties are quite distinct from Pakistan-Saudi ties, as the hopes and expectations from each nation by the Kingdom are quite different. Pakistan is vying for a bigger 'Islamic role' on the world stage something India would never be interested in pursuing. The relationships, at least as far as the Kingdom is concerned, run on parallel tracks.
The presence of Jaishankar and Doval maybe more have more to do with India's parlous economic state, given Moody's downgrading of India's rating from stable to negative, in June. India needs foreign investment urgently and the two leaders maybe hoping for a quick fix from the Saudis. Recall Saudi Ambassador Saud Bin Mohammed al Sati's announcement last year that his country was looking to invest $100 billion in various sectors. That figure is unlikely to be realised given the pandemic and the low oil prices that have hit the Saudi pocketbook. But every little bit helps.
Then there was the need to balance Riyadh and Tehran. Recall Defence minister Rajnath Singh and Jaishankar made high profile visits to Iran earlier this year. King Salman's virtual address to the UN has made clear his animosity towards Iran has hardened. The Saudi King claimed that Iran had exploited the 2015 nuclear deal "to intensify its expansionist activities, create its terrorist networks, and use terrorism."
Geo-politics and economics aside, India could also do with a public statement of support from the Kingdom. Rising anti-Muslim sentiments voiced on Twitter by Indians living in the Gulf have angered prominent voices there. In April this year, Princess Hend al-Qassimi, a member of the UAE royal family, warned that "openly racist and discriminatory" statements by Indians in the Gulf will ensure that they "will be fined and made to leave" the country. It wasn't just the UAE, prominent voices in other Gulf nations such as Kuwait and Qatar too reacted sharply with Prime Minister Modi and EAM Jaishankar having to work overtime to cool tensions.
There are other winds 0f change blowing through the Arab world, and if India is to benefit, proximity with the Saudis cannot hurt.