Iran N-Scientist Murder: Israel-U.S. Conspiracy Of Silence?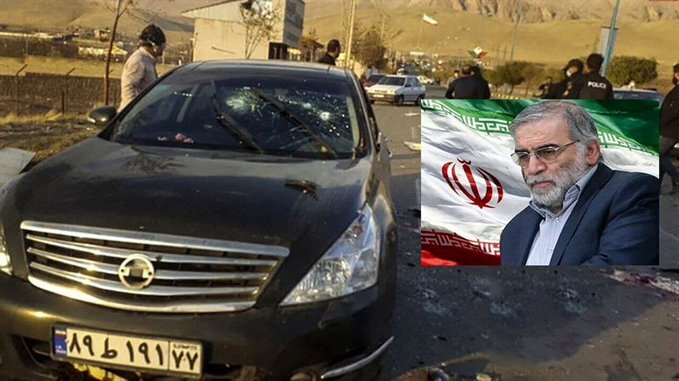 NEW DELHI: "He does not have immunity, he did not have immunity and I don't think he will have immunity."
Some say the above quote of former Israeli Prime Minister Ehud Olmert (recorded by a local broadcaster Kan two years ago) is the closest evidence of an Israeli hand in the killing of Iranian nuclear scientist Mohsen Fakhrizadeh.

Others point to Prime Minister Netanyahu's press briefing in April that year, where he identified Fakhrizadeh as the head of the "AMAD Plan", described as Iran's covert nuclear weapons programme conducted under the guise of a civilian programme. Al Jazeera quoted Netanyahu as saying "Remember that name Fakhrizadeh".
Israeli journalist Yossi Melman, known for his expertise in intelligence affairs, said Fakhrizadeh had escaped an assassination attempt a few years ago. So if the Israelis were involved in the first attempt and got it wrong, they made amends the second time.
Typically, the Israelis aren't talking nor is their close ally, the United States. Even Iran isn't talking much apart from President Rouhani promising retaliation "at the proper time". But the killing carried out in the city of Absard east of Tehran appeared roughly similar to the attack on Abdullah Ahmed Abdullah, also known as Abu Muhamad al-Masri in August.
Abdullah was Al-Qaeda's No. 2 and widely tipped to succeed Ayman al-Zawahiri (who reportedly died of natural causes recently). He was accused of masterminding the bombing of U.S. embassies in Africa. Reports said he was killed by two men on a motorcycle who fired on him in his vehicle in Tehran. The NYT reported he was killed by Israeli agents acting at the behest of America. Again, no comment from Israel or the United States.
"Both assassinations have underscored a vital point," says a former senior intelligence officer, "that the killers had pinpoint intelligence about their targets' movements. This implies the targets were probably tracked and their identities confirmed over a period of time. Were their personal communications tapped? It cannot be ruled out, given the sophistication of the US communications intelligence, which may have also involved extensive use of satellites and high flying drones."
What about local support? There is a huge Iranian diaspora in the U.S. with links stretching back to towns and cities in Iran. There are also reports about growing disenchantment with the clerical Islamist regime among young people, with uprisings reported in 2018 and 2019 that were brutally crushed.
Strikes of this kind call for high-level professionalism and commitment, of having to infiltrate operatives into an enemy country, of ensuring they live undetected for prolonged periods until the intended targets were pinpointed. Were the actual strikes carried out by Israelis or Iranians trained by them? We may never know.
"The attacks are further proof that the Iranian internal security apparatus, despite being pervasive, can be penetrated," says the retired intelligence official, pointing out that "the Israelis demonstrated this in January 2018 when they claimed to have broken into Iran's nuclear archives in Tehran and made off with high value intelligence about the Islamic Republic's nuclear activities including a map of nuclear sites."
Going back, in 2010 it was reported that the Stuxnet computer worm inflicted enormous damage on Iran's centrifuges that enriched uranium, causing them to burn up. The worm was developed by the US National Security Agency, the CIA and Israeli intelligence and was introduced into the Iranian computer networks through USB sticks and Microsoft Windows.
Compare those to the bomb attack on the families of Israeli diplomats in Delhi in 2012. No lives were lost and arrest warrants were issued for four Iranians who escaped. But their modus operandi was described as clumsy and amateurish, their identities were soon established and although to this day, Iran refuses to answer any questions about them, its involvement is known to the world.