Crown Prince Mohammed bin Salman Concedes Little In Summit With Biden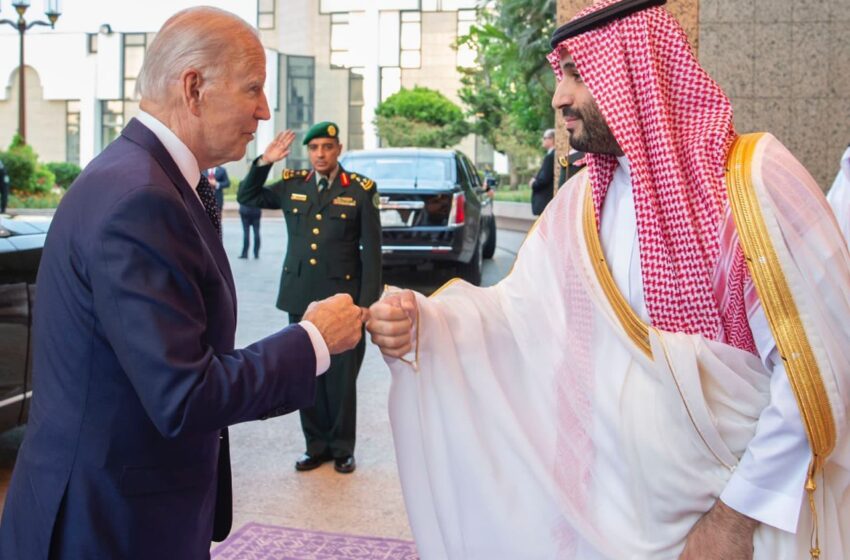 NEW DELHI: The US-Saudi chill endured in Jeddah's 40 degree plus heat as Crown Prince Mohammed bin Salman fist bumped his guest President Joe Biden as he arrived for talks, their first since the latter was elected. Democrats back home said the gesture was too friendly while Biden, after the talks, countered with the point that he had raised the murder of Jamal Khashoggi, reiterating that he believed MBS was responsible. The latter reportedly warned Biden against imposing values etc. Not a great start for a high-level summit and the results were in keeping with the overall mood.
There was little satisfaction for Biden on the one issue that really mattered to him: sky high oil prices. There was no explicit commitment to increasing oil production although there are "expectations" of increases in the months ahead, but strictly within the context of OPEC+, meaning more oil will be pumped in line with the cartel's decision at its meeting last August. The actual wording of the joint statement was vague: It said that "the U.S. welcomed Saudi Arabia's commitment to support global oil markets balancing for sustained economic growth," and that "both sides decided to consult regularly on global energy markets in the near and long-term."
Biden fared a little better on the Israel front, Saudi Arabia opened their airspace to all carriers ensuring that Israeli flights and possibly pilgrims can fly from both countries. As the president pointed out in a speech this could be "the first tangible step in the path of what I hope will eventually be a broader normalization of relations (between Saudi Arabia and Israel)."
US and Israeli troops will leave the island of Tiran where they had been for the last 40 years since the Camp David accords. Tiran is crucial to Saudi Arabia because it is strategically located at the Gulf of Aqaba where there are two harbours belonging to Israel and Jordan. In other words, trade between Saudi Arabia and Israel is being openly encouraged. As for ending the Saudi war in Yemen – a key campaign promise of Biden – the president re-emphasised that the current ceasefire would continue but more interestingly he also spoke about "Saudi Arabia's security needs to defend the Kingdom, given very real threats from Iran and Iran's proxies."
Discussions in Washington on lifting the ban on the sale of offensive weapons to the Kingdom are expected to mollify the Saudis, given their concerns about the threat posed by the Houthis in Yemen. This is also in keeping with National Security Adviser Jake Sullivan's commitment to "recalibrating, not rupturing, the relationship with Saudi Arabia."
Post his meeting with the Saudis, Biden is also scheduled to have bilateral engagements with the leadership of Egypt, the UAE, and Iraq, and then participate in the GCC+3 Summit, at which he will lay out his vision for America's engagement in the Middle East. But Saudi analysts believe that such moves are too little, too late. Senior diplomats point out that the message Biden has sent to the Saudi Crown Prince is that he has won.
"Engaging with Middle Eastern leaders especially Sisi (Egyptian President Abdel Fattah El-Sisi) and MBS is quite different from engaging with Nato or European leaders. MBS understands the language of power. He jailed his family, kidnapped a Lebanese prime minister, is accused of orchestrating a murder of a US citizen and he isn't even the king yet. Biden's visit will probably be seen as a weakness by both him and other Gulf leaders who will demand their pound of flesh. That is why MBS will be unlikely to give anything away. It's most probable that Biden will have to be content with bilateral agreements with Gulf nations that most probably will not amount to much," said a senior diplomat.