Can India, Turkey Break Cycle Of Mistrust, Chart New Course?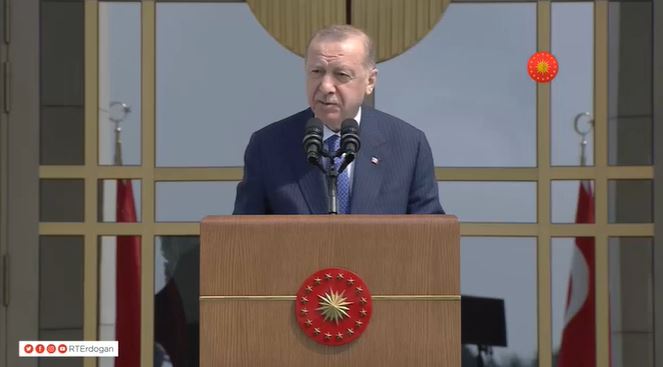 NEW DELHI: Next year will mark the 73rd anniversary of India and Turkey establishing diplomatic relations. It's not clear if either side will be in any mood to celebrate that officially. Bilateral relations have been going through a difficult phase ever since President Recep Tayyip Erdogan took umbrage when the Indian government reworked its constitutional sums and reduced Jammu and Kashmir to a Union Territory.
Addressing a joint session of Pakistan's parliament in February last year, he said: "We have never forgotten and will never forget the help which the Pakistani people extended by sharing their own bread during our War of Independence. And now Kashmir is and will be the same for us. It was Canakkale (where Turkey sank seven attacking British and French naval vessels in 1915) yesterday, and it is Kashmir today, there is no difference."
Last year he rubbed more salt into Indian wounds at the UN General Assembly, saying that "We are in favour of solving this issue through dialogue within the framework of UN resolutions, especially in line with the expectations of the people of Jammu and Kashmir."
Erdogan was endorsing the Pakistani line, a point which he has underscored at other fora including the Organisation of Islamic Cooperation. He has also backed Pakistan in opposing India's admission into the Nuclear Suppliers Group. Partly this is explained by their long history together in various pro-Western defence alliances (Turkey in NATO, Pakistan in Baghdad Pact). But is there something else?
Turkish officials and academics insist that Ankara's stand on Kashmir "has not changed since 1947" but they've been evasive when asked about Erdogan's hostility to India. Where and what does this stem from? Is it driven by the president's own ambitions of being heralded by the Islamic world as the latter day Caliph? What does that have to do with India?
A Turkish official who would not be named insisted that Erdogan has no such ambitions but also admitted that "there could be some people with such ideas".
Drawing from that, there are growing suspicions that Turkey is seeking to penetrate India's Muslim minority and use the network for Pakistan's benefit. Recent reports have referred to Turkey backing radical Islamist organisations in Kashmir and Kerala. In fact, Kashmiri separatist leader Syed Ali Shah Geelani was bankrolled by Turkey for many years, Indian authorities were quoted as saying. Religious seminars in India have been funded by Turkey, fundamentalists have been recruited to radicalize people and freshly minted radicals have been taken on trips to Turkey to reinforce their leanings.
Recent developments in Afghanistan have added to those suspicions. The Turkish embassy in Kabul remains open. The Turks are talking to the Taliban even though they have not formally recognised them. But the Turkish sense about the Taliban is important for India. "They are good fighters, they cannot be good rulers," is the view being articulated.
As the Turkish official noted: "In my opinion they (Taliban) have not changed but they are more experienced, know that international exposure is important."
He pointed to the fact that Afghan society has changed. Does the Taliban realise this? "If they don't, it could make for a very oppressive regime."
Back to India and Turkey. Is there any light on their horizon? Turkey sent medical help to India earlier this year during the second pandemic surge. The official recalled that it was criticized by some sections in Turkey. "Nevertheless the aid went through, a huge consignment similar to the aid Turkey sent to the Palestinians."
The implication is this would not have happened without Erdogan's nod. Recently, diversified Indian conglomerate DCM Shriram forked out $1 million for a 30 per cent stake in Turkish drone maker Zyrone Dynamics. There are reports of Turkey's Anadolu Shipyard transferring technology to Hindustan Shipyard Visakhapatnam to build four 45,000-ton fleet support vessels. In a lighter vein, actors Salman Khan and Katrina Kaif are in Turkey shooting for the third instalment of the action thriller 'Tiger'.
So there's always light on the horizon but it requires a high-level visit for the obstacles and suspicions to be swept away. Before that political consultations must take place. A joint economic commission is required. Pragmatism is the key, and the willingness to look beyond differences at the opportunities to be availed of.