Biden's 'Pilgrimage' Of Hope To Israel And Saudi Arabia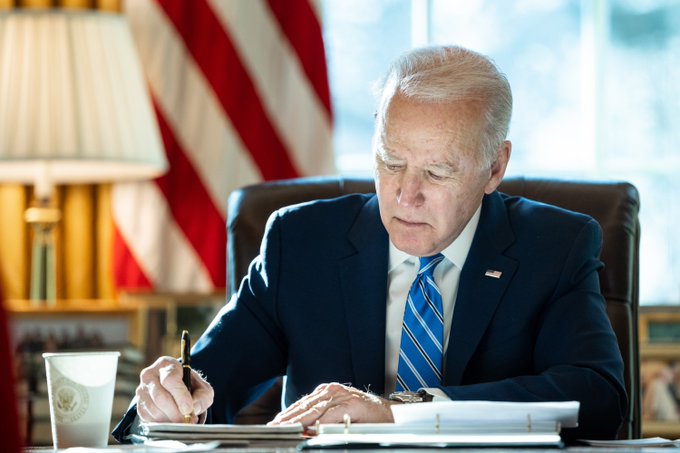 Recall that debate during the primaries ahead of the US election in 2020, when then presidential candidate Joe Biden pledged to make Saudi Arabia "the pariah they are." Those words may be weighing on his mind when he lands in the Saudi capital Riyadh on Friday for his first summit with an old but estranged ally.
Notwithstanding the strains with the Saudis, Biden is expected to push an ambitious agenda that could involve Riyadh's recognition of the Jewish state. Biden is in Tel Aviv today where he is expected to sit down with Prime Minister Yair Lapid to chalk out their strategy. It won't be easy. King Salman is known to be pro-Palestinian and there's been no change in Riyadh's stand of a two-state solution to the Israeli Palestine conflict.

But away from the limelight there have been enough indications of direct contacts between the Saudis and Israel including former prime minister Netanyahu's secret visit to Saudi Arabia in 2020. The buzz is he met Crown Prince Mohammed bin Salman but the Saudis have said nothing. Diplomats believe pressure would be on the Crown Prince to make a "grand gesture." Lapid has sent out feelers by stating that the president's plane flies from Jerusalem to Saudi Arabia and that Israel calls on all other countries in the region to "build ties with us…for the sake of our children."
But as head of the Islamic world, any such "grand gesture" by the Saudis would be courting certain danger. The Saudi Crown Prince will be gracious but is not expected to concede on that score.
What is Biden's priority with the Saudis?
From Tel Aviv Biden flies direct to Riyadh. The visit comes on the heels of much controversy in the US where recently a judge asked the Biden administration whether the Saudi Crown Prince should be granted "sovereign immunity" for his alleged role in the murder of Jamal Khashoggi. Such are the sensitivities involved that the US president who till date has boycotted the Saudi Crown Prince by preferring only to deal with King Salman, penned an oped in the Washington Post promising that "fundamental freedoms" would remain on the agenda throughout this trip. Biden has largely ignored the Saudis so far, but what must be galling for them are the personal attacks on the Crown Prince and the seeming indifference to Houthi attacks.
The Russia-Ukraine war has changed the equation to the benefit of the Saudis. The US ban on Russian oil, gas and coal on March 8 has caused a shortage of crude oil in the market driving prices to $100-$113 a barrel with some experts warning that it could go as high as $300 a barrel throughout 2023. High crude prices have translated into record high gas prices in the US ($5 to 6 a gallon) and with mid-term elections in November, the president must be seen to be acting on the issue.
Typically, the US solution is completely self-serving. If the Saudis could hike their current production from 10 million bpd to 12 million bpd, it would reduce crude oil prices and in turn gas prices. Indeed, energy experts believe that this is what the president was referring when he stated that to counter "Russia's aggression" and to "outcompete China" the US needed to engage with countries that can help arrange these outcomes. According to the president, Saudi Arabia is one of them.
What are the problems?
The problems are three-fold. The actual capacity of the major oil-producing Gulf nations – Saudi Arabia and the UAE – is in question. Data surrounding this has been vague and French President Emmanuel Macron told Biden in end-June that the two oil producing majors were already producing at near full capacity. Secondly, it is not clear why Riyadh would go out of its way to help the US which is also a major oil producing country and hence a rival. Third, Saudi Arabia, Russia and other OPEC + members are enjoying the bonanza of high oil prices and see no reason to bring it down. Post the Russian invasion of Ukraine and the ban on its oil, OPEC+ members have agreed to raise output by 648,000 bpd. This however is nowhere enough to affect US gas prices.
There is another reason too. According to former ambassador and energy expert Talmiz Ahmad, even if Saudi Arabia does have 2 million bpd, which is in doubt by the US's own estimates, it is most probably in recoverable oil which has to be extracted, treated and refined. It is very unlikely that such oil will be ready before the elections. "Biden is probably just hoping for an announcement from the Saudis during his visit that they will raise oil output so this will not be an issue come November," says Ahmad.
What does MbS want in return?
Security will be uppermost on the Saudi Crown Prince's mind given the Houthi drone attacks. The five-rounds of talks between Saudi Arabia and Iran has primarily been about Riyadh asking Tehran to exert its influence on the Houthis. Iran however has not commented on this publicly so far. The US is being pushed to lift the ban on the sale of offensive weapons to the Kingdom and what will be sought are Patriot interceptor missiles to counter Houthi drone attacks and also a defence radar system along the lines of Israel's Iron Dome. In return, the Saudi Crown Prince has indicated to Biden that he is willing to address his concerns by sticking to the ceasefire in Yemen.
What are the takeaways from this meeting?
Despite the rhetoric it is important not to see Biden's meeting as a long-term strategy for the region but as a matter of political survival. Both the US and Israel face elections in October and November and thus the current US bid for re-engagement with West Asia seems weaker than it was before. The ongoing Russia-Ukraine conflict ensures that the global situation both geo-politically and on the energy front is in flux suggesting major long-term actions cannot be promised by anyone.
What will be interesting to watch is a proposed US, Israel and Arab nations coming together for a common defence and security pact in what is unofficially being called an "anti-Iran alliance."
Naturally, Iran has called this plan "a threat." "Trying to create new security concerns in the region will have no result other than weakening common regional security and serving the security interests of the Zionist regime," says Nasser Kanani, spokesman for the Iranian Foreign Ministry.
Nour News, which is affiliated with Iran's Supreme National Security Council, stated in tweets both in Persian and English, added: "If the implementation of this plan threatens the security of Iran in any way, it will face a decisive response to the nearest and most accessible targets." It's not hard to see who is being referred to here.