U.S. To Stay Engaged In Afghanistan; Ties With India Vital: Blinken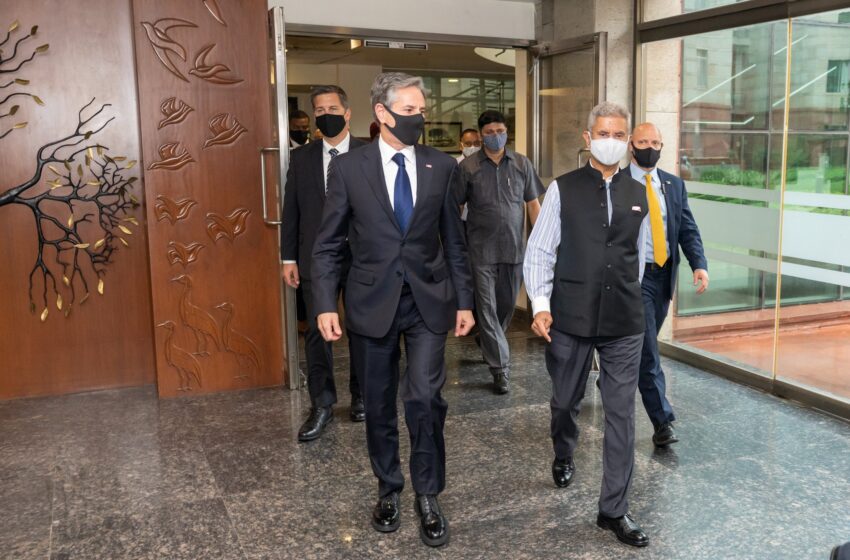 NEW DELHI: If there were any doubts in Delhi about the visit of US Secretary of State Anthony Blinken, these were dispelled when he said "There are few relationships in the world that are more vital than the one between the US and India. We are two of the world's leading democracies and diversity fuels our national strength."
Blinken was speaking at a joint media event along with his Indian counterpart S. Jaishankar on Wednesday. But his assurances on Afghanistan would have likely drawn skepticism given that US forces are on schedule to exit by the end of next month.
"Even as we withdraw our forces from Afghanistan we remain very much engaged in Afghanistan," he said, adding "We will provide economic, development and security assistance and we are engaged in the diplomacy of working to bring the parties together."
Small comfort for India, which is now working with Iran and Russia to forge a consensus that would ensure a Taliban victory in Kabul is not inevitable. But the road ahead is hard and Pakistan is expectedly playing to its strengths. It's a point Jaishankar stressed when he said: "Peace negotiations need to be taken seriously by parties and the world wants to see an independent, sovereign Afghanistan. But its peace and sovereignty will only be ensured if it is free from malign influences."
Blinken's visit is also seen as laying the ground for a full face to face summit of Quad leaders later this year. In answer to a question, he dismissed China's criticism of the grouping: "Quad is simply four like-minded countries coming together to work on some of the most important issues of the time that are going to have real impact on the lives of the people and do it in a way that ensures a free & open Indo-Pacific. Quad is not a military alliance."
Jaishankar added. "It is not strange for groups of countries to work together. This is the history of international relations. They work together when they have intersections of interest. BRICS is one such example. People need to get over the idea that other countries doing things together is directed against them."
Blinken also hinted at keeping up the pressure on China on human rights in Xinjiang and Tibet, when at a meeting of members of civil society, he conferred with Geshe Dorji Damdul, considered close to the Dalai Lama.
He promised more help on the coronavirus front. "Over the past few months the US has donated over $200 million for Covid-19 relief and there will be now an additional aid of $25 million to support vaccination efforts in India."
As for concerns that he would read the riot act on democracy and human rights in Delhi, Blinken merely stated: "The U.S. and India share a commitment to democratic values; this is part of the bedrock of our relationship and reflective of India's pluralistic society and history of harmony. Civil society helps advance these values."