U.S. Mulls New Fleet For Indo-Pacific, To Seek India's Help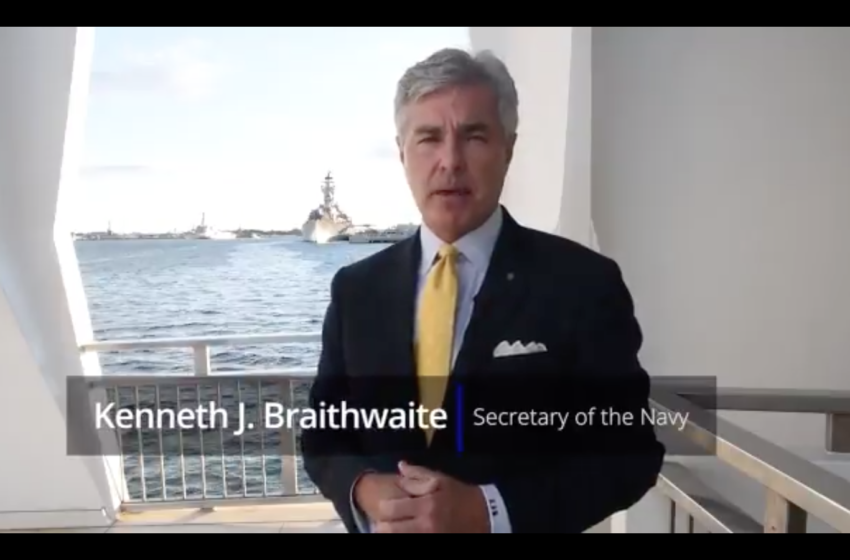 NEW DELHI: In a few weeks from now, India will get an opportunity to understand and explore a U.S. proposition, to set up a new naval fleet possibly in Singapore, to more fully address the challenges in the Indo-Pacific.
U.S. Navy Secretary Kenneth Braithwaite, who is expected in Delhi in the next few weeks, spelt it out: "We want to stand up a new numbered fleet and we want to put that numbered fleet at the crossroads between the Indian and Pacific oceans."
Braithwaite's point is that the U.S. cannot rely solely on the 7th fleet based in Japan to take on the challenge posed by China's rapidly growing navy. "We have to look to our other allies and partners like Singapore, like India, and actually put a numbered fleet where it would be extremely relevant if God forbid, we were to ever get into any kind of dust-up."
He indicated that the new fleet could be more "expeditionary oriented", enabling it to respond to the concerns of friends and allies about China's aggression. He made it clear that the U.S. alone cannot take on China, so they would be seeking India's help and that of other nations in the Pacific.
The move comes in the wake of the U.S. decision to open an embassy in the Maldives and bolster the one in Sri Lanka, two Indian Ocean territories deeply indebted to China for high-profile infrastructure projects.
Braithwaite has admitted that as a Trump administration appointee with just about two months left in office, there is no guarantee his proposal will have any traction with the new Biden administration. But there is bipartisan consensus in the U.S. Congress about the threat from China. There is also consensus about relations with India and the importance of cooperating on the Indo-Pacific, which was reflected in the first Biden-Modi telephonic chat on Tuesday.
Modi tweeted: "We reiterated our firm commitment to the Indo-U.S. Strategic Partnership and discussed our shared priorities and concerns—Covid-19 pandemic, climate change and cooperation in the Indo-Pacific region."
Biden's transition team issued a statement on similar lines: "President-elect looked forward to working closely with the prime minister on shared global challenges, including containing Covid-19 and defending against future health crises, tackling the threat of climate change, launching the global economic recovery, strengthening democracy at home and abroad and maintaining a secure and prosperous Indo-Pacific region."
While critics may demur about why the chat took place 15 days after Biden's election, and also his reference to "strengthening democracy at home and abroad" in which India has no interest, S. Jaishankar, India's external affairs minister, was optimistic.
"He is very much part of the period when Indo-American ties underwent a radical transformation… I am confident that we will pick up where we left off, we have done that over the last four administrations," he said.
The new developments coincide with the second phase of the Malabar exercise, this time in the Arabian Sea involving two carrier battle groups of the Indian and U.S. navies for the first time. The exercise is as much about interoperability as a warning to China about the danger posed by its current course in the South China Sea and the Indian Ocean.