Modi-Trump Meet: No Trade Deal But Defence Agreements Worth $3 Bn Signed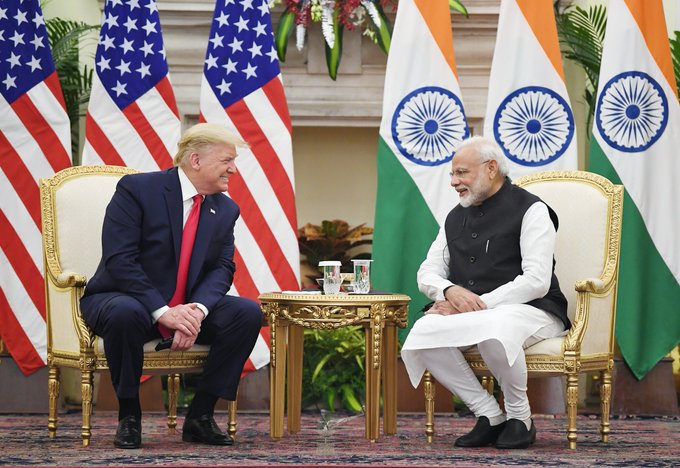 NEW DELHI: "This relationship is the most important partnership of the 21st century." With that flourish, Prime Minister Narendra Modi announced that India and the U.S. were now at the level of a "comprehensive global strategic partnership".
He underscored that increasing defence and security cooperation "is a very important aspect of our strategic partnership. Cooperation in ultra-modern defence equipment and platforms will enhance India's defence capabilities. Our defence manufacturers are becoming part of each other's supply chains."
It was a point also taken up by President Trump. "We expanded our defence cooperation with agreements for India to purchase $3 billion of advanced American military equipment including Apache and MH-60 Romeo military helicopters. These deals will enhance our joint defence capabilities as our militaries continue to train and operate side-by-side."
They sounded a common note on terrorism, agreeing on a "new mechanism to fight drug trafficking, narco-terrorism and organised crime". Trump added that his country was working "productively with Pakistan to confront terrorists who operate on its soil."
The Quad is being revitalised, Trump noted and referred to the first Quad ministerial meeting and expanded cooperation on cyber terrorism, cyber security and maritime cooperation to ensure a free and open Indo-Pacific. Modi was less specific, referring to "our common democratic values in the Indo-Pacific and the global commons".
He was more eloquent on energy cooperation, pointing out that in the last four years "our total energy trade volume is about $20 billion. The U.S. has become a very important oil and gas source for India."
Which brings us to the Big T—trade. "Over the last three years, our bilateral trade has witnessed double digit growth and it has also become more balanced," Modi noted. He underscored that four sectors alone—energy, civil aircraft, defence and education—had contributed $70 billion to the bilateral relationship.
He indicated that the commerce ministers of the two counties had reached an understanding and the go-ahead had been given for a legal framework. This package will cover some trade issues between the two but negotiations on a bigger deal, probably a free trade area, are expected to start soon.
Trump was more forthcoming. "Our teams have made tremendous progress on a comprehensive trade agreement and I am confident we can reach a deal to the benefit of both countries."
The US International Development Finance Corporation will establish a permanent office in India, Trump announced.
He touched on the delicate issue of 5G, saying "We discussed the importance of a secure 5G network and the need for this emerging technology to be a tool for freedom, progress and prosperity – not to do anything where it could be conceived as a conduit for suppression and censorship."
Modi avoided the issue given that 5G trials are due to be held sometime in March-April with Chinese company Huawei taking part. But he joined Trump in lauding the "Blue Dot" network, which will provide private sector led, sustainable funding for high quality infrastructure.
He also appealed to Trump to finalise a totalisation agreement that would ensure Indian techies who are in the U.S. on short-term work visas do not end up paying for social security. This is a long-standing Indian grouse but there's been little movement so far.