Kamala Harris: A Winner Or Punching Bag For Trump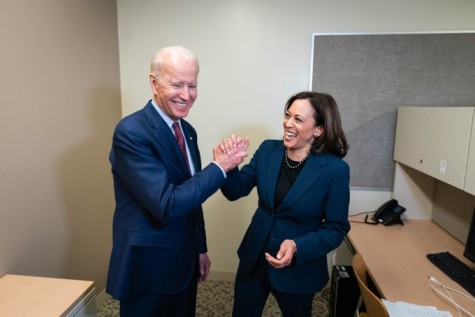 NEW DELHI: America is considered to be the land of equality. But this adage does not hold true when it comes to American politics. The big race to be the most powerful man in the country has famously excluded women from the top job or even the deputy's job for over 200 years. A quick scan through the pages of American political history reveals as much. Kamala Harris is only the third time in US politics that a woman has been picked to be vice president for a major US party. The first was in 1984 when Walter Mondale picked Geraldine Ferraro to be his running mate in a hope she would 'energise' the campaign. John McCain hoped for the same when he picked Sarah Palin in 2008. And now Joe Biden has picked Harris.
Despite all the gushing media coverage about Harris being a black candidate with Jamaican and Indian roots, there are problems that won't go away. Yes, on paper, she's the right choice. In the 2016 polls, Trump benefited from a drastic drop in the black turnout rate. According to voting trends highlighted by the Pew Research Centre, the "black voter turnout rate declined for the first time in 20 years in a presidential election." This was a big win for Trump and a big loss for the Democrats, something they've realised they need to address this time around.
With racial tensions at a high; with the Black Lives Matter and police brutality still a big issue; and with black votes being key in swing states such as Pennsylvania, Michigan and Wisconsin; it's no surprise the Democrats chose a black woman candidate. Trump in 2016 broke the 'blue wall' by winning narrow victories in these states. A report in the Washington Post gives an idea of how close the margins were. "Trump won 18 states by fewer than 250,000 votes; Clinton, 13. The most important states, though, were Michigan, Pennsylvania and Wisconsin. Trump won those states by 0.2, 0.7 and 0.8 percentage points."
This is where Biden and the Democrats hope Harris can make a difference. Can she? What is in her favour is that she has never been reluctant to play or tone down her black identity. She went to college in Howard University – a university where 86 percent of the students are black – an experience she describes as 'formative'; she became San Francisco district attorney in 2003; and California attorney general in 2010; the first black person to be so. She seems comfortable in her black and Asian identity, stating that it is for others to figure it out if they want to.
That's the good side. There are big negatives too. During the Democrat primaries she was nowhere in the running. She started promisingly drawing huge crowds in January last year only for her campaign to quickly fizzle out. Surprisingly, given her skills as an attorney, she came across as confused on key issues like healthcare – a worry given the COVID-19 pandemic. This can be a huge handicap for Biden who despite a wealth of experience is not the most articulate man on TV. Trump delivers punchlines, the Democrats, as Hillary found out too late, need to match him toe-to-toe, line for line. Can she do that is the big question.
Harris needs to tread carefully. American politics is brutal and unforgiving to women. When Hillary sought to make Trump's self-admitted sexual harassment claims an issue, he simply pointed to her husband and very soon she had to start answering for her husband's affair. The same stance which helped her husband become president became a liability when it came to running herself. Cut to Kamala. Trump who has so far been frustrated by Biden's aloof stance will be relishing her entry as it finally allows him to play out his politics of racism against a target. Biden may be the candidate, but she will be in the firing line. Trump has called Michelle Obama an 'ape', Congresswoman Maxine Waters a 'low IQ individual' and more offensive names to other women of colour. There's no reason to believe Harris will be treated differently.
How does she tackle him? Take him on and give his insults credibility? Ignore them and allow him to gain momentum? There's no clear answer. Another big question will be Harris's record as attorney-general, where the consensus was that she was reluctant to police the police. A flier in Oakland had summed up people's feelings then. 'Tell California Attorney General Kamala Harris to prosecute killer cops! It's her job!' This issue will come up and how much it will hurt her remains to be seen.
For all these failings, Harris is the perfect antidote to Trump because of his falling approval ratings on crucial issues like the health and economy. While he has been seen as divisive, she has worked with Republicans to get legislation done. During her three years in the Senate, she drafted police reform legislation post the death of George Floyd thus bolstering her claims that she is a 'can do' woman. Endorsement of her 'tough' persona even comes from a die-hard Conservative Republican such as Lindsey Graham. With such endorsements Trump will not find it easy to question her competence or call her a member of the 'loony left' as he's dying to do.
There is no doubt that Kamala Harris is a more than capable candidate. But whether she is the right candidate remains to be seen. The charisma of a Barack Obama that electrified voters is not there with her. Her heated sparring with Biden in the primaries has given rise to speculation that she is opportunistic and not serious about issues that matter. Also, she has to not just win the black vote, but also reassure white Americans in conservative heartlands that she's there for them too. Given how racially divided the US is this will be no easy task. The former attorney general turned senator has her work cut out to win over America. The jury's out on whether she will succeed.