In Ahmedabad, Trump Plays To The Gallery But Indicates He Means Business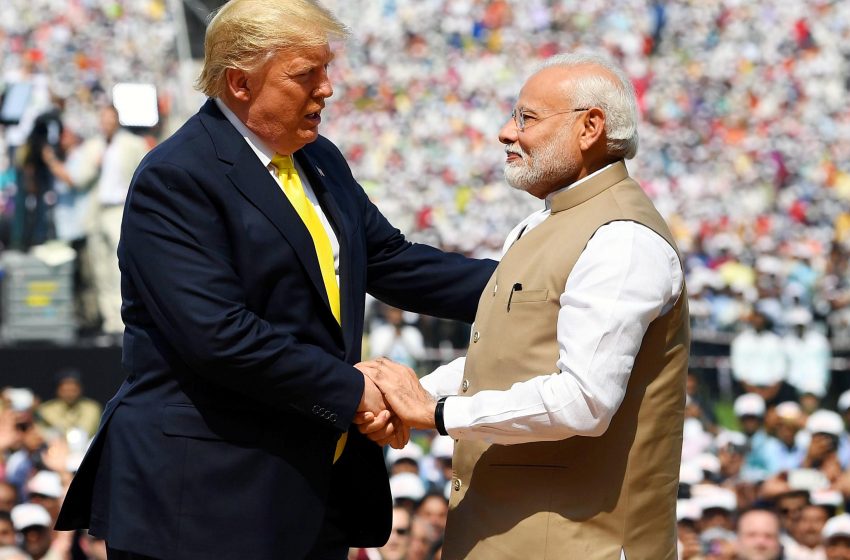 NEW DELHI: 'Namastey Trump' played to a sellout crowd at Ahmedabad's Motera Stadium on Monday, the first day of the Trump visit. As an estimated one lakh plus watched and cheered, Narendra Modi and his guest the President of the United States hugged, held hands and lavished praise on each other. And although it wasn't an election rally, from the tone and the speeches one could be forgiven for thinking it was one.
The abhinandan (felicitation) of Donald Trump was typical of the kind of spectacle one has come to associate with Modi's events: high on optics, mounted on a scale to dazzle even the most cynical and it came with great emotion, Modi style.
Sample these Modi quotes:
"India US relations are not just a great partnership, it is a far greater and closer relationship"
"There is much that we share, shared values, shared hopes and aspirations"
"The whole world is watching us today and after this is over, there is much we will talk about"
Not one to be cast in the shade, Trump referred to the 8000 miles he and family had flown to be in Ahmedabad. "You have done a great honour to the American people. Melania and my family will always remember this remarkable hospitality," he said. But the man, who calls himself the world's greatest deal-maker, underscored the need for deals that could make him look good back home.
"The U.S. looks forward to providing India with some of the best and most feared military equipment on the planet," he said adding that "the U.S. should be India's premier defence partner and that's the way it's working out."
And in an unmistakable dig at China, he said "Together we will defend our sovereignty, security and protect a free and open Indo-Pacific region for our children and for many more generations to come."
He echoed a Modi line on terrorism: "The United States and India are firmly united in our ironclad resolve to defend our citizens from radical Islamic terrorism. Both of our countries have been hurt by the pain and turmoil of terrorism."
Of course, the reference to working with Pakistan to curb terrorism may not have gone down too well, and no doubt South Block will carefully weigh his other words: "We are hopeful of reduced tensions, greater stability and a future of harmony for all the nations of South Asia. India has an important leadership role to play in promoting peace throughout this incredible region."
Typically, Trump would not let Modi off the hook on trade: "We're in the early stages of agreement on an incredible trade agreement to reduce the barriers of investment between the U.S. and India. And I'm optimistic that working together the prime minister and I can reach a fantastic deal … except that he's a very tough negotiator."
So some positive, some not so negative but food for thought for the future underscored by fulsome praise (on either side) and extravagant displays of affection. Tuesday is of course another day.
As we end, a reminder about how the event may have sorely tested Trump's linguistic abilities: So 'chaiwallah' became 'cheewallah'; he got completely lost with Swami Vivekananda, said Vestas for the Vedas and mangled Sachin (Tendulkar) to Suuchin! But that's Trump. Over to tomorrow. (Super Tuesday?)