Ahead Of Modi Visit, Blinken Hails Bilateral Ties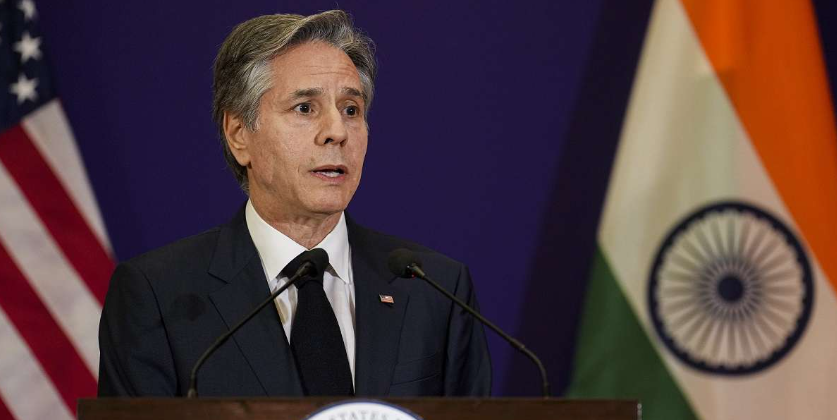 Ahead of Prime Minister Narendra Modi's state visit to United States June 21-24, US Secretary of State Antony J. Blinken inaugurated the US-India Business Council's India Ideas Summit at the Renwick Gallery in Washington D.C. June 12, and urged the two nations "to build a free, open, secure, prosperous Indo-Pacific where people, where goods, where ideas can travel freely and rules are applied fairly."
After "expressing again the deepest condolences of the United States to the victims of the terrible train crash in Odisha just a week or so ago," Blinken went on to assert that "there could not be a more critical, a more vital time for our business communities, our private sectors to be working together."
Thanking India's ambassador Taranjit Sandhu, for his "remarkable work in advancing the relationship between our countries and between our people," he said " I know your relatively new counterpart in India, Ambassador Eric Garcetti has hit the ground at a full sprint trying to catch up with you. And maybe more important, your teams are working together, coming up with exciting new ways to further the partnership between our countries."
Noting that the ideas summit was being held "almost literally on the eve of what we believe will be a historic state visit by Prime Minister Modi – one that will further solidify what President Biden has called the "defining relationship" of the 21st century," he underscored that "the road that we've traveled over the last 25 years has been quite extraordinary," and spread over multiple administrations.
"….We saw that in the final years of the Clinton administration, through the Bush administration, the Obama administration, the Trump administration, and now the Biden administration…We see all of this in the deep bonds between our people who participate in exchange programs, but maybe most important here in the United States an Indian American diaspora over 4 million strong and growing stronger every day, "he said.
Stressing on a "shared commitment to address regional and global challenges – promoting health security, working with our Quad partners to build a free, open, secure, prosperous Indo-Pacific where people, where goods, where ideas can travel freely and rules are applied fairly," he said, "I have witnessed India's constructive leadership on these issues up close these last two and a half years, and I see it in their ambitious agenda at this year's G20; in our new I2U2 group with India, with Israel, with the UAE, the United States; and in probably more than a dozen meetings that I've had with my counterpart, my colleague, my friend, Foreign Minister Jaishankar. ."
"But the reason this evening is so important is our conviction that at the heart of the strategic relationship between our countries are economic ties. And under the leadership of President Biden and Prime Minister Modi and private sector leaders in this room tonight and beyond, it is growing stronger by the day."
Last year, trade between our nations reached a record $191 billion, making the United States the largest trading partner for India. American companies have now invested at least $54 billion in India, from manufacturing to telecommunications. In the US, Indian companies have invested over $40 billion in IT, in pharmaceuticals, and more, supporting 425,000 jobs from California to Georgia. Just this February, Air India announced the historic purchase of more than 200 Boeing aircraft, which will support an estimated 1 million-plus jobs across 44 states of the United States," he said.
"We're elevating and expanding the strategic technology partnership between governments, but also between businesses, between academic institutions in both our countries – because we believe how technology is designed, how it is used should be informed by democratic values and respect for human rights," he said.
Ambassador Sandhu echoed this, saying: "Tech is a force multiplier. Tech affects almost every sector today. Tech has strategic implications. Tech is about trust."
"Central to all of this cooperation is diversifying and deepening our supply chains with trusted countries, while also reducing strategic dependencies," said Blinken.
Also, "The US and India's education systems have produced the leaders of some of our most iconic companies – from Google to InfoSys to – not to mention former Mastercard CEO Ajay Banga, who is now of course the new president of the World Bank and onetime president of the USIBC. Indian Americans have created a third – a third – of all immigrant-founded startups in the United States. Think about that for a minute. That is extraordinarily powerful."
"Now, we know that India and the United States are big, complicated countries. We certainly have work to do to advance transparency, to promote market access, to strengthen our democracies, to unleash the full potential of our people," he said.
"But the trajectory of this partnership is unmistakable, and it is filled with promise. It's being written in places like North Carolina, where our growing engagement is benefiting both our countries.
The Tar Heel State has become a hub for Indian investment, with tech companies like HCL creating 2,400 jobs, training American high schoolers for IT careers. Meanwhile, Charlotte-based Honeywell is employing 13,000 people from Kolkata to Mumbai, making safer airplanes, making energy-efficient buildings. Duke University has established a presence in Bangalore, strengthening academic and research exchanges between our people. Commenting on this explosion of US-India commercial activity, one North Carolina entrepreneur from Gujarat observed, and I quote, "This could not have happened 15 years ago."
Also, see:
Biden Can Manage Domestic Priorities, China Aggression Together: USIBC India Deputy Head
'India Not An Ally But Most Important Bilateral Relationship For U.S.'
Full text of the speech: https://www.state.gov/secretary-antony-j-blinken-at-the-u-s-india-business-councils-india-ideas-summit/