India's Military Brass Addresses Space Constraints, Technology Challenges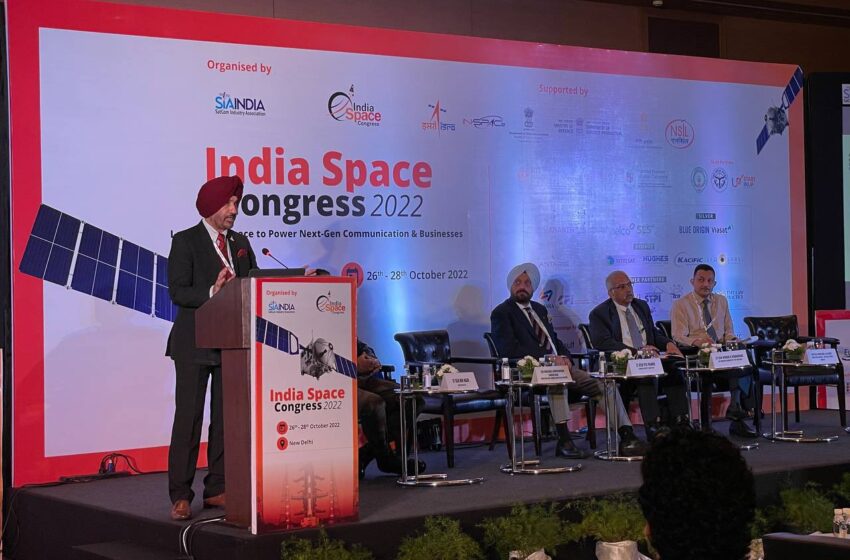 If all goes well, the first test flight of the Gaganyaan crew module that will carry India's astronauts into space will take place less than four months from now.  Seventeen other tests will be gone through over the course of 2023 before an unmanned flight in December that year.
But at the recent India Space Congress in Delhi, a point repeatedly made was that India must prepare for possible space warfare and focus on acquiring an active "space deterrent" through dual use military satellites. Top military officials warned that the nature of space warfare is changing rapidly, and India will need to make great strides in investment, technology and R&D.
"Era of launching heavy satellites with a life of 10 years is long gone. We need multiple satellites in multiple orbits. which will require technology upgrades in a matter of months. That is something we need to look at," said Lt Gen Vinod Khandare (Retd), Principal Adviser to the Ministry of Defence.
The armed forces is interested in acquiring satellites low earth, medium earth and high earth orbits. High earth orbits are generally used for communication purposes and relaying weather conditions, which is especially useful for the forces given that India has varying weather conditions from snow to desert to mountainous terrain to tropical, all these elements impact the soldier's line of sight. Satellites in medium earth orbit are able to monitor specific areas that maybe disputed or are tactically or logistically important. Low earth orbit satellites are useful for high resolution imaging.
A major concern for India's military brass is the inability of the three services to communicate seamlessly. Lt Gen. PJS Pannu, (Retd) former deputy chief of Integrated Defence Staff, pointed out that "We have a problem in mountain warfare as far as the heights are concerned, a problem that is made worse by the fact that the GIS maps today use different techniques and technologies. So, the Army, Navy and Air Force are using different GIS maps which leads to the usage of different grids which impedes coordination. We cannot use radars as the electronic emission will be picked up by the enemy, the only solution is satellites."
He called for the upgradation of India's Space Situational Awareness (SSA) so as to track what the satellites of other countries were doing. "We need to build systems into our SSA to track other satellites and see what they are doing. This is not an easy task as any payload (modules carried on satellites to perform certain functions) can be put upon a satellite today but we have to make efforts towards this."
In his view, SSA should include work on developing offensive capabilities such as launch on demand and launch at sea. This would help create an effective space deterrent.
Lt Gen M.U. Nair, head of the army's Signals Corps, focused on the surveillance challenge. "Look at the area we are required to cover today. India alone has 7,500 km of coastline and we also have to look at island territories and economic zones for which we will need surveillance systems deep in space. We also have tough weather and terrain conditions for which we need surveillance systems that are deep in space. For all we need state-of-the art satellite communication for which we look to the private sector to help us."
A recently released PwC report entitled 'Space for Defence in India' referred to the indigenous innovation in the defence as well as space sectors. "The 100 plus start-ups, around 400 micro, small and medium enterprises (MSMEs), large corporates, and defence public sector undertakings (DPSUs) working in space sector activities could together form a formidable workforce in the country, and help develop the required systems, products, and services much faster. In the process, they will contribute substantially to the nation's space economy as well," the report said.
Air Marshal Gurcharan Singh Bedi, (Retd), who headed Inspection and Safety in the IAF, stated that more proactive efforts needed to be taken to educate the private sector and the public as to why investing in space was important. "Space is today a very niche sector and few outside the domain understand it. How then can we ask private companies to invest large sums of money in areas they do not fully understand. We need an active rather than passive approach to space education whereby the focus is given on space education, technology, and software. The US already practices this through Space STEM education and we too need to do so to create a skilled space workforce."
The government is clearly aware of the challenges ahead. A draft National Space Policy is expected soon, the space budget is up by Rs 1,000 crore to Rs 13,000 crore and private space startups are being facilitated through the IN-SPACe (Indian National Space Promotion and Authorisation Centre). More needs to be done but resources, skills and technology are constraints that are being addressed.