BoJo Offers India Fighter Jet Tech, Hopes To Seal FTA by Diwali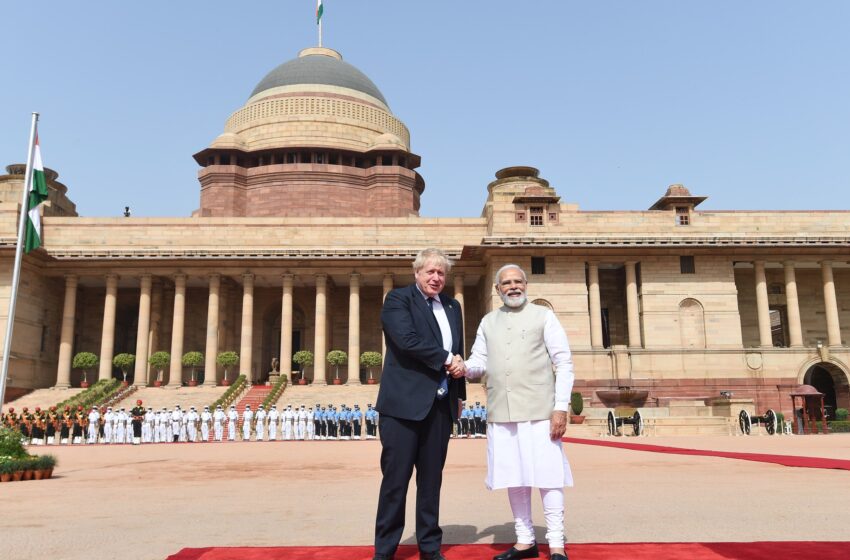 NEW DELHI: Narendra Modi and his visiting British counterpart Boris Johnson appear to have struck the right notes as they wound up talks in Delhi. Modi confirmed that detailed discussions had taken place on the India-Britain "strategic and defence partnership" and major agreements had been finalised between the two nations.
"We welcome the UK's keenness on manufacturing in India, especially in the defence sector, and in making Atmanirbhar Bharat a success. We invite the UK to join India's National Hydrogen Mission. We spoke about a free trade deal between the two nations. This will be ready by the year-end and will be on similar lines as that of the India-Australia free trade agreement that we signed recently," he said.
Johnson lauded the India relationship as one of the "defining friendships of our times," and while warning that "the threats of autocratic coercion have grown even further," an oblique reference to the Ukraine crisis, he called for a "deepening of cooperation … including our common interest to keep the Indo-Pacific open and free."
With that the focus quickly shifted to the "new and expanded decade-long defence and security partnership" agreed upon by India and the UK. Britain will work with India to boost security in the Indo-Pacific by providing new fighter jet technology, helicopters and collaboration in the undersea battlespace. According to a release issued by the British High Commission, "this would include support for new Indian-designed and built fighter jets and offering the best of British know-how on building battle-winning aircraft. The UK will also seek to support India's requirements for new technology to identify and respond to threats in the Indian Ocean." Delivery time for defence procurement would also be shortened through the issuance of an Open General Export Licence (OGEL) to India. This is the first such OGEL offered to any nation in the Indo-Pacific.
On the economic front, Indian and UK businesses have confirmed more than £1 billion in new investments and export deals in areas from software engineering to health.
His remarks on Ukraine would have come as a relief for South Block given his foreign secretary's tougher language during her recent visit to Delhi. But as Johnson told reporters in Ahmedabad yesterday, he understood that "India and Russia have historically very different a relationship, perhaps, than Russia and the UK have had over the last couple of decades." So, any conversation on Ukraine would have to "reflect that reality."
Johnson may have had reason to dispel any that irritation here. Beset with domestic problems at home, the India visit provided him with the right optics. The third round of negotiations for an FTA between India and Britain are beginning next week and this round is believed to be crucial as it gets into sensitive areas that have to be dealt with carefully. The focus on next-generation defence and security collaboration across the five domains – land, sea, air, space and cyber – to deal with "complex new threats" was also a sweetener to help New Delhi gradually reduce its dependence on Russia.
From India's point of view, there was another sweetner. Johnson promised to set up an anti-extremist task force to deal with terror threats, hinting at a harder line on Khalistani groups operating in the UK.